Main content
Big bad Wolf: Why have we fallen for Thomas Cromwell?
20 January 2015
Dastardly villain or dashing anti-hero? Our image of Thomas Cromwell seems to shift with each new dramatisation of the Tudor period, with modern audiences treated to a more sympathetic take on Henry VIII's right-hand man. As Hilary Mantel's Wolf Hall comes to BBC Two, author and historian TRACY BORMAN asks why have we fallen for Cromwell?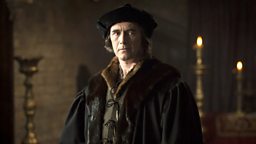 The not unattractive Mark Rylance as a brooding Thomas Cromwell in the BBC Two adaptation of Wolf Hall
Until the advent of the Wolf Hall phenomenon, Thomas Cromwell was the man who everyone loved to hate.
A Machiavellian schemer without heart or scruples, he brought down Anne Boleyn, destroyed the monasteries and lined his own pockets in the process. He was also the nemesis of the saintly Thomas More, who bravely stood out against his sweeping reforms – and paid the ultimate price.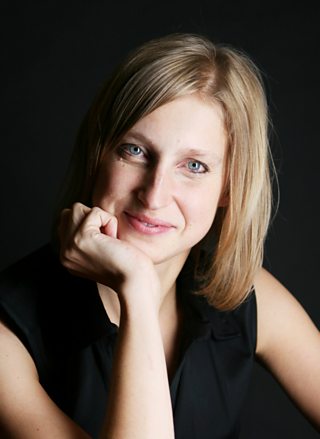 Dr Tracy Borman
This version of events was reinforced by the various screen portrayals of Cromwell over the years. One of the most influential was A Man For All Seasons, in which Leo McKern plays a downright evil Cromwell.
He preys upon the weakness of his fellow courtier, Richard Rich, in order to secure the condemnation of Thomas More, played by Paul Schofield. The audience is left in no doubt who they should be rooting for.
All of this changed in 2009, thanks to Hilary Mantel's Wolf Hall, and its sequel, Bring up the Bodies. Taking one of the most unlikely heroes in history, Mantel's Booker Prize-winning novel transformed him into a character that we all fell in love with.
No longer the one-dimensional bureaucrat, he was now a tender husband and father, charming and self-deprecating, a self-made man and – as Mantel put it – "clever as a bag of snakes".
The sell-out RSC productions in 2014 reinforced this image of Cromwell and, at least partly thanks to casting Ben Miles in the lead role, went one step further by making him sexy. We can expect the BBC dramatisation to give us a Cromwell every bit as sympathetic as this.
Mark Rylance is as attractive as his counterpart on stage. The same was true of James Frain, whose depiction of Cromwell in the bodice ripping series, The Tudors, was a rare example of positive portrayal before Wolf Hall hit our bookshelves.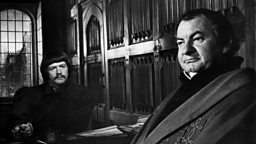 Leo McKern (right) played Cromwell as the classic Tudor villain
So why have we so easily accepted this more sympathetic version of Cromwell? Have there been new historical discoveries that prove he was not the villain he has long been supposed to be? In part, yes. In researching my own biography, I found much to admire in this extraordinarily talented, hard working and dedicated member of Henry VIII's court.
As well as his phenomenal intellect, he was also incredibly funny: even his enemies would collapse into hysterics at his well-timed puns and cutting asides. He liked to party, too, and the dinner parties that he held at his favourite house, Austin Friars, became legendary.
In a single year, he spent the equivalent of £120,000 on wine, and he once lavished £2,000 on a costume for a masque that he performed in front of the king. Hardly the humourless bureaucrat of historical legend.
But for all that, the reason for Cromwell's dramatic rehabilitation may be due to more than a re-examination of the facts. It could lie in our very English love of the underdog. In stark contrast to his peers, Cromwell did not rise to greatness at Henry's court thanks to his birth.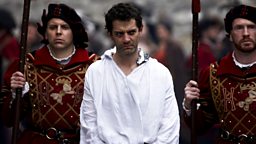 James Frain gave audiences a positive portrayal of Cromwell in The Tudors
He was not a duke, an earl or other nobleman. He was merely the son of a blacksmith from Putney (and in those days, Putney was definitely the wrong side of the tracks).
It was only thanks to the sheer force of his personality, matched by his burning ambition, that he was able to work his way to the top. This is why Mantel's crafting of the Duke of Norfolk as the villain of the piece works so well.
Norfolk was Cromwell's opposite in every way. Thanks to his birth, titles and offices were presented to him on a gilded plate. He neither worked for them nor deserved them.
Living in the meritocratic world of today, we can appreciate Cromwell's qualities far more than his contemporaries did. To them, he was a usurper who had no business to be anywhere near the court. They despised him for his lowly birth and, ultimately, condemned him for it. It is only now, almost 500 years later, that we can raise him to the pedestal that he deserves to occupy.
Tracy Borman is author of Thomas Cromwell, The Untold Story of Henry VIII's Most Faithful Servant, published by Hodder & Stoughton.
The National Trust goes on location with Wolf Hall at their historic sites