Main content
David Walliams on writing for children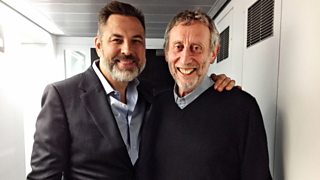 Actor, comedian and writer David Walliams talks to Michael Rosen about writing his hugely popular children's books such as Mr Stink, The Boy in the Dress and his new book, World's Worst Children 2.
For more celebration of the weird and the wonderful, listen to the full interview on Word of Mouth.

"I'm a lady!"
When Matt Lucas and David Walliams toured with Little Britain, a 10 year old boy turned up as Emily Howard, the transvestite character from the show.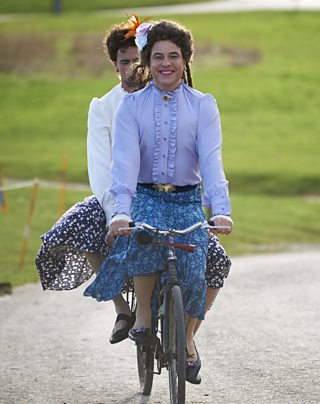 David Walliams dressed as his Little Britain character Emily Howard, who later became the inspiration for his first children's book.
David was very impressed at the boy's bravery, particularly when he found out that he'd gone to school dressed like that for a fundraising day, and that was the germ of his first book, The Boy in the Dress.
Inspiration
Having watched a lot of James Bond as a child, inspiring action-packed stories in which someone was almost always shot, David has been very influenced by films and famous movie characters.
Hubert, the giant ravenous baby in his new book, is a slightly surprising reworking of King Kong, whereas his book Awful Auntie was modelled on the horror movie, The Shining. This is one of his favourite films and from it he wanted to write something about a child being trapped in an enormous house while a family member is trying to kill them. Add to that his eccentric characters and comedic humour, and you have a page-turner with a difference.
Dahl debt
David is a huge fan of Roald Dahl. In particular, he loves Dahl's obsession with corporeal exaggeration when he creates features for his characters, such as describing beards with bicycle wheels and breakfast tangled in them.
"So much comedy comes back to bodily functions", he says. One of David's stories features a little girl whose gas is so spectacular she farts herself out of the Albert Hall and into space.
Eyes and ears
When he talks to children about getting inspiration he tells them to keep their eyes and ears open at all the time so that a good idea can never be missed. The 'computer says no' Little Britain character came directly from an experience with a cashier at his local bank.
The grain of truth
The truth makes something relatable, he says. Children have to see the starting point, before the story catapults into exaggeration. He wanted his child readers to see Hubert, the grotesque baby in his new book, as an ever-hungry baby sibling or relative, just as he wanted children to relate to homeless people through getting to know his character Mr Stink.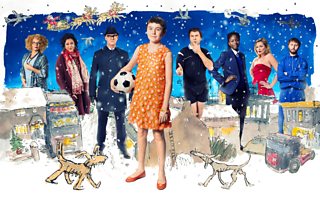 The cast of the BBC production of Walliams' book The Boy in the Dress.
Don't talk down
When you're a child you're intrigued by things that are forbidden, or out of your own range. You want something that is not written overtly "for children", says David. Children can spot when they are being talked down to, or lectured. When he wrote The Boy in the Dress he deliberately avoided complicated terms that established a 'difference', like transvestite, and just talked about what was happening and how the boy felt.
Emotional ending
When he saw the final illustration (by Sir Quentin Blake) of The Boy in the Dress, with the brothers walking off with their arms around each other, he had tears in his eyes.
And what's next for Walliams? A book of nonsense verse, apparently. You heard it here first.
David Walliams talks in depth to Michael Rosen about how he writes his children's books.

Paula Hawkins shares her five best writing tips with Open Book's Mariella Frostrup.