Main content
How do you control a hologram with your hands?
1 October 2021
Artist Vince Baidoo-Lowe works at the cutting edge of digital technology. A commission from the BBC's New Creatives project allowed him explore different ways of controlling virtual characters by moving the body.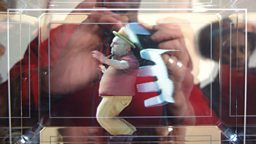 A project that moved in surprising directions
When Vince Baidoo-Lowe applied to the BBC's New Creatives scheme, he had an idea that surprised the selectors with its ambition. He wanted to create a 360-degree video dome containing interactive characters who reacted to the movements of the audience - and encouraged them to start dancing.
Vince's vision was inspired by his love of technology, but he also had an important social mission. As well as raising the profile of black developers, he wanted to ensure that African-Americans were credited for their role in the development of CGI avatars. In support, he cited a high profile court case in which a billion-dollar video game copied movies from African-American dancers without acknowledging their work.
We don't think users will be dancing yet, but they will be able to experience something that is 'instinctively interesting' and it will be a truly interactive experience

Vince Baidoo-Lowe
However, discussions with his project mentors Coral Manton and Ben Dunks soon revealed that he would have to make difficult trade-offs between scope, interactivity and cost. Ultimately though, it was delays in the construction of the dome venues that forced a changed in direction.
It was during this development process that Vince hit upon the idea of combining two cutting-edge technologies: holographic projection and haptic interaction. Haptic feedback systems are ones which provide physical feedback when you use them - like a vibrating smartphone screen that responds to touch.
Vince realised he could employ a haptic hand sensor to enable users to interact with what they see on screen. Users learn to make different objects - including characters - move in different ways by moving their hand differently. The project is brought to life by a set of comic-book style illustrations which add a layer of narrative to the journey.
The result is an engaging prototype which feels truly interactive. Vince's next challenge is to test the project on different users - including groups of schoolchildren - and then to innovate again.
Find out more
Vince Baidoo-Lowe discusses Dome Dance, and what he learned while building his prototype.
About the Artist
Vince Baidoo-Lowe is a Transmedial Technologist with a history of community representation and mentorship in Bristol and throughout the South-West of England. Currently, his storytelling output and social commentary revolve around futuristic technology and the possible avenues we should watch out for as a society. As of now, he is prototyping with holographic and haptic technologies, creating bots and software for data narratives, making transmedial StoryWorlds for academic industries and corporate institutions alongside anything that tickles his fancy.
You can find out more about Vince and his work at www.southblessed.co.uk.
For more information about TransMedial worlds, see www.crownrootpublications.com.
A New Creatives project
In 2019, BBC Arts and Arts Council England launched New Creatives - a talent development initiative encouraging artists aged 16-30 to push creative boundaries and reflect their experiences of living in Britain today.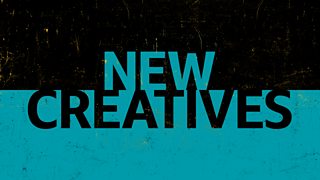 Artists were invited to submit proposals for short films, audio and interactive works. The results reflect the breadth of emerging talent in Britain today.
Meet the artist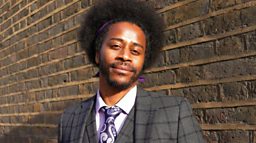 Vince Baidoo-Lowe is the man behind these holographic experiments
More interactive projects from New Creatives
A new interactive video experience which challenges viewers to think differently about invisibility and hypervisiblity in an age of surveillance.

Play the VR game that aims to help people understand what it's like to live with Obsessive Compulsive Disorders.

What if you had to abandon the decimated physical world, and your best chance of survival was to upload your memories to an AI server to reconnect with loved ones?