Main content
13 things we learned about Little Mix on the Radio 1 Breakfast show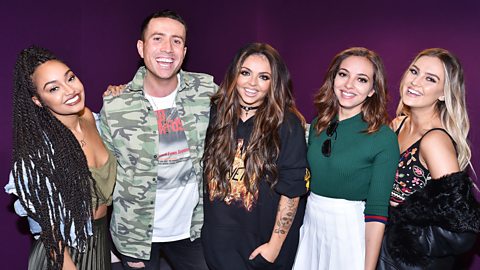 Little Mix explain what it felt like to step back in front of the judges.
Little Mix 4.0 is upon us and the girls are all grown up. Their new single, Shout Out To My Ex, is their sassiest tune yet, as they take aim at all the foolish boys who have ever hurt Perrie, Jesy, Jade and Leigh-Anne.
Still riding the high of premiering the song on this week's X Factor, the girls dropped into the Radio 1 Breakfast Show to reveal all with Nick Grimshaw.
And when we say 'reveal all' we mean it. There may have been some over-sharing. Here's 13 things we learned about Little Mix. We'll never look at them the same again.
1. Performing on X Factor still makes them nervous
Little Mix visited Radio 1 the morning after their spectacular performance on X Factor. Jesy hadn't slept.
Despite slaying with new single, Shout Out To My Ex, the show still makes the girls nervous.
"The nerves never go when you enter that studio, you literally get that dreaded feeling, like you're a contestant again," says Jesy.
"We have to remind ourselves 'we're not getting judged, we're not getting judged'," says Leigh-Anne, who had to drive a car into the studio at the start of their performance.
"It was really nerve-wracking. It was automatic, so you can't really go wrong."
(Warning: Third party video may contain adverts)
2. They are not very good at dancing in high heels
Their TV appearance wasn't just to premiere a new single, it was also a big night for shoes.
"It was the first time we wore high heels for a performance, we never wear high heels," says Jade.
"There were a lot of bambi legs going on."
Jesy had it easier than her bandmates, however.
"I had a chunky heel and they had these tiny stilettos," she says.
"We just had to whack them on and go for it."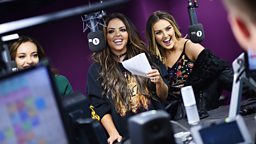 3. Gaffer tape is a girl's best friend
Little Mix's X Factor performance looked flawless - but the secret of the show was strong adhesive. EVERYWHERE.
"If you're doing certain moves, you don't want anything falling out," says Jade as she reveals every secret.
4. Yes, they were ready for all the Zayn gossip before the song was released
With a song called Shout Out To My Ex, there was always going to be chatter about Perrie's famous ex. They were fully prepped for it.
"We did expect it, didn't we," Perrie says.
"Who doesn't relate to this song? It relates to everyone. Everyone can listen, it's a happy heartbreak song. It's empowering, it makes you feel amazing."
And of course, it's not just about one girl's ex-boyfriend.
"Everyone's got an ex and everyone's got a bad one," says Jade.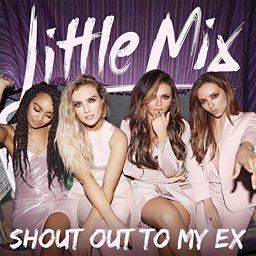 5. Radio 1's Teen Awards makes them feel old
The girls are performing this weekend at the 2016 Teen Awards and Little Mix can't wait to be there.
"We love doing the teen awards," says Jade.
"There's a lot of youngsters and they're all just for a laugh," Jesy says. "Oh, I sound like a right old granny."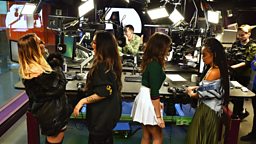 6. The don't like champagne (but they're happy to drink it)
The girls celebrated their triumphant return to the world of pop with Sir Simon of Cowell after the X Factor, with champagne of course.
"We had a nice bevvy with Simon last night," says Perrie. "I don't even like champagne."
"I just pretended to like it," says Jade.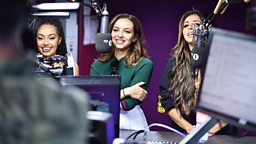 7. They go to Simon's house for Sunday roasts
"We've organised a roast dinner with him because his chef is brilliant," says Jade.
Perrie already knows what she wants on the menu and Jesy won't be holding back when it comes to the food (this time).
"We've already put in an order. We want lamb, chicken, yorkshires - the lot," Perrie says.
"I was on a diet the last time I was there and i'm going all out this time," says Jesy.
"I want dessert, I want the full works."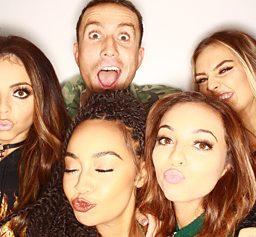 8. You don't want to sit opposite Jade at dinner
The girls were quite surprised to get another invite to Simon's house however, because table manners aren't Jade's strong point.
"I got a bit tipsy and spat all over him," she confesses.
"I was so nervous I drank loads and then found something so funny I literally sprayed my drink, I blew the candles out."
"All the candles on the table went out and we were just sat in the dark," says Perrie.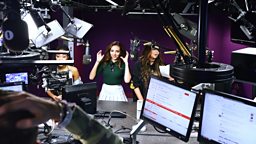 9. The new album has balls
The girls promise that Shout Out To My Ex is just the tip of the iceberg when it comes to sassiness. New album, Glory Days, will show a side of Little Mix that fans have never seen before.
"This is our favourite album that we've ever done," says Jesy.
"It's a lot more honest. This is definitely our favourite era of Little Mix, very sassy. Just a different side of Little Mix that people haven't seen."
"We're growing up now. We're young women and I think this is a natural progression," says Leigh-Anne.
"With this album we've just got a bit ballsy."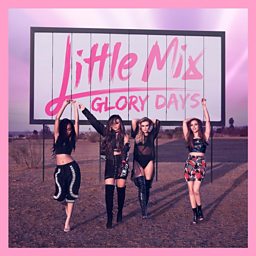 10. They are currently TBC on Honey G
Little Mix are not sure they want Anna Gilford joining them on tour.
"We're up for anyone who's having success," says Perrie. "She's having fun, we're having fun."
"When I was watching the auditions, some of the people this year were blowing my mind - and then you've got Honey G."
"When she's getting compared to some of the best rappers in the world, that makes me angry," says Jesy.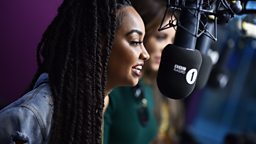 11. They definitely fancy Zac Efron
In a game of Snog, Marry, Avoid Little Mix chose to avoid Liam Hemsworth (because of Miley Cyrus), kiss Justin Bieber and marry Zac Efron.
Why Zac?
"Zac Efron is such a tasty dish, isn't he," says Perrie.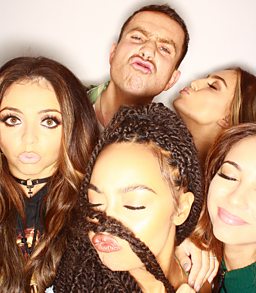 12. Lip balm is a must for LM boyfriends
"There is nothing better than a man with soft lips," says Leigh-Anne. "I don't like a man who doesn't use lip balm."
"We don't like a man with crusty lips," says Jesy.
13. Jesy's mouth is going to get Little Mix in trouble
Little Mix didn't give much away about their private lives, but Perrie was worried Jesy would say something they'd all regret live on national radio.
"Every time Jesy opens her mouth my heart is on the edge," says Perrie.
But Jesy just had lovely things to say about Perrie.
"I just think she's bloody beautiful, I think she's Wonder Woman and she deserves the world," Jesy says.
"You're going to make me cry, this was meant to be a fun interview," says Perrie.
Shout Out To My Ex by Little Mix is out now.