Main content
Phonographics: Albums covered by comic book artists
16 October 2015
The exhibition Phono+Graphic, at the Kendal Museum in the Lake District, highlights the work of comic book artists on record sleeves. Part of the Lakes International Comic Art Festival, it features work by major artists such as Robert Crumb, Gorillaz co-creator Jamie Hewlett, and Brian Bolland (Judge Dredd). Browse a selection of the cover art below.

Guy Peellaert / Diamond Dogs by David Bowie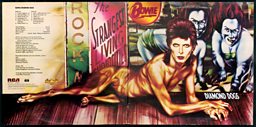 Censored: David Bowie's Diamond Dogs (1974, RCA) with cover art by Belgian artist Guy Peellaert
Brussels-born artist Guy Peellaert started off as a theatre set painter and comic strip illustrator. He embraced Pop Art early in his career, using collage and photo-realist techniques. He began to paint iconic portraits of rock stars soon after moving to Paris in the late 60s.
Diamond Dogs was a huge influence on me and part of my teenage vinyl collection

Holly Johnson on Peellaert
Peellaert's coffee-table book Rock Dreams, created in 1974 with British rock writer Nik Cohn, sold over a million copies. It established him as an international artist when original artworks were bought by stars including Jack Nicholson, John Lennon and Mick Jagger.
Also in 1974, Peellaert painted this cover for Diamond Dogs, featuring David Bowie as a half-man, half-dog centaur. Label RCA baulked at its depiction of canine genitalia and took an airbrush to the offending area.
A few copies did make it to market, and subsequently became some of music's most collectible property - a sleeve only, with no record inside, fetched over $8,000 in 2004. A 1990 Rykodisc re-release featured the uncensored sleeve.
Peellaert, who died in 2004, also found success with poster designs for films including Taxi Driver and Paris, Texas.
Holly Johnson took his band's name from a newspaper collage in Rock Dreams that featured Frank Sinatra with the headline, 'Frankie Goes Hollywood'.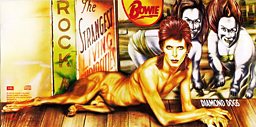 Uncensored: Diamond Dogs (1990, Rykodisc), Peellaert
Peellaert's posters for Taxi Driver and Paris, Texas
Robert Crumb / Cheap Thrills by Big Brother & the Holding Company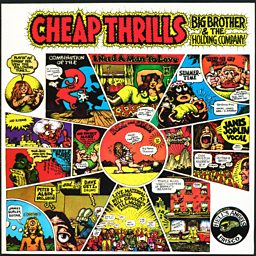 The band's classic album with vocalist Janis Joplin, released on Columbia in 1968
Robert Crumb's vast counter-cultural output in the 60s created one of the defining looks of the era, and made him America's best-loved underground cartoonist.
After a stint as a greeting card artist and jobbing illustrator, a "mystical" encounter with LSD in 1965 changed his outlook: "it was the Road to Damascus for me. It completely knocked me off my horse and altered the way I drew. I stopped drawing from life".
By 1967, Crumb and his wife were selling Zap Comics issue #1 on street corners and in the head shops of San Francisco's Haight-Ashbury district.
His brightly coloured repudiations of modern America attracted labels like 'misanthropic' and 'sex-obsessed', but his work was accompanied by a self-aware honesty. "My personal obsession for big women interferes with some people's enjoyment of my work", he wrote in The R. Crumb Coffee Table Art Book (Kitchen Sink Press, 1997).
"I knew it was weird and disturbing and even offensive to a lot of people, particularly women... all this stuff is deeply embedded in our culture and our collective subconscious, and you have to deal with it."
Originally titled Sex, Dope and Cheap Thrills, the Big Brother and the Holding Company album was a mix of live recordings from San Francisco's Fillmore Auditorium and overdubbed studio takes. Crumb's elaborate front-cover cartoon is as instantantly recognisable today as it was in 1968.
Crumb spent four years creating an illustrated Book of Genesis, which was published in 2009.
Christian Ward / Secret Soundz Vol. 1 by The Pictish Trail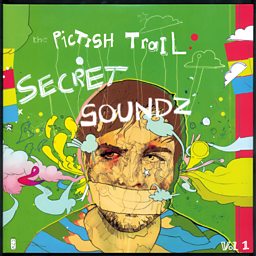 Artwork for The Pictish Trail's debut album Secret Soundz Vol. 1 (Fence Records, 2008) by Christian Ward
Christian Ward is a long-time collaborator of Scottish band The Pictish Trail AKA Johnny Lynch. He has penned art for various singles and albums including the band's debut, pictured here.
London-based Ward's comic art credits include Olympus with writer Nathan Edmundson, and Infinite Vacation with Nick Spencer.
Jack Davis / Everybody Loves a Nut by Johnny Cash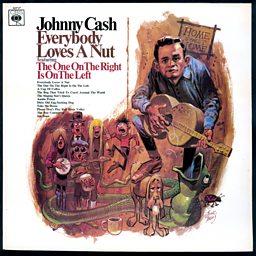 Cash's 23rd album was a collection of novelty songs released by Columbia Records in 1966
American artist Jack Davis was one of the founding contributors to Mad magazine from 1952. He had previously worked on several comic strips for Mad publisher EC Comics, and also for the Herald Tribune.
Davis produced movie posters and animated characters for films, advertising and television as well as occasional album cover art.
A single from the Nut album, The One on the Right is on the Left, reached #2 on the US Billboard Country chart.
Brian Bolland / Beautiful Happiness, Various Artists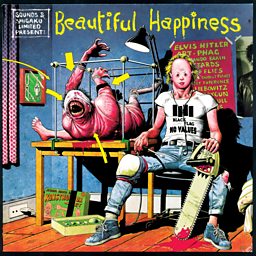 A 1988 punk compilation on the Sounds & Shigaku label
Brian Bolland is a British artist who created much-loved work for Judge Dredd in 2000 AD in the late 1970s, as well as sporting de rigeur beard and long hair. He was first in the queue for the 'British Invasion' of the US, where he has worked extensively for DC Comics.
Bolland's most well-known work is with Scottish writer Alan Moore on Batman graphic novel The Killing Joke (DC Comics, 1988). A twentieth anniversary hardback edition was recoloured by Bolland, addressing his unhappiness with the "garish" original - "the end result wasn't quite what I'd hoped". That lack of control led to Bolland working primarily as a specialist cover artist, winning awards for work on Animal Man, Wonder Woman and The Invisibles.
Jamie Hewlett / The First of Too Many by Senseless Things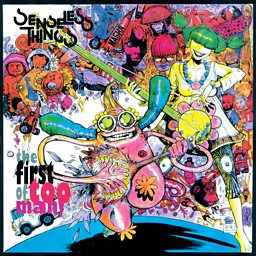 Hewlett's sleeve for Senseless Thing's second album (Epic, 1991)
Jamie Hewlett's career in comics started while he was still at college in Worthing. He worked with fellow students, including Alan Martin, on their fanzine Atomtan. This work led to a gig on new magazine Deadline in 1988, where Hewlett and Martin created the comic-strip heroine Tank Girl.
And when the Tank Girl screening finished, the lights came on, and everyone - everyone - was looking at me

Jamie Hewlett
Hewlett was also working with bands like Senseless Things and Cud on cover art, and further work on 2000 AD turned him into a name in the comics world.
Fast forward to 1995 and the only real blot on Hewlett's career. Hollywood had come calling, and a Tank Girl movie was the result, starring Malcolm McDowell and Ice-T. Hewlett told The Guardian in 2008 how the Tank Girl premiere went:
"I went in and I sat in front of Ice-T and his posse. And people were talking and getting up and walking out, and all I could hear was, 'Yo Ice, you look cool as a kangaroo man'. And when it finished the lights came on, and everyone - everyone - was looking at me, and it was the most humiliating experience of my life. Horrible. But hey, I was 26 years old. And I learned something. I'll never make that mistake again."
The film was critically panned and also performed horribly at the box office ($6 million gross on a $25 million budget). But Hewlett's career continued on an upward path and next he was living with Damon Albarn; music-art concept group Gorillaz was the result.
Hewlett's work with Gorillaz led to him being named the Design Museum's Designer of the Year in 2006.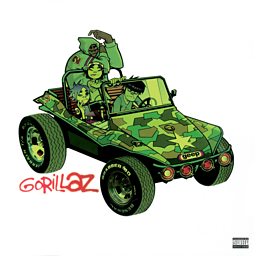 Hewlett's sleeve art for Gorillaz self-titled debut album (Parlophone, 2001)
Phono+Graphic is at the Kendal Museum, Cumbria until 20 October 2015. Images courtesy of the Museum.