Main content
The Boxer: 'I'll swallow blood before I swallow my pride'
Years of training have led one boxer to the match of her life.
Kristen Fraser knows a thing or two about commitment. As Scotland's first female professional boxer she has dedicated her life to the sport and pursuit of victory. But success hasn't come without sacrifice, as she reveals on The Boxer.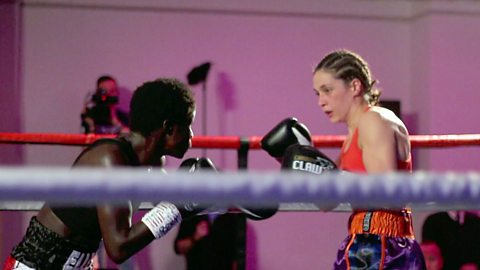 As she enters the ring, Kristen reflects on the sacrifices that have taken her this far.
Kristen has a full time job in the oil and gas industry, so training is fitted in around her long working hours. This leaves little time to spend with her wife, Kirsty, but it's a necessary evil if she is to become a champion.
"I didn't wake up one day and suddenly become a boxer who could walk into a ring and get a title," explains Kristen. "This took so, so, so many years of sacrifice to actually get to this level."

The Boxer follows Kristen as she prepares to fight Ellen Simwaka for the Commonwealth bantamweight belt. The Malawian is a tough opponent, but Aberdonian Kristen has spent almost all of her life preparing for this match and she intends to win.
Aiming for victory
"If I had to lose I'd have to be swallowing blood before I swallowed my pride," she admits. "There's absolute no way I'd [quit a fight] on the stool, there's no way I'd go out of that ring if I wasn't flat on my back.
"I've sacrificed all these years and all these things why on earth would I give up now?"

Ten two-minute rounds in the ring will determine whether that has all been worth it. But Kristen is well prepared.
"If you've got a good opponent in front of you a lot of the time you'll rarely get a clean shot, so when that happens you have to capitalise on it.

"You have to do that plus try to be tidy, try to be technical, keeping your hands up, applying pressure, controlling your emotions, controlling your aggression … it takes years to be like that."

And the thrill of outplaying an opponent is its own reward, according to Kristen.

"When you can see you're grinding them down in front of you, it's a feeling you will find nowhere else."
On BBC iPlayer
Kristen Fraser's dream is to become world champion - but will the birth of her first child change that?
On BBC Sounds
Kristen Fraser, Scotland's first professional female boxer, joins us to talk titles and becoming a parent.
Latest features from BBC Scotland
Alicia MacDonald on her dramatic coastguard helicopter delivery.

Why men must be open about their mental health.

Seven financial tips for students starting university.

Inside the Zoo goes inside Edinburgh Zoo and The Highland Wildlife Park in Kingussie.

Experts believe we should begin saving for retirement as soon as possible.

One host reveals how she has benefited from giving shelter to refugees.

The comedian discusses her harrowing upbringing in a Stark Talk podcast.

Angel investors help to create an 'echo effect' encouraging entrepreneurs.

Beatrice Jones recalls painful memories in a bid to help others understand loss.

A traditional pre-wedding ritual is said to reveal the extent of her love.

Edi Stark takes us on a journey through some of her classic archive interviews.