Main content
Memory Tapes - June 2017
Every Mid Life Crisis Has A Silver Lining
Wednesday 21st June, By Helen Hobday Team Laverne

Today's taper Mike is straight up facing his 40th birthday in the best possibly way, by throwing an absolutely epic fancy dress party. The Theme is album covers and to celebrate, he's put together this stonking list of his 40 favourite tracks.
My memory tape is based on my musical journey and spending way too much time thinking about my imminent fortieth birthday.
Music is a massive part of my life. I met my Yorkshire wife in an HMV at New York, I've got a Pixies tattoo on my arm and my 2 year old son is named Elliot after Elliott Smith.

So I've decided to embrace my incoming mid-life crisis and celebrate in style with an Album Covers themed fancy dress party on 1 July in Leyton, east London.

Forty feels like a good number to reflect on life and music. This Top 40 list is not in any priority but a collection of songs that have stayed with me through great times and bad, they reaffirm my faith in both music and life and have sound tracked some of my happiest memories.

As my Michael Jackson Thriller interpretation attached shows, I'm hopeful it's going to be a stone cold classic and an opportunity to re-live my favourite tunes, artists and albums with friends and family.
Friends have already told me some of their plans, from creating the Dark Side of the Moon as a cardboard dress to the Best of Simon and Garfunkel, Pearl Jam's Ten to Aladdin Sane, and Rumours of a Fleetwood Mac duo.

My top 40
1 Thing - Radio Edit – Amerie
Kung Fu - 2011 Remastered Version – Ash
Somewhere In My Heart – Aztec Camera
Save it For Later – The Beat
Blackbird - Remastered 2009 – The Beatles
What's Going Ahn – Big Star
Hanging On The Telephone - 2001 Digital Remaster – Blondie
Train in Vain - Remastered – The Clash
Queen Bitch – David Bowie
Suds & Soda – dEUS
Freak Scene – Dinosaur Jr.
Long Train Runnin' – The Doobie Brothers
Connection – Elastica
I Don't Want To Know – Fleetwood Mac
Right Down The Line – Gerry Rafferty
4th Chamber – GZA, RZA, Ghostface Killah, Killah Priest
A Case Of You – Joni Mitchell
Cloudbusting – Kate Bush
Losing My Edge – LCD Soundsystem
Maybe The People Would Be The Times Or Between Clark And Hilldale – Love
The Plan – Low
Bad Boy Boogie – Mark Kozelek
Trem Two – Mission Of Burma
Roadrunner – The Modern Lovers
Cortez the Killer – Neil Young, Crazy Horse
Regret – New Order
Alsatian Darn – Panda Bear
Gold Soundz – Pavement
No 13 Baby – Pixies
This Is Love – PJ Harvey
Raspberry Beret – Prince
Everything In Its Right Place – Radiohead
Sacred Attention – Sebadoh
French Disko – Stereolab
The Modern Age – The Strokes
Tilted – Sugar
This Must Be The Place (Naive Melody) - 2005 Remastered Version – Talking Heads
Everything Flows – Teenage Fanclub
What Goes On – The Velvet Underground
Sugarcube – Yo La Tengo
Happy Fathers Day
Wednesday 14th June, By Helen Hobday Team Laverne
For today's Memory Tape we've gone a bit dad-tastic, no more so than our taper Sam Judd who has put together this mixtape inspired by his father.
Hi Lauren
This Memory Tape is based on my dad.
I've put a few songs together than I been introduced to by my dad. Many of these songs are associate to a time or event with him.
The first half is all gigs which I have been to with him, I tried to stick to the album they were touring when we saw them but it didnt quite plan out that way. Many of these gig I played a stand in for his mate who dropped out last minute with only knowing a couple songs but listening to their albums after. Others we are both fans so got tickets. The second half is music which he grew up listening to and was played around the house which naturally made me pick it up. These are few of my favourites that I know because of him.
Cheers
Sam Judd
Pink Floyd - Money
New Order - Blue Monday
Kasabian - L.S.F
Gorillaz - Feel Good Inc
Ziggy Marley- Fly Rasta
Arcade Fire- Wake Up
Red Hot Chilli Peppers - Under The Bridge
Pixies - Hey
The Who - My Generation
Led Zeppelin - Whole Lotta Love
Culture - Two Sevens Clash
David Bowie - Oh! You Pretty Things
Thin Lizzy - Jailbreak
The Clash - The Guns Of Brixton
Sex Pistols - Pretty Vacant
The Verve - Bitter Sweet Symphony
Jefferson Airplane - White Rabbit
A Love Forged Through Music
Wednesday 7th June, by Helen Hobday Team Laverne

Today's taper is Emma from Perthshire and hers is a story of childhood sweethearts, of Gretna Green and of rings forged by a blacksmith. There are no dragons, we sort of wish there were dragons, but it's still pretty epic for a Wednesday.
My memory tape is for my best friend, and biggest frustration. In other words my husband-to-be.
A tale as old as time as they say- High school sweethearts, outcasts, soon to be newly weds.
It all started around 10 years ago, when a wee Yorkshire lad was brought into our 1st year science class and abandoned cruelly next to the class 'bad boy'. Thankfully a now close friend took him under his wing and the rest is history. A friendship developed over a bridge building exercise, a general hatred for teenage angst, and music.
Flash forward from the skinny, curly haired 11/12 year old us to the still skinny, even curlier early twenties us. People have always told us we're older than our age. We're the mum and dad of our friendship group, adulting hard whilst everybody else is living the student life. I'm not sure how we fast tracked our way through that part of our lives, most of it was spent on trains travelling between one college in Hereford and the other in Edinburgh. I do know that I wouldn't change it and that I'm so thankful for all we have, despite the bills, the working and less pub time than we'd perhaps like.
We have a mutual love of festivals, especially Knockengorroch in Dumfries & Galloway, Scotland. Toby is a blacksmith and we travel with friends forging at festivals. 2 years ago a dear friend really wanted to marry a couple as we were so close to Gretna, where people used to elope. So Toby agreed we could get married, only if I found a dress. After a mad afternoon with my maid of honor Jake a kind stall owner let me borrow the most beautiful dress, our neighbouring stall knitted me a bunch of flowers, the food stall opposite prepared us a 3 course meal and Pat the wood turner made Toby a beautiful ring as he made me one out of copper.
Now this August we're going back to the festival site and doing it again, the same friend marrying us over the anvil but this time with all of our friends and family in tow!
More than anything I wanted to share these songs as a pre-wedding gift to Toby to let him know how our relationship sounds in my head. I feel these songs say more than I could in my own words, though some of them may not make sense to others, they bring back such strong memories of us as a couple.
Hans Zimmer - You're So Cool
Eric Donaldson - Cherry Oh Baby
Sister Nancy - Bam Bam
The Beatles – Norwegian Wood
Harry Belefonte - Jump In The Line
Silly Wizard - Queen Of Argyle
Jimmy Aldridge & Sid Goldsmith - What You Do With What You've Got
Captain Coull's Parrot- Peatbog Faeries
Karl Jenkins - Adiemus
Macka B - Everbody Loves Bob Marley
Nina Simone - Mississippi Goddamn
Toots & The Maytals 54-46 Was My Number
Chuck Berry - You Never Can Tell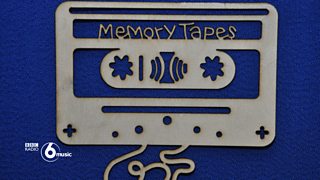 Did you ever make a mix tape for somebody? Did they ever make one for you? We've had mixtapes for friends and from loved ones, the soundtrack to breakups, starting bands, songs played in shops to self-help playlists. We want to hear your Memory Tape, simply email us with the track-listing and story behind it: lauren.6music@bbc.co.uk
First plays, latest new music online, emerging talent & new tunes from returning favourites.
The Desert Island Disco is your opportunity to create the perfect dance floor soundtrack. Send us 10-15 of your best party tracks, and check out what previous listeners have selected.