Main content
Beethoven Remixed Challenge – Extra Terms of Use
We want you to enjoy contributing to Beethoven Remixed. There are a few rules to stick to and they are in the BBC's Terms of Use.
1. Creating a Profile
You must be 16 years old or over to create a Profile and to upload your remix.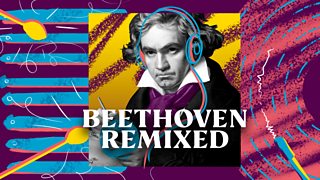 You must be a UK resident.
Don't upload a remix if you work for the BBC or if you're signed to a major record label (for example: EMI, SonyBMG, Warner Universal and all affiliates).
Keep the information you provide in your Profile accurate and up-to-date. Don't share information that you do not have permission to share (such as confidential information of others). To find out how we use and retain your personal data read our Privacy Notice.
If you want the BBC to stop using your remix you can ask us to delete your Profile, but we won't be able to remove it from other places we use it (such as in a TV or radio show). For more information please see our Privacy Notice.
2. Uploading a Profile image
Make sure that the Profile image you upload is one that the BBC can use for as long as we need and that we can use it anywhere in the world in any medium (for example radio, TV, internet (including social media channels)) without a photographer's credit. Don't use an image that's offensive or inflammatory.
The BBC can edit and use your image for the purpose of promoting the Beethoven Remixed project.
3. Uploading your remix
You'll be able to upload your remix until 5pm on 10 December 2020.
It must be a maximum of 5 minutes long. And be in .wav or .mp3 audio format.
The BBC is making available a free-to-use package of audio files of a section of Beethoven's Symphony No.5, which you can download from the link page HERE. At least half of the material you use in the remix should be taken from these Beethoven audio files.
Please be aware that the audio files you download, and your remix which you upload may be large files – you should check your connection speed and ensure that you have the bill payer's permission before you download or upload.
You can also use your own music, lyrics and performance in the remix, but you must not use anything that you do not have the rights to use - for example, samples from a commercial recording. So you'll have to show us that the remix is a combination of the Beethoven audio and your own original work.
Make sure the remix doesn't have explicit or inflammatory language. And it should not unduly promote a commercial brand or entity.
You give us permission to edit and use, host or store the remix you upload in BBC services or content for the purpose of promoting you or BBC Beethoven Remixed. This includes broadcasting or publishing your music on the BBC's radio and TV networks, websites, apps and social accounts.
We hope to use your remix but can't guarantee that it will be broadcast.
We can remove your uploaded remix if you don't stick to the BBC's Terms of Use and these extra terms.
Useful links