Main content
Bittersweet tales of heartache and healing recommended by Peter Davison, Sarah Hadland, Cariad Lloyd and Sir Trevor McDonald
18 May 2022
The fifth Time Lord, guests from the comedy and acting worlds, and a stalwart of television news join Sara Cox to share their favourite books on Between the Covers. This week's recommended reads list features an eccentric crime story, a mother-daughter reunion tale, a masterly history of Australia's penal origins, and 'one of the best grief books ever written'.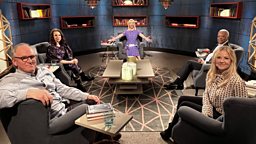 Each week we reveal the favourite books brought in by Sara Cox's guests on Between the Covers. For the second episode of the current series, Peter Davison, Sarah Hadland, Cariad Lloyd and Sir Trevor McDonald share their reading recommendations.


Peter Davison – Polar by T.R. Pearson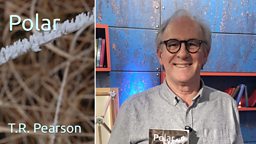 Actor Peter Davison chooses Polar
The cover says: The bittersweet tale of Deputy Ray Tatum's search for a missing child in the wilds of the Virginia Blue Ridge.
Polar is really easy to read and very funny. And at the same time, moving.

Peter Davison
Peter says: "TR Pearson is a brilliant, brilliant comic writer, but "comic" is to undersell him, really. He creates this world: smalltown America, North Carolina, Appalachian Mountains; this eccentric world of people, in all his books. I'm quite fond of a crime story and I love the more picaresque type of novels as well, and this combines the best of all worlds for me.
Polar is about a detective, Ray Tatum, who has appeared in several of TR Pearson's books, and he's just an ordinary policeman - he's not a great detective. He wanders from town to town. In this particular town, there's a three-year-old girl who wanders into the woods and disappears, and his efforts to find out what happened to her are complicated by the people who live in this amazing place.
There is a small-time crook called Clayton who has an epiphany and suddenly becomes a seer really - he is able to give advice about where this child may be. The child's mother becomes a TV celebrity in her grief for her missing child and that's a brilliant, witty take on American media. And the actual story of the three-year-old girl, although it is resolved, is very much in the background.
It's really easy to read and very funny. And at the same time, moving."

Sarah Hadland - My Name Is Lucy Barton by Elizabeth Strout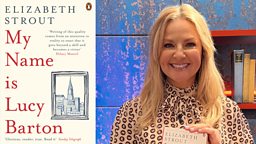 Actor Sarah Hadland chooses My Name is Lucy Barton
The cover says: Lucy is recovering from an operation in a New York hospital when she wakes to find her estranged mother sitting by her bed. They have not seen one another in years. As they talk Lucy finds herself recalling her troubled rural childhood and how it was she eventually arrived in the big city, got married and had children. But this unexpected visit leaves her doubting the life she's made: wondering what is lost and what has yet to be found.
It's so well done that you feel like you really get an insight into these characters.

Sarah Hadland
Sarah says: "Strout has written many books but this is my favourite. Lucy Barton is also a writer and I think there are some autobiographical elements.
It starts and she's in hospital, she's had an operation and they can't work out what's wrong with her. She's currently estranged from her mother, they haven't spoken for years and years and she wakes up one morning and she's at the end of her bed. She only stays for five days and they talk, probably for the first time as adults. This character had a very deprived, rural childhood in America and it's just really interesting how they recount things that have happened in the past. That mother-daughter relationship is so complicated, and she does it so brilliantly.
It's weird because it is also quite sparing, but it's so well done that you feel like you really get an insight into these characters. And it talks about her marriage, her relationship with her children, her siblings. It's absolutely beautiful. You don't even have to identify with the specifics of it. Just the feelings and the emotions."

Cariad Lloyd - H is for Hawk by Helen Macdonald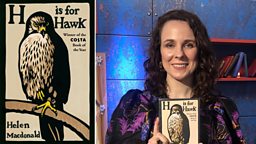 Comedian and Podcaster Cariad Lloyd chooses H is for Hawk
The cover says: As a child, Helen Macdonald was determined to become a falconer, learning the arcane terminology and reading all the classic books. Years later, when her father died and she was struck deeply by grief, she became obsessed with the idea of training her own goshawk. She bought Mabel for £800 on a Scottish quayside and took her home to Cambridge, ready to embark on the long, strange business of trying to train this wildest of animals.
I think it is one of the best grief books ever written.

Cariad Lloyd
H is for Hawk is an unflinchingly honest account of Macdonald's struggle with grief during the difficult process of the hawk's taming and her own untaming. This is a book about memory, nature and nation, and how it might be possible to reconcile death with life and love.
Cariad says: "It's like a nature memoir - it is about Helen Macdonald's journey of her losing her father, gaining a hawk and training it […] It's not depressing because it takes all these different threads of what it is to be grieving: how isolated you feel, how raw that emotion is, how lost you can be, and how animalistic it is. She intertwines that with her journey and this hawk and what the hawk becomes to her.
She's not making a very basic metaphor, she's taking it to a new, more nuanced place. She's also talking about the English countryside and what that means to us - who owns the English countryside, who owns your grief. There are all these thousands of questions, but really, it's a woman getting deeply frustrated that a hawk does not do what she wants it to do. And eventually she has to accept, like grief, that she can't control it.
It will make you cry or make you laugh, and I think it tackles grief in such an intelligent way. It makes you feel connected and seen, and I think it is one of the best grief books ever written."

Sir Trevor McDonald - The Fatal Shore by Robert Hughes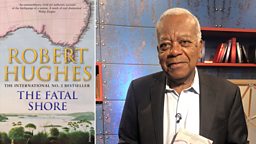 Journalist Sir Trevor McDonald chooses The Fatal Shore
The cover says: An award-winning epic on the birth of Australia. In 1787, the twenty-eighth year of the reign of King George III, the British Government sent a fleet to colonise Australia.
He talks about kids working in factories, so it tells you about England and about what life was like, as well as Australia. Hughes is a brilliant writer.

Sir Trevor McDonald
Documenting the brutal transportation of men, women and children out of Georgian Britain into a horrific penal system which was to be the precursor to the Gulag and was the origin of Australia, The Fatal Shore is the definitive, masterfully written narrative that has given its true history to Australia.
Sir Trevor says: "This is about the colonisation of Australia - and that's the fatal shore which he describes, and he describes the difficulties of that process with a great deal of understanding and comprehension.
What I found equally interesting was the fact that it tells us all about the conditions in Georgian England. You could be sent to Australia for stealing 17 shillings and sixpence. So these people were not all convicts in the traditional sense. He describes, for example, the child labour, which was very common in England.
In one really searing passage he talks about these kids who were working in factories where they just did repetitious jobs. You were only doing that all day. He says... long after their shifts had ended, you would come up on a group of young people who, although they were fast asleep, were still going through the motions as though in fact they were not asleep.
So it tells not only about Australia and how that came about and the whole difficulties of inhabiting a country like that, a land mass like that, but it tells you also about England and about what life was like.
Hughes is a brilliant writer. I used to tell the publishers of this book that I think I sold more of his books for him than he did, because I recommended it to everybody I met, I said, 'you must read The Fatal Shore!"

School days reading with guests on episode 2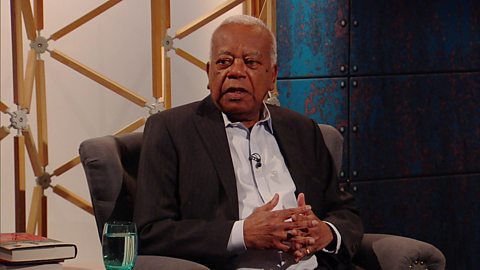 Peter Davison, Cariad Lloyd and Sir Trevor McDonald on what they read as a child.