Main content
10 things we learned from Randy Newman's Mastertapes
Two Academy Awards, six Grammys, 200,000 (by his own, admittedly shaky, estimation) devoted fans, Randy Newman thoroughly deserves the title of musical legend. Combining biting wit with his own unique singing and composing style, his career has spanned well over 50 years – from LA-based '60s singer-songwriter to beloved composer for Pixar films such as Toy Story and Monsters Inc. As he reveals during a fascinating Mastertapes interview with John Wilson, he's down to earth, illuminating and really, really funny. Here's what we found out about him and his 1972 album Sail Away…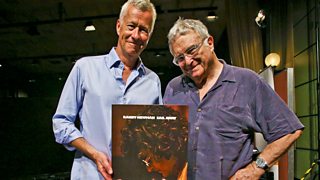 John Wilson and Randy Newman at Maida Vale Studios
1. He loves the sound of his own voice
It's safe to say that Randy has his own highly distinctive and unique singing style, which came as something of a shock to early audiences. "I don't guess that it's for everybody." But he never had a problem with the way he sang. "It sounds like I'm feeling things," he jokes.
"I'm very hard on myself, writing and dancing, whatever I do. But I always liked my voice. I always felt fairly comfortable with it."
2. His relationship with his Pixar songs is… complicated
Randy has been composing music for film and television since the early 1960s, but it was his relationship with Pixar, starting with Toy Story in 1995, that took his career to an entirely different level… and demographic. But he makes it clear that, while being proud of his work, those songs probably wouldn't make it on to a Randy Newman solo album.
"You think I'd write You've Got a Friend in Me? I sound like a used car salesman. But that's what that picture needed and I can do that and I'm proud of that ability."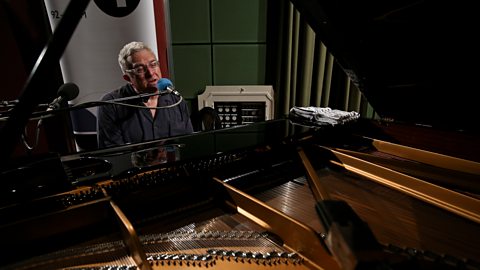 The legendary songwriter speaks to John Wilson about writing for Pixar movies.
3. There's a lot of power in a key change
Randy's "celebration of sex", You Can Leave Your Hat On, has been covered by the likes of Tom Jones, Etta James and Joe Cocker. Those artists played it in a higher key and turned it into a raunchy, slinky, swinging classic, while Randy's original sounds pretty "sleazy" in comparison. But does he prefer his own version? Apparently not. "I could have done it! I didn't think of it! I missed the boat on that one."
So why were the likes of Tom and Joe more successful with the song? "Maybe they have sex different than I do!"
4. He wrote a hit for Cilla Black
The precocious Randy started young. He was a tunesmith for hire from the age of 15, writing numbers for the likes of Gene Pitney, Petula Clark and even Cilla Black. "For a brief period I was writing in a way that was… mainstream… almost."
But he knew his talents would be better served elsewhere. Randy decided to bite the bullet and embark on his own solo career, remembering that: "If I don't do it I'll miss out on the experience. There's so much literature about performing and being in front of the footlights, so I did it… I mean there's no excuse for me to have continued for 50 years."
But Randy thinks he still has the chops to churn out hits for other artists. "If I had to write songs for Radiohead… that's not likely, I could do it."
5. He can write love songs… but doesn't
Early on in his career, Randy decided that love songs didn't interest him that much and that he'd rather focus on writing songs filled with desperate, peculiar and sometimes decidedly unpleasant people. Often these characters couldn't be relied upon to tell the entire truth. "It's always interested me to do that. To not write straight, but do songs in character whereas the syntax and the diction tells you who the guy is."
It interested me to write things other than love songs. Not the brightest thing I've ever done because that's what people like."
So does he regret focusing on dark, acerbic material rather than big, belting ballads? Sort of. "It interested me to write things other than love songs. Not the brightest thing I've ever done because that's what people like. They've liked it for 1,000 years."
6. He can make you laugh... or cry
Instead of following the romantic route, Randy decided that comedy was far more important. "I am, more often than any other pop writer, trying to make people laugh."
And using comedy in his music proved to be a good barometer of his audience's mood. "You sort of know you're all right if people are laughing. You can be great and you don't know it, because people are just sitting if you're not trying to make them laugh."
But he can turn off the wisecracks and turn on the waterworks if required: he just needs the right inspiration. "If I'm getting paid to do Toy Story, I'll make them cry."
7. An atheist that's still got soul
When John Wilson asks if he's an atheist, Randy replies: "Let me answer it this way. Yes."
But just because he fails to follow a particular religion, it doesn't mean he has no interest in faith. As he states, in his own inimitable way: "I don't have any belief, supernatural or religious beliefs. But I have a great deal of respect for how big a hit it is."
Classical and gospel music have had an obvious influence on his own work. "What it's about in the end is the power of the accoutrements connected to religion. Gospel music, Bach, Beethoven, Bruckner. And people whose names begin with another letter than that. But the music is powerful."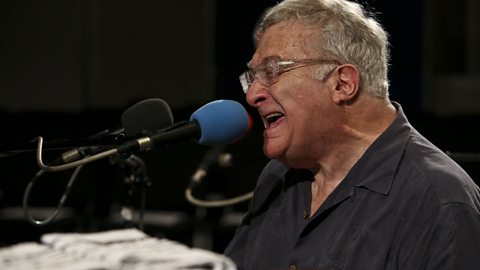 Randy Newman playing live at Maida Vale for Mastertapes
8. And he may also be a prophet
When Randy wrote the song Political Science in 1972 he thought he was being outrageously satirical. But he feels that recent events in American politics have overtaken the satire. "I didn't think anyone in positions of power would be quite that nuts. But now we've got it."
A song that was originally deemed ridiculous suddenly feels like searing social commentary. "When I play it on the continent, they don't laugh anymore."
9. Not breaking into a sweat
Even though he started his professional career in his mid-teens, Randy hasn't exactly been prolific when it comes to solo albums. As the great man says himself: "11 albums in 73 years? There's no excuse for it."
So why didn't he release more? "I never liked to work. I never liked to write. They would have to sit on me to do it."
And sadly Randy wasn't indulging in some kind of wild rock-and-roll lifestyle when he wasn't writing new tunes. As he readily admits: "I wasn't going to go up the Laurel Canyon with Stevie Nicks. I was going to watch television."
10. He's not in it for the accolades
Randy eventually won an Academy Award after being nominated 15 times (and has won another one since). In typical self-deprecating style, his acceptance speech began with: "I don't need your pity…"
He appreciates that awards of this nature can be bestowed under dubious circumstances and so doesn't take them all that seriously. "I got them for, like, not my best work."
"It's like the Grammys I have, they're for 'Best instrumental by a left-handed composer over 40'. It isn't like 'Album of the Year' of anything. I've got six of them, I don't know what they're for."
Listen to Randy Newman's Mastertapes performances