Main content
Has Canada stolen the UK's crown as the home of innovative Asian beats?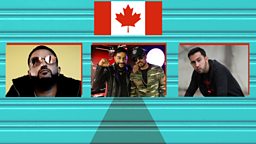 For a long time now, Bobby Friction's weekly Desi playlist has been taken over by one country – Canada.
But not long ago, Canadian artists had to flock to the UK to get their music heard around the world.
In his new documentary Straight Outta Canada, Bobby travels to Toronto to find out how the city and country has produced artists like The Prophec, NAV, Fateh and loads more.
Listen to Bobby Friction's Straight Outta Canada documentary
In the early days, the UK wrote the rules
For a long time, if you were Desi, Canadian and wanted to get your music heard, you went to the UK.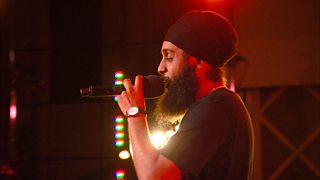 Fateh performs at Asian Network Future Sounds in 2017
Roach Killa, who migrated to Canada from Libya aged 10 and began falling in love with urban Desi music at 12, remembers the idea of journeying to the UK being the same as with Bollywood, where if you wanted to be a star, you went to Mumbai.
"We came to this country with a suitcase and a dream," says Blitzkrieg. "I performed in Glastonbury! A kid from Mississauga. I told the guy from Coldplay to have a good show. I had no idea who he was!"
In Canada, even the likes of Drake struggled to get acclaim back home, says Fateh. "Drake got booed out here. Nobody was taking him seriously. For us to get that support from our own community – it was hard."
Fateh adds that this difficulty in winning attention helped create a bond between local Desi acts. "Everybody's rubbed shoulders at one point. We've all been in similar rooms."
Drake changed the game for Canada
If one artist can be attributed with giving Canada its reputation for game-changing hip-hop, it's Drake.
The Toronto artist started from the bottom, releasing three mixtapes before finally getting a record deal, and he's always stayed true to his roots.
Drake, alongside Justin Bieber, The Weeknd and Nav, have helped Canada become a home for the world's biggest artists.
As a result, the UK has no longer become such a necessary launchpad for new Desi artists. Sathish Bala, who founded desiFEST, says: "I don't think the generation growing up as Canadian look at the UK, US and India markets and feel like they're missing out on something.
"You've got a guy like Nav. He's not sitting here going, 'How do I break into the UK market?' That's been a greater shift. We're working from a position of confidence. We wanna respect our brothers and sisters in the UK, but we don't wanna sound like them. We wanna sound like us."
The once-elusive rapper topped the U.S. Billboard 200 chart with his album Bad Habits – here's how he achieved it.
Next steps: More progress and equality
Simar, who has collaborated with the likes of Fateh, tells Bobby Friction that Canada's scene has the potential to become more diverse.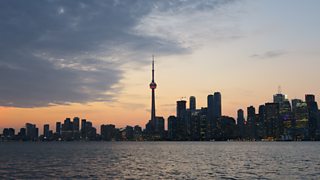 "With social media, women have the ability to do things on their own," she says. "They can put themselves out there without having to be associated with all these guys.
"I truly feel there's a sound that the world needs to hear – they're not getting it from the people out there right now. They're gonna get it from me and the women in North America."
But she adds that equality needs to come from the ground up. "We need more female involvement in the music [industry]. I haven't had the pleasure of working with any female producers or singers."
There is still plenty of room for the scene to grow, but that's not to diminish the huge progress it's made in recent years.
"This is our golden era," says gig organiser Gaurav. "I don't think we've ever been at this level. [And] our golden era is set to continue for a very long time."
Bobby believes the scene in Canada has even more mainstream potential than what it's already achieved. Desi rapper Noyz says: "Our generation, we did a lot of good work, but the most exciting thing to see will be the generation after us... We've just gotta keep amplifying voices and working with those younger artists when they do reach out."