Main content
A Choice of Christmas Desserts
Christmas Blueberry Trifle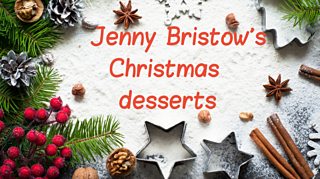 Ingredients Serves 6-8
6 eggs – separated
200g/7oz caster sugar
1 vanilla pod
350g/12oz mascarpone cheese
275ml/½ pt whipping cream – whipped
350g/12oz blueberries
1 dsp water
Juice of ½ lemon
1 sponge cake
150ml/¼ pt sherry
Decoration
1 tbsp fresh blueberries
50g/2oz flaked almonds – toasted
Method
Beat the egg yolks and 175g/6oz of the caster sugar in a heatproof bowl until pale and creamy. Add the vanilla pod, slit down one side, and cook over a pan of simmering water for 5-6 minutes, until the mixture thickens slightly and loses its eggy flavour. The best way to test if the mixture is ready is to taste it. Remove from the heat, take out the vanilla a pod and allow to cool. When almost cool, add the mascarpone cheese and cream alternately, a little at a time, mixing thoroughly after each addition.
Place the blueberries in a saucepan with the water, remaining sugar and the lemon juice. Heat gently for 1-2 minutes until the sugar has dissolved, then leave to cool.
Cut the cake into slices about 2.5cm/1 inch thick and arrange half in the bottom of a large serving dish. Pour over half the sherry and spoon over half the poached blueberries and half the mascarpone custard. Repeat all the layers, including the sherry, but reserve a little of the blueberry mixture for the top.
Decorate the top layer of mascarpone cream with the remaining poached blueberries, fresh blueberries and almonds. Alternatively serve the trifle in individual bowls or glasses.
Brandy Sauce
This sauce is also very good over vanilla ice-cream Ingredients
115g/4oz melted butter
115g/4oz soft brown sugar
1 egg – lightly whisked
140ml/¼ pt brandy
280ml/½ pt lightly whipped cream
Method
Melt the butter in a saucepan, add the brown sugar and stir until dissolved, cooking for 3-4 minutes.
Allow to cool slightly, then add the beaten egg and brandy. Mix well. (This mixture can be stored in a screw-top jar in the fridge).
To complete the sauce, reheat the brandy mixture and add the lightly whipped cream. Serve warm.
Brandy Soaked Plum pudding
This is one of those wonderful recipes that has been handed down and handed on. It was originally my grandmother's recipe and the one I use every year, with the homemade brandy sauce.
Makes a 2 LB pudding or 2-3 smaller ones.
200g/ ½ LB butter
200g/ ½ LB soft brown sugar
3 eggs lightly whisked
150g/6oz Neill's plain flour
1 tsp baking powder
150g/6oz white bread crumbs
100g/4oz ground almonds
200g/8oz raisins
50g/2oz apricots sliced
200g/8oz sultanas
100g/4oz glace cherries halved
1 grated apple
Rind of one orange
½ tsp each of mixed spice, cinnamon and cloves
4 tbsp brandy
Method
Prepare the fruit.
Mix together in a large bowl the sultanas, raisins, glace cherries, sliced apricots, orange rind, spices and brandy. Mix well and leave if possible to steep for up to 24 hours.
Pudding mixture
Cream the butter and sugar together until light and fluffy and then alternatively add the egg, flour, breadcrumbs, ground almonds and baking powder in 2-3 additions. Mix well before adding the fruit mixture. This will take time to mix well, then transfer to lightly greased pudding basin. Fill to within ½ in of the top then cover with oiled greaseproof paper and tie securely with string.
Nb pudding basins with lids can be bought which are very convenient.
Cook either in a steamer or in a pan of boiling water for 3-4 hours ensuring the water does not boil dry during cooking. This can be made a month in advance, stored and reheated on Christmas morning by steaming for further hour before serving.
Jenny Bristow's White Chocolate Cake with Poached Cranberries and Coulis in an Irish Mist
This tangy pudding is made with melted white chocolate to give it a smooth creamy texture. The lightly poached cranberries are seasonal and a hint of Irish Mist liqueur gives the dish an extra twist but is entirely optional.
Ingredients (serves 8)
Base:
110g/4oz almond biscuits
25g/1oz butter
2 dsp honey
1lb. cream cheese
1 oz icing sugar
400g/14oz good quality white chocolate
6 egg yolks
25g/1oz icing sugar
Zest of 3 lemons
570ml/1pt Greek yoghurt and double cream mixed (or ½ single cream and ½ yoghurt)
25gm/1oz gelatine
2 dsp water
Poached Cranberries
1 tbsp water
25g/1oz sugar
225g/8oz cranberries
2 dsp Irish Mist – optional
Sprig of mint
2 dsp summer fruit coulis
Method
Blitz the biscuits in a food processor or use a rolling pin to crush. Melt the butter in a pan over a low heat and add the honey. Warm through for 30seconds. Now add the biscuits and mix well. Continue to heat for a further 1-2 minutes. Line a tin with greaseproof paper and butter the sides. Transfer the mixture to the tin and press down well.
Beat the cheese with the icing sugar. Melt the chocolate in a bowl over a pan of hot water. Remove from heat. Put to one side to cool. Beat the eggs and sugar in a separate bowl over a pan of warm water. To the cheese mixture the lemon zest, and blended gelatine, the cooled chocolate, and cream to the egg yolks and sugar and mix well. Pour the whole mixture over the biscuit base and leave to set in the fridge for 1-2 hours.
Poached Cranberries
Lightly poach the cranberries with a little water and sugar. Pinch of cinnamon can be added. Leave to cool. Decorate the cooled, chilled cake with poached cranberries, fruit coulis and mint.