Main content
Rosie Ruth *Grace* Archer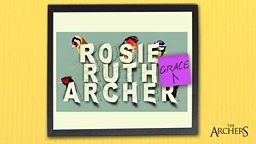 Giving our daughter the name Grace would be… like a gesture of reconciliation.

Toby Fairbrother
Pip left the village fete early, complaining that she felt tired, but when she arrived home to an empty Brookfield, she went into labour. With no one around and Ruth and Toby not picking up their phones she was saved when Rex drove past in his taxi and took her to the hospital.
At Borsetshire General on Monday 23rd July Pip gave birth to a little girl. Ruth and Toby had made it to her side just in time, as well as Rex who had stayed the night.
Pip and the baby arrived home two days later and were welcomed back by the full Brookfield clan. Pip and Toby revealed that their daughter would be called Rosie Ruth Archer, Ruth was delighted.
When Robin Fairbrother, Toby's dad, came to stay he made his feelings known about what a shame it was that Rosie wasn't taking the Fairbrother name. The following week, moments before Rosie's name was to be registered Toby pitched the idea of adding "Grace" to Rosie's name. He explained that it was a traditional Fairbrother name. Pip was concerned that the name might offend Jill whose husband Phil had been married to Grace Fairbrother. Eventually, the two decided that they would register Rosie's name as Rosie Ruth Grace Archer and not tell Jill.
Let's just hope she doesn't find out!