Main content
20 great storytelling podcasts to download
If ever there was a time to immerse yourself in a different world, a commute on a dark grey winter's morning is it. Storytelling podcasts can take you straight into fantasy, can grip you, make you laugh, help you relax before bed or even make you miss your stop on the bus. However they do it, a story can take you somewhere. We've picked our 20 favourite storytelling podcasts for you to download this winter.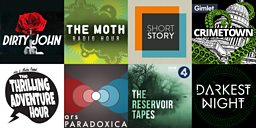 (Clockwise from top left) Dirty John (Los Angeles Times), The Moth Radio Hour (The Moth), Short Story (BBC), Crimetown (Gimlet Media), Darkest Night (The Paragon Collective), The Reservoir Tapes (BBC), ars PARADOXICA and The Thrilling Adventure Hour (Workjuice Corp).
1. Tracks
The multi-award winning Tracks podcast begins as Dr Helen Ash (Romola Garai) witnesses a horrific plane crash. The dark conspiracy thriller series which launched in 2016 has now been followed by a second series – Tracks Strata is a prequel which traces the story back to Snowdonia in 1980. Written by Matthew Broughton, it's the perfect accompaniment to a stormy evening. Prepare to be absorbed – at times, you may find yourself on the edge of your seat...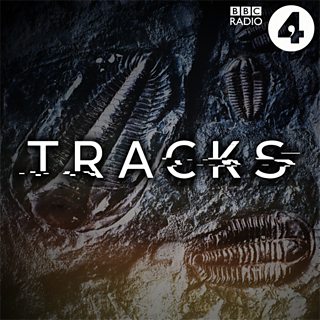 Tracks by Matthew Broughton (BBC)
2. Adventures of Philip Marlowe
And now for something completely different – Philip Marlowe, Raymond Chandler's hard-drinking, wisecracking private detective, is played here by Van Heflin in these LA noir plays from the late 1940s. Tip your trilby back on your head and get your swagger on.
3. Dirty John
Contemporary drama here, and real life. Dirty John has taken the podcasting world by storm. It's the story of a middle-aged divorcee's relationship with a seemingly ideal man... until it starts to go wrong. Featuring interviews and accounts from those involved, it's truly gripping.
4. ars PARADOXICA
Physicist Sally Grissom finds herself stuck in 1943 after a time travel experiment goes awry. She finds herself entangled with government agencies and draws others into her story. Complex and satisfying, ars Paradoxica is more than simply science fiction.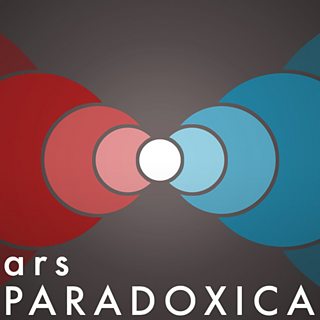 ars PARADOXICA podcast written by Daniel Manning
5. Black List Table Reads
What happens to all the good screenplays that don't get made into films? They get made into "earmovies" by Black List Table Reads. The scripts are read by a cast of professional actors, the stage directions are narrated and sound effects are used – it's a fascinating insight into how absorbing a simple script can be. Great for those interested in stagecraft as well as people who just like good stories told well.
6. The Reservoir Tapes
When Becky Shaw goes missing in the Peak District, the story of her disappearance is told from the viewpoints of those involved. A gripping listen, spread over 15 episodes, The Reservoir Tapes is the prequel to writer Jon McGregor's Man Booker-listed novel Reservoir 13.
7. The Moth Radio Hour
In The Moth Radio Hour, storytellers tell true tales of their experiences in front of a live studio audience. Some will make you laugh, cry, or stop you in your tracks. For instance the man who turned his front garden in a deprived area into an open-to-all allotment, or the brave soul who built a dating strategy around romcoms.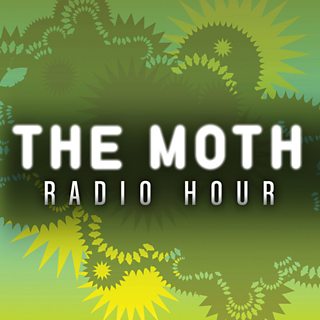 The Moth Radio Hour, founded by George Dawes Green (The Moth)
8. News from Lake Wobegon
"It's been a quiet week in Lake Wobegon, my home town..." Like sinking into a warm bath while your Sunday dinner roasts, the News from Lake Wobegon podcast from humorist Garrison Keillor features funny and sometimes moving tales from the town where "all the women are strong, all the men are good-looking and all the children are above average."
9. Short Story
Perfect for a listen at the end of the day, Short Story is brought to you by us! These original stories have been written exclusively for BBC Radio 4 by the likes of Téa Obreht and Jenny Fagan. Some of the best writing around.
10. The Thrilling Adventure Hour
If you miss Dick Barton and his ilk, then The Thrilling Adventure Hour is for you. Well-known guest stars bring to life this "old radio"-style drama, based on a live production staged in Los Angeles. Odd, charming and completely delightful.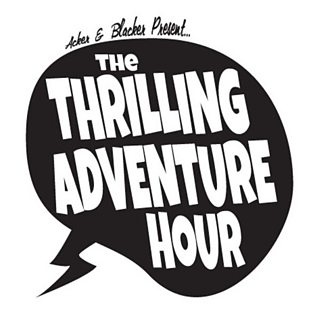 The Thrilling Adventure Hour (Workjuice Corp)
11. Moby-Dick Big Read
Fancy hearing Moby-Dick read by David Cameron? No? OK, how about Sir David Attenborough? Tilda Swinton, then? Devised by the author Philip Hoare and artist Angela Cockayne, a different person reads one of the 135 chapters of Herman Melville's astonishing novel in each podcast.
12. The Truth
Your ears can take you anywhere, and The Truth provides you with dark, intriguing short stories that use audio effects to create an immersive impression. Can you handle The Truth?
13. The Archers
If you find yourself in need of something to get you through a drizzly 15-minute walk, why not pop to Ambridge? The Archers podcast will take your mind off the gloom and you'll find yourself worrying about the rehearsals for Lynda Snell's Christmas show instead. Altogether now... dum-ti-dum-ti-dum-ti-dum...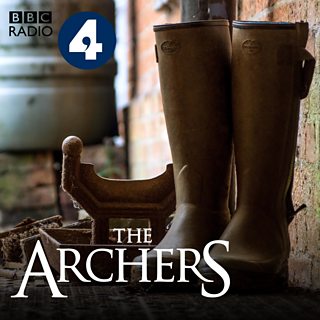 The Archers (BBC)
14. Welcome to Night Vale
Night Vale makes Twin Peaks look like Henley-on-Thames. Local weather reports, announcements from the Sheriff and news make up the community updates for the small desert town of Night Vale... along with dark hooded figures and possible UFO sightings. Weird and wonderful.
15. The Author's Voice
In this podcast, published by The New Yorker, authors read their own short stories, written for the magazine. From well-known names like Ian McEwan and Zadie Smith to complete unknowns, it's a real and rare treat to hear the authentic voices of the authors delivering their own work.
16. Crimetown
Hanging on to the coat tails of Serial, as so many podcasts have tried to do, Crime Town brings humour and a real sense of style to its investigations into the role crime plays in many American cities. Beginning with the city of Providence, Rhode Island, the presenters interview mobsters and mayors to uncover the murky secrets behind power. It also has some of the best music in podcast-land.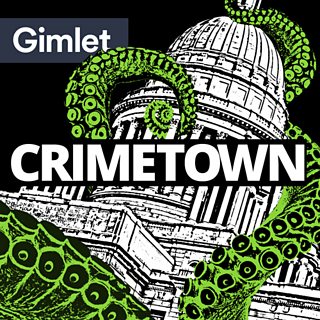 Crimetown podcast (Gimlet Media)
17. The Orbiting Human Circus (of the Air)
The Orbiting Human Circus (of the Air) will appeal to anyone who likes the Mighty Boosh or The League of Gentlemen. Set in a strange retro music hall, it was created by Julian Koster of the band Neutral Milk Hotel, and boasts impressive guest stars like Tim Robbins (who plays a cricket) and Mandy Patinkin.
18. Darkest Night
If you like a bit of fear in your ear, this one's for you. Recorded in binaural sound, which means the noises and voices come at you from all angles, this is an immersive podcast involving the horrifying Project Cyclops, designed to uncover the "secrets of the dead". Brace yourself!
19. LifeAfter
When a widower, trying to deal with his wife's sudden death, discovers her audio posts on social media and becomes obsessed, he enters a chilling world. And you'll go with him if you listen to LifeAfter. Definitely one for a dark night.
20. Living with the Gods
In this fascinating podcast Neil MacGregor explores the role and expression of shared beliefs in communities around the world. The series is produced in partnership with the British Museum.
Let your ears have some fun this winter and pull up a podcast. Enjoy.