Main content
The composer who took a cue from birdsong
Meet Olivier Messiaen – the bird-mad composer who used birdsong to create some of the most startlingly original music of all time.
It all started in springtime... in a prisoner of war camp, writes author/presenter Tom McKinney.
In May 1940, 34-year-old composer Olivier Messiaen – then serving as a medical auxiliary in the French army – was captured by the Germans and sent to a POW camp. There, he wrote one of his most famous pieces, Quartet for the End of Time. Its influences are numerous, but crucially, it contained music that imitated the songs of a blackbird and a nightingale.
Messiaen was released a year later and returned to Paris, where he resumed his former life as a musician and educator. Over the next 50 years he would go on to write music ranging from vast operatic, choral and orchestral works through to miniatures for piano – all of it based on birdsong.
An interest in birding soon turned into a full-blown obsession.
Messiaen criss-crossed France, sometimes sleeping rough and often risking serious injury in his quest to see and hear as many species as possible. But what set him apart from other keen birders was his ability to transform the melodic outline and rhythms of birdsong into notated music.
Over four decades, Messiaen filled thousands of pages of manuscript paper with fragments of birdsong. Back home in Paris, he refined the sketches with the help of recordings – although funnily enough, he never mentioned that bit in public. It seems he wanted to maintain the illusion that all of his music came directly from the natural world. Using recordings must have felt a bit like cheating.
Messiaen's synaesthesia meant that he could 'hear' the colours of the birds he wrote about.
Messiaen experienced a neurological condition called synaesthesia, which in his case meant that he associated sounds with colour. Whenever he heard an E major chord, for example, his mind would be flooded with sunset red.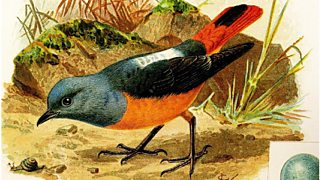 1895 illustration of a rock thush
This synaesthesia also affected the way he perceived and notated birdsong. For example, he once said that the song of a rock thrush was the same brilliant orange as the bird's breast (although whether an audience can perceive any of that is another matter altogether).
The next logical step was to try to incorporate birdsong into human music.
In 1952 the composer became friends with the eminent amateur ornithologist Jacques Delamain. The next year, he wrote Reveil d'Oiseaux (Dawn Chorus), a piece for orchestra that contained the transcribed songs of 38 different French birds. A year later, he wrote Oiseaux Exotiques (Exotic Birds), upping the total to 48 species and including birds from all over the world.
But Messiaen's magnum opus was Catalogue d'Oiseaux (Catalogue of Birds), a work for solo piano completed in 1958. It's divided into 13 different sections, each devoted to a principal bird – but there are 77 different species of birds in the music altogether. When played without a break, it lasts comfortably over two-and-a-half hours.
Catalogue d'Oiseaux is dedicated to the pianist Yvonne Loriod, who eventually became Messiaen's wife.
They met in the early 1940s, when Loriod was one of Messiaen's composition students. She soon developed into one of the finest pianists of her generation, with a technical ability that still astounds listeners today. Once Messiaen realised that there were virtually no limits to what Loriod could achieve with the piano, it gave him the freedom to write music exactly as he wanted it to sound, no longer hindered by his own limitations as a pianist.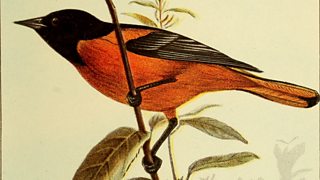 1898 illustration of an oriole
Ultimately, Loriod proved to be every bit as much of a muse to Messiaen as his beloved birds. Quite simply, he couldn't have written Catalogue d'Oiseaux without her.
Rather fittingly, Loriod's surname sounds just like 'loriot' – the French word for oriole, a bird species with a particularly beautiful plumage. You could say it was a match made in heaven.
Messiaen wasn't the first composer to be inspired by birds, but he was possibly the most enthusiastic.
Birdsong has inspired human music for a long time. One of the earliest known pieces of polyphonic music is a 13th-century song called Sumer is i'cumen in, where singers imitate the calls of a cuckoo. Vivaldi, Handel, Mozart and Beethoven, too, all wrote pieces of music that feature birdsong.
In Messiaen's case, it was his devout Roman Catholic faith that led him to believe that birdsong was a direct link to the music of Heaven. Consequently, he felt that it was his duty as a musician in God's service to portray birdsong as accurately as possible.
So how accurate is the birdsong in Messiaen's music?
It's difficult to say. Ornithologists have been asked to identify the birds from the music, but with mixed results. Messiaen himself certainly considered his musical versions of birdsong to be as accurate as humanly possible; this is backed up by a story told by Yvonne Loriod.
Out walking with her husband one day, Loriod heard a bird calling nearby that she identified by ear as a curlew. Messiaen said that this was impossible, given how far inland they were. But Loriod was adamant that she recognized the bird from having played its song in Catalogue d'Oiseaux. Sure enough, they looked up and saw a curlew flying overhead.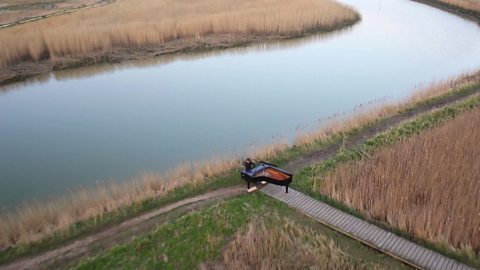 Birdsong and music celebrated at the Aldeburgh festival: Julian Trevelyan plays Messiaen.
It didn't stop with Catalogue d'Oiseaux.
The composer spent eight solid years during the late 1970s and early 1980s composing his only opera, based on the life of St Francis of Assisi. For some reason – which nobody has ever been able to fully explain – he decided that one of the principal characters had to be represented by the song of a Fan-tailed Gerygone, a bird found only in the islands of New Caledonia in the South Pacific.
Listening to a mere recording obviously wasn't going to cut the moutarde. So the septuagenarian Messiaen travelled to the South Pacific alone, solely to hear the bird in its natural habitat. On balance, it was a pretty strange thing to do, as it's unlikely that St Francis of Assisi ever visited the southern hemisphere.
Today, Messiaen's music is still amongst the most frequently performed of composers from the twentieth century.
Messiaen's profound relationship with birds has always fascinated audiences. His music may at times seem baffling, but more than any other composer in history, he tapped into a universal truth – that life on this planet is a considerably more pleasurable experience when it's filled with birdsong.