Main content
Pathways to Prayer – Lent Retreat 2021
During Lent, Sunday Worship and the Daily Service on BBC Radio 4 will be taking inspiration from Ignatian spirituality, writes series producer Philip Billson. A link to an online retreat for Lent provided by the Jesuit order which will complement programmes on Radio 4 can be found here.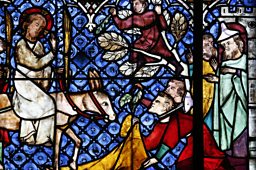 Palm Sunday – Entrance of Jesus into Jerusalem. 14th century stained glass, Our Lady of Strasbourg Cathedral. © Getty Images
Ignatian spirituality is a Catholic spirituality named after 16th-century St Ignatius of Loyola, who founded the Jesuit order. It is a pathway that is rooted in the Christian tradition which assumes that God is at work within and throughout all that exists and encourages us to get to know Christ and serve him through our lives.
In this difficult time for us all, we need these 'prayer tools' more than ever.
It can be encountered simply by paying attention to the here and now, in both our inner experience and in the world around us. What moves you? What brings you life? What do you want to give yourself to? What do you desire most deeply? What holds you when you suffer? Ignatian Spirituality engages with these questions so that people can seek to bridge life and prayer. It invites people to live more fully and act more purposefully for the good of all life on Earth.
Why do we pray? Maybe we want to spend time with God, or we're feeling stressed, or we want to get know ourselves more deeply... We may turn to set prayers, our imagination, scripture, simply sitting in silence or any of the other myriad of ways of praying to express this intention of being with the God who loves us and draws us.
In this difficult time for us all, we need these "prayer tools" more than ever. Join us through Lent this year when we will journey together, spending more time in prayer and getting to know Jesus. We will ponder Gospel stories, reflect on their meaning for us in today's world and see how startlingly relevant Jesus is to living a truly human life in the 21st Century.
During this time, you are invited to pray and reflect over the person of Jesus as you see him in the Scriptures and allow Him to reveal God to you. Trust what you see will be what you need to grow deeper into knowing, loving and serving God and those around you.
This retreat, produced in Scotland by the Society of Jesus – a Catholic religious order – is open to all throughout the world. The retreat web page offers Gospel stories, a daily prayer, and an opportunity to reflect on their meaning and relevance to living a truly human life in the 21st Century. [www.onlineprayer.net]

Radio 4's Sunday morning service, live from churches and chapels throughout the country.

A space for spiritual reflection with a Bible reading, prayer and a range of Christian music.

Watch Rhidian Brook's uplifting New Year Thought for the Day.