Main content
Craig Charles's top 10 civil rights anthems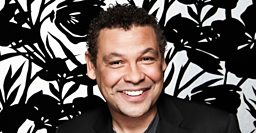 Billie Holiday: Strange Fruit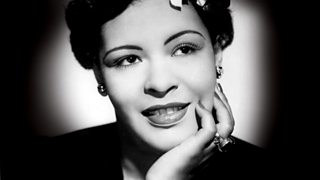 This is just one of the most powerful songs I have ever known. The communist poet Abel Meeropol wrote it when he saw the photo of the infamous case in 1930 when a mob, aided by local police, lynched Thomas Shipp and Abram Smith who were in jail for charges that were later dropped. Billie Holiday used to close her headline act with this song at the innovative Café Society nightclub in Manhattan in the late 1930s. The waiters were under orders to stop serving, the lights dimmed, the crowd was hushed, a spotlight fell on Lady Day's face; and when it was over there was no encore. It is one of the few songs that I know that evokes such horror, that its effects are physical.
Mahalia Jackson: We Shall Overcome
At the 1968 funeral of Dr Martin Luther King's, 50,000 mourners sang "We Shall Overcome" – the words King had recited in his very final sermon. Since then it has circled the world as a rallying call for hope over adversity. For me, it represents a meeting together of several grass roots movements which all take their place in the Civil Rights movement. The spiritual message of Charles Albert Tindley's 1901 hymn was picked up by the US labour movement during strikes; that link brought it to the attention of the US folk movement – one their leading lights, Pete Seeger, added verses to it. He and his colleagues introduced it to their students at the Highlander Folk School, who further embellished it to become their own rallying cry; Joan Baez led a crowd of 30,000 in a rendition of it at the Lincoln Memorial on the same day that King gave his "I Have A Dream" address. So from church to striking workers, to folk musicians, to students – this song touched and inspired all of them. And I love this version as it brings it to back to its beginnings, courtesy of probably the best gospel singer the world has ever given birth to.
Nina Simone: Mississippi Goddam
Her husband caught her trying to build a handgun to go out and shoot someone but he persuaded her to channel her rage into music instead, and this was the result.
Until "Mississippi Goddam", Nina Simone had steered clear of writing protest songs. In fact she was not alone in this; Nat King Cole was also on record for refusing to sing Civil Rights songs and Fats Domino was prepared to play to segregated audiences if the price was right. But 1963 had not been a good year in the south, police dogs and water hoses had been set on protesting school children in Alabama and prominent Civil Rights activist Medgar Evans was shot dead (it took 30 years until the perpetrator was brought to justice). But when Ku Klux Klan member "Dynamite Bob" detonated his favoured weapon under a school in Alabama, killing four children who were there for Bible class, something snapped with Nina Simone. Apparently her husband caught her trying to build a handgun to go out and shoot someone but he persuaded her to channel her rage into music instead, and this was the result.
Sam Cooke: A Change Is Gonna Come
Probably the definitive Civil Rights song, and an irony for a man who was not overtly political and who had previously shied away from the movement for fear of losing his white audience. But in the 1960s things were changing for him; he had assisted the then Cassius Clay with his only album and spent a lot of time with Malcolm X. But it was events that broke down his inhibitions. In the summer of 1963, faced with playing a heavily segregated audience in Memphis, he cancelled the show. Later that year, his band's reservations at the Holiday Inn in Shreveport were rejected and they were jailed for the fuss that they made. The final straw seems to be when Cooke heard Bob Dylan's "Blowing In The Wind" and was struck by the fact that if a white man was taking on these issues then he had a lot of catching up to do – he determined to make a record that his father, the Rev. Charles Cook, would have been proud of. Sadly he did not live long enough to see it released and in fact only ever performed it once in public; but for obvious reasons it was seized on by the Civil Rights movement –as the activist Rosa Parks so beautifully put it, when she listened to "A Change Is Gonna Come" after learning of the death of Martin Luther King, it was like "medicine to the soul."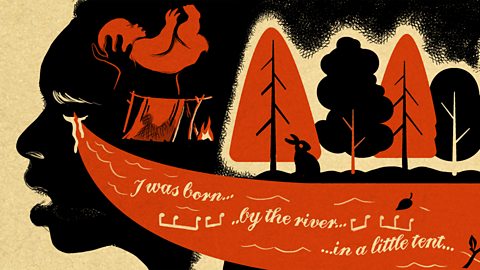 Professor Mary King describes how the 1964 record became a symbol of hope.
The Staple Singers: Freedom Highway
The whole Civil Rights movement saw a ratcheting up of forms of protest over the decades from the early gradual attempts at change relying on the courts and political lobbying, right through to the call to arms in the late '60s and '70s. But, in the early '60s it was all about mass mobilisation. There were sit-ins against segregated seating at restaurants; freedom rides to desegregate the seating on buses; drives to register voters; and one of the most effective were the Freedom Marches. All of these were met with sickening violence, but none more so than the infamous Selma Marches, the first one of which resulted in "Bloody Sunday". Protestors were confronted by law enforcement agents who beat them up with a variety of weapons including bull whips and rubber tubes wrapped with barbed wire. The photos sickened so many Americans and created such a sense of panic about where this was all leading to, that the Voting Rights Act was passed. So of all the Staple Singers songs, this is one of the most significant as it was dedicated to and encouraged some of the bravest people in the whole movement.
John Lee Hooker: Motor City's Burning
Blues performers were no strangers to railing against discrimination. Back in 1938 the wonderful Lead Belly had recorded "Bourgeois Blues" in response to the racism he had encountered in Washington DC. So it was no surprise that another iconic bluesman would feel driven to write about what was happening in his adopted home of Detroit in 1967. Some progress had come with the passing of the Civil Rights Act 1964 and the Voting Rights Act 1965, but the volatile combination of high expectations and the slow rate of change erupted into violence in the long summer of 1967, when 159 race riots spread across the country. One of the US's worst ever riots exploded in Detroit, which saw an unprecedented five days of destruction. Later studies showed that 79 percent of the police force were at the very least "prejudiced" against the black population, unemployment amongst black men was double the rate of white men, and the area where it all kicked off – 12th Street – had a population density of double the city average. The following year, and after more riots following the assassination of Martin Luther King, the Civil Rights Act 1968 was passed.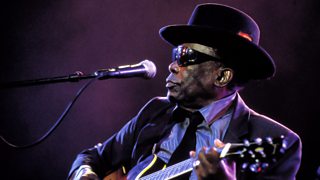 John Lee Hooker
Listen to John Lee Hooker's Desert Island Discs
James Brown: Say It Loud I'm Black And I'm Proud
This was a bit of a turning point in R&B, ushering in a slew of songs in the late '60s and early '70s dealing with black pride. But the Civil Rights movement presented Soul Brother Number One with a challenge – one that he did not always deal with particularly well, leading some of his fans to turn their backs on him, calling him "Sold Brother No. 1". In the early days Brown had shown public support and had signed up for the National Advancement of Colored People, visited the renowned activist James Meredith in hospital, and playing at his rally; however his closeness to politicians such as Vice President Hubert Humphrey led to the criticism that he had become too much of an establishment figure. But the fact is that in 1968 there was hardly a better known black performer than James Brown – everyone wanted him in their camp including the Black Panther Party. He even claimed to have found a deactivated hand grenade with his name written on it outside his hotel room. So his response was to shoot from the hip and record "Say It Loud I'm Black And I'm Proud". But this was not the call to arms that the Black Panthers were espousing but an anthem reflecting his own ethos that hard work, education and application were the way out of poverty – very much in keeping with his later single "I Don't Want Nobody To Give Me Nothing (Open Up The Door, I'll Get It Myself)". Claims in US media at the time – "Is This The Most Important Black Man In America?" – were premature as his later endorsement of Richard Nixon would not only lose a large segment of his fan base but in many ways any credence that Brown had had in the Civil Rights movement.
Last Poets: Wake Up Niggers
Uncompromising, brutal, and impossible to ignore.
From their debut album from 1970, one of the most explosively provocative albums I have ever come across. I love it as it is also such a pure expression of the Black Arts Movement, a movement which was created in the aftermath of the assassination of Malcolm X and which adapted many of the ideals of Black Power into the arts world. It aimed to liberate black artists (and also Latin and Asian artists) to freely address issues that affected them in their own way and with little consideration of how it impacted on the traditional arts landscape, in the process regaining ownership and celebration of their own culture. Among those who were involved were such wonderful artists as Nikki Giovanni, Maya Angelou, and Rosa Guy. Everything The Last Poets did in the early days was symbolic. Their first performance was on Malcolm X Day, and even their name was taken from a line by South African revolutionary poet Keorapetse Kgositsile: "the only poem you will hear will be the spear point pivoted in the punctured marrow of the villain". After reciting this they declared, "Therefore we are the Last Poets of the world". Uncompromising, brutal, and impossible to ignore.
Jimmy Cliff: Vietnam
Bob Dylan once described this as the best protest song ever written, and I have to say that I can see where he was coming from. There is something so direct and simple and yet so heart-breaking about it which hits right home with an almighty thud. With a disproportionate number of African- Americans making up the numbers sent to Vietnam, and suffering a disproportionate number of casualties, it was hardly a surprise that this was one of the many issues that became intertwined in the Civil Rights movement. Not only Martin Luther King rallied against it but also Muhammad Ali refused the draft. It also is a testament to the power of the movement that it was not long before artists across the world began to get involved. Jamaica proved a fertile ground of protest not only with Jimmy Cliff, but also Bob Marley, Bob Andy, and Peter Tosh amongst many others all contributing.
Odetta: This Land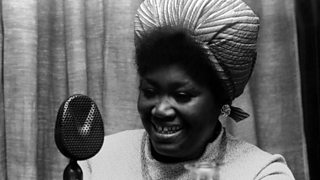 Odetta, 1968

I have to finish with Odetta, the woman who turned Bob Dylan on to folk music, and who was a major influence on Janis Joplin. But above all she was the embodiment of the Civil Rights movement. When Rosa Parks was asked what inspired her to refuse to give up her seat to a white person on a bus, she said it was the music of Odetta. Martin Luther King dubbed her the Queen of American Folk music, and she was there beside him on 28 August 1963 when he gave his "I Have A Dream" speech. There are so many inspirational songs from her to choose from, but her version of a song which Woody Guthrie had recorded in 1944 for a very different America seems to sum up it all perfectly: "From California to the New York island, From the red wood forest to the Gulf Stream waters, This land was made for you and Me."
A Change Is Gonna Come
Actor Clarke Peters tells the stories of the songs behind the civil rights movement.

Soul Music explores a song that has become a classic anthem for civil rights in the USA.