Main content
Folk superstar and truth-seeking artist: The real Rory McEwen
8 December 2017
You may not have heard of Rory McEwen, but millions watched the folk musician perform on TV in the 1960s, and John Lennon, Ravi Shankar and Allan Ginsberg were guests at his home in Chelsea. He then sought truth in beautiful botanical paintings before his untimely death aged 50.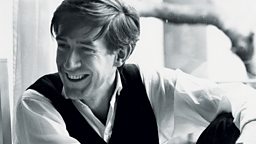 Rory McEwen
An Eton-educated aristo, Rory McEwen's love of Blues would take him and his brother Alex to the US in the late 1950s where he met the widow of his hero, Huddie 'Leadbelly' Ledbetter. He also spent time with folk singer Pete Seeger, as well as appearing on consecutive nights on the prestigious Ed Sullivan Show.
McEwen inspired young hopefuls such as Van Morrison and Billy Connolly with his 12-string guitar playing
Unusually for folkies, in New York the brothers stayed with one of the Astors. Their time in the States would launch a fascinating and at times unlikely career for Rory, which is captured in the documentary Secret Knowledge: In Search of Rory McEwen (repeated on BBC FOUR, Monday 11 December 2017).
When McEwen returned to the UK he went on to host ATV's Hullabaloo music show and appeared on Tonight with Cliff Michelmore on the BBC, inspiring young hopefuls such as Van Morrison and Billy Connolly with his 12-string guitar playing.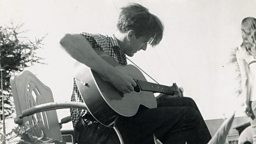 Rory McEwen 'plays 12 string guitar for the first time' | Family album | Courtesy of The Estate of Rory McEwen
The 1960s found McEwen mixing with a bewildering array of public figures from Princess Margaret to Bob Dylan, Ravi Shankar and Jim Dine, before deciding to put aside his music to concentrate on painting.
I paint flowers as a way of getting as close as possible to what I perceive as the truth, my truth of the time in which I live.

Rory McEwen
Although he would also go on to create light-refracting Perspex sculptures and other art forms, it is his beautiful, hyper-realist paintings of plants upon which his reputation as an artist rests.
In 1982 he was diagnosed with terminal cancer, which led him to take his own life.
It is a testament to the respect with which McEwen is held that the documentary, presented by his son-in-law Jools Holland, boasts such an array of notable guests, from David Dimbleby to Martin Carthy, who are all anxious to ensure that an unjustly forgotten artist should receive his dues.
Below we feature a selection of Rory McEwen's brilliant botanical paintings, as well as a timeline of his life.
A version of this article was published in February 2015.
Van, Jools and Jim Dine on McEwen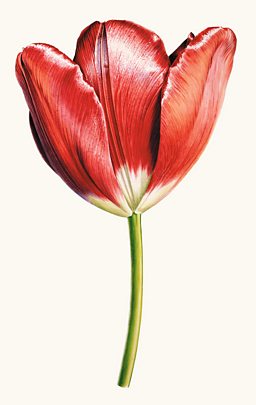 Rory McEwen, Tulip 'Helen Josephine' (rose breeder), 1975 | Watercolour on vellum

Rory McEwen, Allwood's Carnation I, 1962 | Watercolour on vellum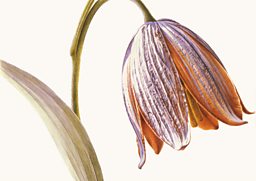 Rory McEwen, Fritillaria caucasica, 1981 | Watercolour on vellum
Rory McEwen Timeline
1932
Born in Marchmont, near Polwarth in the Scottish Borders.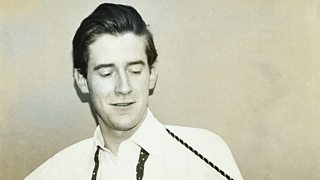 Rory McEwen
1940
Rory began painting flowers at the age of eight, encouraged by his French governess.
1940s
At Eton he was taught art by Wilfrid Blunt, who was then working on his seminal book The Art of Botanical Illustration.
1948
Rory hits upon the genius of Huddie William Ledbetter, better known as Leadbelly, king of the 12-string guitar.
1953-55
Studies at Cambridge, performing with Jonathan Miller, Peter Cook and Dudley Moore in the Footlights.
1956
Tours the USA with his brother Alex. Rory meets Martha Ledbetter, widow of Leadbelly. Rory learns to play the 12 string guitar. Rory and Alex appear on the Ed Sullivan Show.
1957
Rory becomes a regular on the BBC's Tonight, hosted by Cliff Michelmore, watched by millions every evening. Rory's topical calypsos inspire Van Morrison to take up music. Eric Burdon, Eric Clapton, Billy Connolly are all inspired by Rory on the Tonight programme.
1957
Rory marries Romana von Hofmannsthal.
1957
Rory and Alex McEwen recorded Scottish Songs and Ballads for the Smithsonian's Folkways Records.
1959-63
Rory hosts Hullabaloo on ATV – a folk, blues and alternative music show - featuring performers like Cyril Davies and the All Stars, Long John Baldry, Sonny Boy Williamson, Martin Carthy, Ewan MacColl, Peter Paul and Mary, Ramblin' Jack Elliot and Lisa Turner.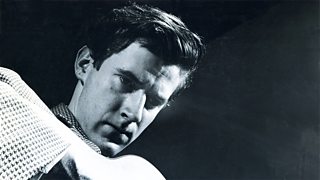 Rory McEwen
McEwen is the only botanical artist to have been given a solo exhibition at the Serpentine Gallery
1960s
Rory's home in Chelsea becomes a mecca for artists, writers, poets and musicians, such as Ravi Shankar, George Harrison, John Lennon, Bob Dylan, the Everly Brothers, Princess Margaret, Ahmet Ertegün (head of Atlantic Records), Allen Ginsberg, George Melly and Larry Adler. It was in Rory's London house that a long-term guest, the sitar-player Ravi Shankar, first met another frequent guest, George Harrison, and interested him in Indian music. He diverted The Beatles in an unexpected direction.
1965
Rory organises Keele Folk Festival. Disenchanted with the internecine squabbles of the folk world, Rory gives up performing music to concentrate on art.
1965
Rory meets Jim Dine, and experiments with abstract art.
1967
Exhibition at the Richard Demarco Gallery, Edinburgh.
1970
Using a cine-camera, Rory makes a film with German sculptor and performance artist Joseph Beuys on Rannoch Moor.
1971
True Facts from Nature series of paintings. Rory's art takes on a new intensity, more Minimalist and dramatic.
1972
Exhibition at the Redfern Gallery, London, is cited by many of today's leading botanical artists as the show that opened the door to a more experimental approach to the depiction of plants. McEwen is still the only botanical artist to have been given a solo exhibition at the Serpentine Gallery, in 1988.
Late 1970s
Rory travels to Bhutan, Tibet, Nepal, Afghanistan and the Andaman Islands.
1979 - 81
Series of leaf paintings about the most important places in his life.
1982
Died, aged 50
1988
Exhibition at the Serpentine Gallery.
2013
The Colours of Reality exhibition at the Shirley Sherwood Gallery, Kew Gardens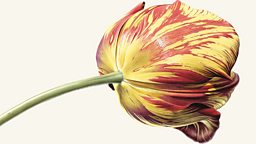 Rory McEwen, Tulip (Red and Yellow), 1976 | Watercolour on vellum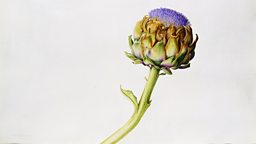 Rory McEwen, Flowering Artichoke, 1971 | Watercolour on vellum