Main content
Knowing a crotchet from a quaver
Everyday artist of the week
David Colbert is a former teacher who went looking for a hobby and found the ukulele. He tells Get Creative about his love of playing the instrument and being in a band.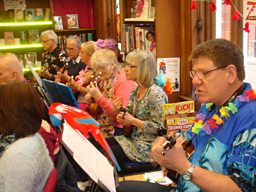 David (in blue) playing with the Darlington Age UK ukulele group
I used to do a lot of outdoor pursuits, but as you get older it takes longer to recover from bumps, and breaking my neck skiing made me rethink my lifestyle.
There's a real camaraderie among the people I've met playing music
I saw an advert looking for singers to join a community choir. I wouldn't know a crotchet from a quaver, but I met a lovely bunch of people, and they became more important to me than the singing. We did a charity show with choreography, and from that I got into Ceroc dancing.
Then I saw ukulele bands playing at two different events and thought, 'They're having more fun than my choir!' At the ARC arts centre in Stockton I spotted a flyer - 'Absolute beginners to learn the ukulele, with the ukulele thrown in.' It seemed too much of a coincidence. I went along, and within five minutes I'd got the bug.
I started in the beginners' class, and when you are ready you join the band – The ARC-uleles. You just launch yourself into it and do your best, but everyone is buddies.
One of the highlights has been joining 300 other ukulele players on the steam train from Pickering to Whitby - what a fantastic weekend!
Now I've started an offshoot band with a friend, MOR-UKES and we've already got gigs lined up.
I used to be head of faculty in design, but I was medically retired, I'd burnt out. I loved my job and had severe clinical depression when I left. Ultimately only you can turn things around, and for me joining groups really helped. I'm a people person.
I've done lots of courses - bricklaying, stained glass, yoga, watercolours, photography. But there's a real camaraderie among the people I've met playing music. Now I am on a real high.
A look back at our artists
A jewellery designer who discovered a love for digital printing and uses it as a way to relax and to cure jet-lag

A dedicated mum and knitter who makes retro tank tops for her rugby- mad son and his friends to add a splash of style to the stands

A stitcher who joined a sewing group to meet like-minded people. She's made tea cosies and draught excluders as gifts and hopes to move to dressmaking

A stroke survivor who has used painting, music and writing to rehabilitate. He shared his first self-portrait using his affected hand with Get Creative

A keen cross stitcher and crafter who uses it as a way to relax and wind down after a day content producing for Get Creative