Main content
Eight amazing things we learned from Nile Rodgers' Desert Island Discs
Guitarist, songwriter and producer Nile Rodgers has made music worth more than $2 billion, according to one estimate – from his floor-filling singles with Chic, to hit albums with Madonna, Diana Ross and David Bowie in the 1980s, and a more recent collaboration with Daft Punk. He's also a survivor – of an unconventional childhood, life-threatening addictions and two cancer diagnoses – and he continues to play dozens of live shows around the world. Here's what we learned from his Desert Island Discs...
1. Every song needs a DHM
"DHM means Deep Hidden Meaning, a song's DNA, its core truth," Nile says. "It's easy to do songs that are child-like and rhyme, but those child-like rhymes have to actually have a secondary, if not a tertiary, meaning to us… honestly, I really don't know how to do it any other way."
2. He worked for a pickled cucumber company – aged nine
Nile maintains a fearsome schedule today, and his work ethic began at a very early age. "I was always a hard worker," he says. "I read this book by Harpo Marx… and I remember him getting a job at nine years old. And when I read that I was like 'wow, I've got to go get a job'. I worked for Guss, the pickle king. His motto was 'You can turn a cucumber into a pickle, but you can't turn a pickle back into a cucumber'. And I was like… 'all right Guss!'"
3. His stepfather was cool – even when disciplining young Nile
Nile grew up with his mother, who was just 14 when he was born, and his stepfather. They were both heroin addicts, but Nile admired their Beatnik style and openness to new art and ideas. Nile once accidentally started a fire at home, and still remembers his stepfather's reprimand: "He just stared at me for ten minutes and said, 'Dig yourself man. Look into yourself man, y'know, be responsible'... That's how cool my parents were."
4. Are You Experienced by Jimi Hendrix was a deeply formative influence
As a teenager, Nile was inspired by one of the most original guitarists of the 1960s: "I remember when I first heard Hendrix play the album Are You Experienced. It was just the most important piece of music to me of all time – for about two or three weeks! But it's still cool. The lyrics, and the way he played – this really made me who I am." The title track is Nile's fourth choice of disc.
5. He saved his father's life – twice
Nile's father, a professional jazz percussionist, also struggled with drug addiction. Nile once found him naked on a fire escape, attempting to take his own life. "I talked to the [police] officer," Nile recalls, "And I said 'look that's my father, he's a really nice guy, I think I can talk him down'… I was all of seven or eight years old, and they let me talk him down." Some years later, he found his father almost destitute in a gutter in New York City, and waited with him until an ambulance arrived.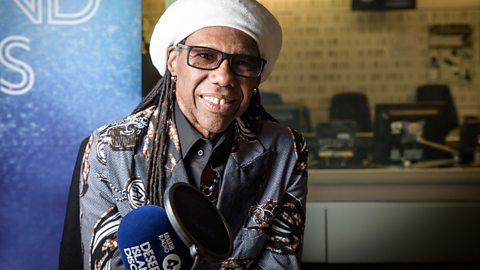 Nile Rodgers recalls saving his dad's life.
6. Riding the subway at night felt safer than staying at home
As a teenager Nile spent nights riding on New York's underground trains. "I rode the subway all the time, I met fascinating people, never felt in danger ever." His mother's drug addiction led to 'nefarious characters' spending time in his house. "Even though my Mom was loving, I've seen too many junkies completely inebriated. One of these random guys… could have murdered us all in one fell swoop and my Mom wouldn't even have a clue."
7. David Bowie only wanted to talk about one thing
Had I gotten to my apartment floor, they would have already done the trash and there'd be no Nile sitting here talking to you.
"We never talked about pop music. All we talked about was jazz," Nile remembers. "Boy, he hit my soft spot right away, because I'm raised by be-boppers." Their collaboration produced the best-selling album Let's Dance, and the title track is Nile's sixth choice of disc for the island.
8. The janitors in Nile's building once saved his life
By the early 1990s, Nile's own problems with alcohol and drug abuse became – in his words – 'really bad'. On one occasion, "the janitors who were collecting the garbage just happened to be on the floor that I had passed out on, which was not my floor. I lived on the 28th floor, and I pushed the button 14 [in the lift]… and poomf, fell out dead. Had I gotten to my apartment floor, they would have already done the trash and there'd be no Nile sitting here talking to you."

More from Desert Island Discs