Main content
'These stories never get to be told': The Fringe shows putting disability in the spotlight
Lee Ridley, the Geordie stand-up who draws laughs from life with a disability, returns to the Fringe on a high with a new show, Lost Voice Guy: Inspiration Porn, after winning Britain's Got Talent, and is also hosting BBC Ouch: Storytelling Live. But his is not the only show in Edinburgh celebrating life lived differently...
My Left / Right Foot - The Musical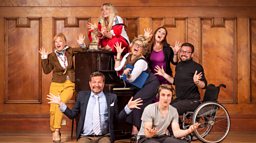 Non-disabled actors are regularly cast to play disabled characters on screen. A 2016 study of US television found only five percent of television characters with a disability are played by an actor with a disability. My Left / Right Foot - The Musical explores this issue with the aid of comedy and musical numbers.
In their show an amateur dramatic society's attempt to stage an adaptation of the 1989 film My Left Foot, in which someone with cerebral palsy, Christy Brown, was portrayed by a non-disabled actor, Daniel Day-Lewis, to widespread acclaim.
My Left / Right Foot - The Musical is a co-production between the National Theatre of Scotland and Birds of Paradise, an inclusive theatre company whose members include disabled and non-disabled performers.
To help shape the show during its development, early versions of some scenes were shown to an audience of people with cerebral palsy, who then fed back on what they had seen. During the discussion, the show's writer and director Robert Softley Gale – who also has cerebral palsy – said the show presents a perspective rarely considered.
He says: "These stories never get to be told. What we get is the kind of Daniel Day Lewis version of this story, you get his interpretation. I guess for me this is about reclaiming a bit of that. I think that's where the character Chris wants to reclaim that story from this big Hollywood star who made it all about him - and we can make it all about me!"
The company describes the show as having "thrown out political correctness". Softley Gale feels the production is able to use terms about disabilities which would be considered offensive in many contexts. "Language is important, yes, but it is only important so far," he says. "There's a point where actually it is about what you mean, what your intention is and hopefully the intention of this show allows us to use whatever language we want because the heart is there and the intention is good."
1-27 August (not 8, 14, 21) at Assembly Roxy
These stories never get to be told. What we get is the kind of Daniel Day Lewis version of this story, you get his interpretation

Robert Softley Gale
Everything Is Going To Be KO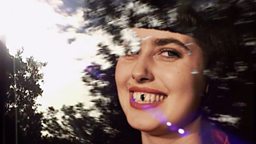 Kaiya Stone doesn't resent that her brain works differently. And her show Everything Is Going To Be KO is a reflection of that.
The origins of Stone's Fringe debut lie in her second year at Oxford University when she was diagnosed with dyslexia, dyspraxia and Attention Deficit Hyperactivity Disorder after struggling with a translation exam.
She says: "It completely changed my life and perception of myself. And at the same time, it also gave me the language to understand the way that I thought and worked. I began making the show I needed to see when I was diagnosed just so I didn't feel alone. Now it has become something beyond that, for me, Everything Is Going To Be KO is an intervention into the dearth of theatre containing disabled narratives."
Stone can see potential advantages to her conditions. "I don't think learning difficulties are a limitation, in the sense that having learning difficulties gives you a great advantage in terms of you could be an amazing visual thinker, you can communicate beautifully and articulately."
But it's not enough for Stone to accept herself; she also wants to change how people like her are seen. She says: "I'd love to inform people. I'd like to provide a voice that I couldn't find when I was diagnosed. I want to see the world celebrating neuro-atypical thought. We are incredible storytellers and innovators. Because of what we might struggle with, we have had to create new untrodden paths to succeed. Everyone benefits from that.
"Intelligence is not based on a sound grip on grammar and spelling. In the same way, balance and structure have their uses but transformation and change are born from failure and chaos. Those of us with SpLDs [specific learning difficulties] are old friends of failure and chaos. We know how to use the negative and create something new when we are given the chance."
1-27 August at Pleasance Courtyard
I want to see the world celebrating neuro-atypical thought. We are incredible storytellers and innovators.

Kaiya Stone
GUIDANCE: Contains strong language. The BBC is not responsible for the content of embedded YouTube videos.
Dangerous Giant Animals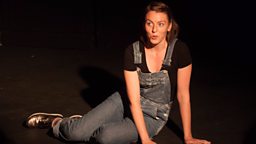 While Christina Murdock is not disabled, disability has shaped her life. Her show, Dangerous Giant Animals, is a dark comedy about the challenges and rewards of life with a disabled sibling.

Murdock's younger sister Kate has severe developmental delays as well as mild cerebral palsy, speech apraxia (a disorder that makes speech difficult), and epilepsy that can cause up to 20 small seizures each day.

The dangerous giant animals referred to in the show's title are a reference to the film monsters her sister loves to watch - and how her sister's behaviour can be reminiscent of them at times.
From Murdock's perspective, as a sister helping to care for her sibling, it can be a struggle to shut down her own animal impulses. She says: "You had to be a really good person growing up in my family.
"You couldn't be selfish – because Kate wouldn't let you. Her needs always trumped everyone else's. So if I ever started to act out, I would get a 'Christina please... Kate is enough. We can't deal with you as well'."
Murdock too wants to shine a light on an area of life often ignored. She says: "My goal with this show is to bring attention and connection to the world of disability, through my lens as a sibling.
"We don't have enough stories being told about disability, and especially not about disability from the family or sibling perspective. This show is about promoting awareness and compassion for people with disabilities and those that care for them."
2-26 August at Underbelly, Cowgate (8, 14, 21 August at Underbelly, Bristo Square)
We don't have enough stories being told about disability

Christina Murdock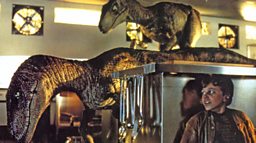 Christina's sister loves films like Jurassic Park | Pictorial Press Ltd / Alamy Stock Photo
More from the Edinburgh Festivals 2018
More from BBC Arts on iPlayer
Elite dancers from across the globe create a modern-day Swan Lake from their own bathtubs

The Oscar-nominated actress gives a singing masterclass