Main content
Asian Network Presents Rahat Fateh Ali Khan
Watch an intimate Qawwali performance, on BBC iPlayer
Asian Network Presents Rahat Fateh Ali Khan in an exclusive Qawwali session from the famous Maida Vale Studios. Rahat Fateh Ali Khan goes back to his roots with an intimate performance of live Qawwali music and talks to Bobby Friction about his career from Sufi music to mainstream.
Watch on your computer, mobile or tablet: Watch the show on BBC iPlayer now. You can also download the programme onto your device and watch whenever you like. Click on the 'Download' button underneath the iPlayer photo of Rahat and Bobby Friction.
Listen: Listen to the session via the BBC iPlayer Radio app or on the website.
Also follow BBC Asian Network on Facebook and Twitter for exclusive photos and videos.
Go to BBC iPlayer and search for 'Rahat' in the Music category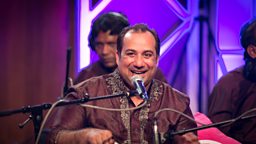 Rahat Fateh Ali Khan performing at BBC Maida Vale
Red Button Schedule
| Date | Day | Time |
| --- | --- | --- |
| 24th November | Monday | 8pm - Midnight |
| 25th November | Tuesday | 00:00 - 6.00pm / 11.30pm - Midnight |
| 26th November | Wednesday | 00:00 - 7.00pm / 10.30pm - Midnight |
| 27th November | Thursday | Midnight - 2.00pm |
| 28th November | Friday | 4.00am - 7.30pm / 9.30pm - Midnight |
| 29th November | Saturday | Midnight - 12:55pm |
Rahat Fateh Ali Khan Gallery