Main content
BBC Fresh Profile: Monét Morgan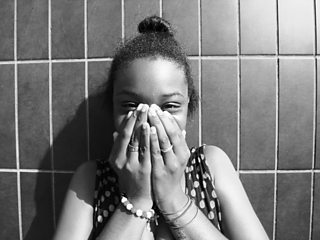 Monét Morgan talks about the inspiration behind her short film Growing Up and Out of Space.
Monét's film is a poetic and dream-like journey through the East End of London.
Why did you pick this subject for Fresh?
My film was inspired by a dream I had early on in the project. I have tried to recreate that image in my film, using camera angles to give the perspective of a child. In my film you will be following me through the ages of six to sixteen, and the differences that occur across these ages. My dialogue is partly spoken word and partly my poetry, which gives a sense of my personal feelings over this time.
What motivated you to make this film?
In general I was motivated to make my film as a way of exploring what happens to young people when they grow up, and particularly where they can go when they are too old to be seen as children and too young to be seen as adults. I'm in two minds for creating public spaces for young people. Once a young person turns 16, society classes them as a young adult and they have responsibilities that don't exactly mean they have "time" to chill in areas. But on the other hand young people would appreciate somewhere they can socialize, feel safe but have the same feel as a childhood. Personally I would probably create a cross between an adventure playground and a youth club.
What camera did you use to shoot your film?
I used a Sony NX30E.
Who/what inspires you?
I have a passion for the performing arts, and have been involved in various groups and productions since I was three years old.
What are your plans for the future?
I am still working on various productions with Immediate Theatre in Hackney, the latest one is called 'Letter to Lacey'.
What is the most important thing you have learned so far?
Before making this film I didn't know I had a talent in poetry and l didn't think I could EVER make a film. But since having this opportunity and experience it definitely is embedded into my career choice.
A poetic exploration of Monét Morgan's experiences growing up in the East End of London.