Main content
Numbers game: The artists making waves with big data
20 March 2019
From the photos we share on social media to the systems that run our transport networks, humans now generate an astonishing 2.5 quintillion (25 followed by 17 zeros) bytes of data every day. Tech-savvy artists have been working with this 'big data' to create a new visual language for information.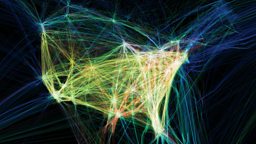 Flight Patterns, 2009 by Aaron Koblin | © Aaron Koblin
Aaron Koblin
Many of Koblin's projects are based around visual representations of big data, but he has also experimented with the concept of utilising online digital workforces to undertake small, sometimes menial tasks that will ultimately be combined to create an larger end goal.
Warning: Third party content may contain adverts.
Flight Patterns is a vibrant visualisation of data collected from air traffic control systems showing patterns made by commercial flights within the United States over a 24-hour period.

Koblin built in a colour-coding system to chart flights at different altitudes as well as flights arriving and departing from airports. Flight Patterns also highlights shifts in traffic as the Eastern and Western time zones wake up, and concentrated patterns indicate increased air traffic around major cities with multiple airports.

Image from Amsterdam SMS, 2007 by Aaron Koblin | © Aaron Koblin
Amsterdam SMS used data collected from a mobile phone company to show when and where people were sending text messages over a 24-period in the Dutch city.
Koblin created an interactive artwork that allows users to skip forward and see data in a three-dimensional space. Spikes in the visual data indicate when the most SMS messages were being sent – with midnight on New Year's Eve showing the biggest jump.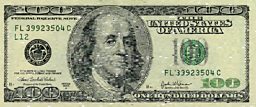 Ten Thousand Cents, 2008 by Aaron Koblin and Takashi Kawashima
Ten Thousand Cents saw Koblin and his collaborator Takashi Kawashima use the Amazon-powered Mechanical Turk website to employ 10,000 artists to work in isolation, each creating a small section of a $100 bill.
Each of the 10,000 artists were paid one cent for their efforts with resulting prints of the finished artwork – available to buy for $100 – helping fund a charity providing inexpensive laptops for children.

Koblin said that the Ten Thousand Cents project "explores digital labour markets, crowdsourcing, virtual economies, and digital reproduction."
The Johnny Cash Project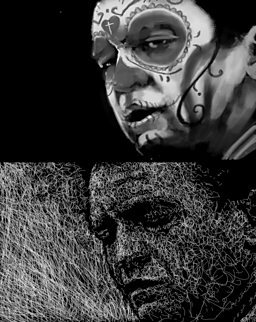 Two images from The Johnny Cash Project, 2010 by Aaron Koblin and Chris Milk
Koblin collaborated with music video director Chris Milk on a project that allowed people to use a drawing app to create a single frame for Johnny Cash's Ain't No Grave music video.

Thousands of frames were created in a variety of styles – including abstract, sketchy, realistic and pointillist.
Even though director Chris Milk chose the frames that comprise the finished film, visitors to the interactive webpage have the ability to view all the entries for each frame and also change the artistic style of the video they see.
The visual style of the resulting video proved so popular that The Johnny Cash Project was nominated for a Grammy for Best Music Video in 2011.
Radiohead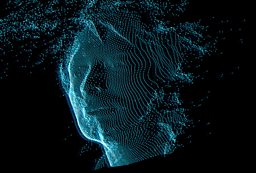 Image from Radiohead's House of Cards, 2007 by Aaron Koblin and James Frost
Koblin also collaborated with John Frost on the video for Radiohead's 2007 track House of Cards, using lasers and light scanners to digitise the band and create a stylish video that employed particle effects.
Given the open source nature of Radiohead's In Rainbows – the album on which House of Cards appears was initially released as a pay-what-you-want download – the data captured was made freely available, allowing fans to create their own versions of the video.
Laurie Frick
Laurie Frick is a data artist who believes that the capture of personal information isn't necessarily a bad thing, as it has the potential to highlight the unique individuality of a user.
Frick intentionally chooses to make hand-built works in order to take data away from its digital form and point towards a future where it could be commonplace for art to be used to visualise massive amounts of data.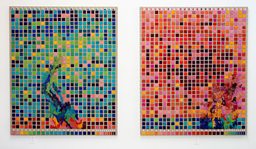 Two panels from Felt Personality, 2017 by Laurie Frick | © Laurie Frick
Felt Personality was created using datasets from the online dating site OKCupid.
Users of the site attain compatibility scores by answering questions that try to assess things like honesty, empathy and loyalty, with Frick using a range of dark to light dyed felt panels to visualise the collected data.
Sleep Patterns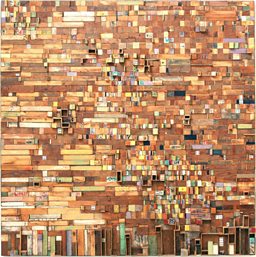 Image of Sleep Patterns, 2010-2012 by Laurie Frick | © Laurie Frick
Sleep Patterns used data collected from an EEG headband that Frick used to measure her sleeping patterns over the space of three years.
The resulting artwork shows a great deal of brain activity throughout the artist's sleep patterns, signalling fewer instances of deep and REM sleep than the artist had assumed she would have had throughout the 1,000 nights of data.
Ryoji Ikeda
Datamatics is a series of artworks by Ryoji Ikeda comprising two-dimensional sequences and patterns generated from errors in hard drives. Four-dimensional mathematical processing was used to create expansive visual landscapes.
Ikeda combined the visualisation of data with a hypnotic electronic soundtrack in order to create a powerful video installation.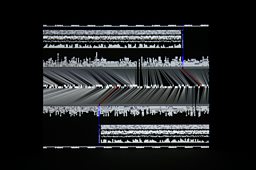 Image from datamatics [prototype-ver.2.0], 2006-2008 by Ryoji Ikeda | © Ryoji Ikeda, photo by Ryuichi Maruo courtesy of Yamaguchi Center for Arts and Media
datamatics [prototype-ver.2.0]
Warning: Third party content may contain adverts.
Advancing the visual language of its predecessor, datamatics [prototype-ver.2.0] employs real–time program computations and data scanning to alter the original datamatics sequences and add a further level of abstraction to the artwork.

Ikeda wanted the dynamic elements of the piece – the extremely fast frame rates and variable bit depths – to explore the idea of thresholds that would in turn challenge the perceptions of the viewer.
Jörn Röder and Jonathan Pirnay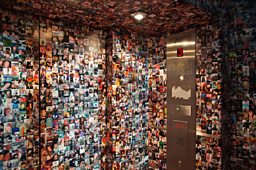 Image of fbFaces, 2011 by Jörn Röder and Jonathan Pirnay | © Jörn Röder and Jonathan Pirnay
An unimaginable flood of images with self-projection as its only purpose

Jörn Röder
Röder and Pirnay explored the idea of how concerns over online privacy and security don't always extend to people's attitudes towards their social media accounts.

fbFaces employed JavaScript and PHP code to find and save the public profile image, ID and name of Facebook users before continuing on to the public profiles of the people in their friends list and saving the same information.

The resulting 100,000 images captured were then printed on to wallpaper and displayed at installations, with the artists having said it was the intention of the work to transform a room into "a flood of information."
Warning: Third party content may contain adverts.
Nathalie Miebach translates scientific data into sculptures that occupy three-dimensional space and aim to challenge expectations of the visual language used in both science and art.
Miebach also works with musicians who translate these visual interpretations of the data into scores, and says: "My aim is twofold: to convey a nuance or level of emotionality surrounding my research that thus far has been absent from my visual work and to reveal patterns in the data musicians might identify which I have failed to see."
BBC Four's Anniversary of the World Wide Web