Main content
Six reasons why P.G. Wodehouse is Stephen Fry's hero
In the TV adaptation of P. G. Wodehouse's Jeeves and Wooster, Stephen Fry gave us a much-loved and inimitable portrayal of Wooster's improbably intelligent valet, Jeeves.
Now, in Great Lives, the British actor, author, and comedian makes the case for why Wodehouse is one of his greatest heroes.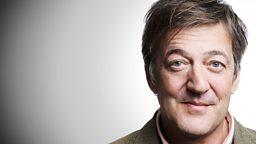 1. When Fry was fourteen, Wodehouse wrote him a letter
As a teenager Stephen Fry was, in his own words, "spellbound" by Wodehouse's writing. After discovering which American village his idol lived in, he popped a poorly addressed letter in the post and hoped for the best. The schoolboy was then over the moon to receive a charming response from the author, accompanied by a signed photograph, which read, "To Stephen Fry, All the best, P. G. Wodehouse." Many years later, when shooting Jeeves and Wooster, Fry kept this most precious possession in his trailer as a good luck token and touched it every day.
2. Wodehouse's dedication to writing never waivered
On finishing school, Wodehouse was preparing to take a scholarship to Oxford University when his family informed him that it was no longer feasible. He was forced to abandon further education and take up employment in a bank. He was devastated and despised the work, describing himself as "the most inefficient clerk whose trouser seat ever polished the surface of a high stool."
Wodehouse remained dedicated to the craft of writing and after a full day in the city he could return home and write diligently and prolifically, honing his skills. In those early days he could have papered the walls of his humble lodgings with rejection letters - but he never gave up hope of achieving his ambition. Fry describes his sheer determination as "an inspiration for anyone who is a writer."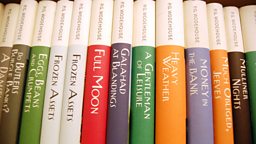 3. His books will buoy you up
Wodehouse is loved for his remarkable sense of humour and his propensity to pen the good-natured and the sunny side of life.
It's an eternal pleasure to read him because he just cheers you up like no one else.
For Stephen Fry, Wodehouse signified, above all else, a "benevolence, a sunniness of spirit, a refusal - which some might regard as almost absurd - to look at the dark side of life." He adds: "It's an eternal pleasure to read him because he just cheers you up like no one else." Fry admits that there is something "Wodehousian" about himself: "There's no doubt that, yes, he's somewhere in there and he is that ray of sunshine, he really is."
4. He gave us "gold" in the form of Jeeves and Wooster
Wodehouse's most famous characters are Bertram Wooster - a well-meaning, wealthy layabout, with a habit of getting himself into trouble - and his dependable, brilliant and bold valet, Reginald Jeeves. Created in 1915, Jeeves remained a stalwart of Wodehouse's writing right up to his last completed novel in 1974 - a period of 59 years.
Fry describes how the author found his natural style and voice with the genesis of these two characters whose "dialogue still delights...The balance and the rhythm of everything is so perfect."
5. He was a legendary lyricist
Wodehouse is remembered as a world-famous author, but he also contributed music, lyrics and stories to a vast number of hit musicals, composing thirty-three over the course of his career. He first made his name writing shows and lyrics in the UK before being picked up by Broadway, which he instantly fell in love with. Wodehouse then became one of the most successful lyricists in Broadway history. In 1917 he had five shows running at the same time!
6. He filled a special space "between great literature and ordinary, popular literature"
Wodehouse was an enormously popular writer whose wizardry with the English language meant he was also admired by many of the literary greats. T. S. Elliot described him as "Our greatest expert on English Eden" and Rudyard Kipling pronounced one of his short stories the greatest of the 20th century!
Fry believes that "because he was so technically skilled - even though the form and stories and modes of his writing might be considered populist and popular and non-literary - he has always appealed to great writers because they recognise his mastery." In his eyes, Wodehouse has carved out a unique place in which his books are able to provide "unalloyed pleasure without guilt, without feeling that it's trash."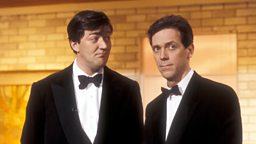 Stephen Fry and Hugh Laurie famously brought to screen the lives of Jeeves and Wooster.
Kirsty Young's castaway is comedian, actor, writer, director, presenter and award-ceremony host Stephen Fry.

A handful of classic novels with a meaningful male friendship at their heart.