Main content
Antiques Roadshow is coming to Erddig on Thursday 26 July
What story will you bring?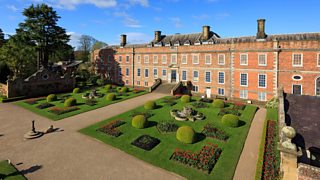 BBC One's Antiques Roadshow will be filming at Erddig, near Wrexhm on Thursday 26 July.
Fiona Bruce and the team of Antiques Roadshow experts will be waiting to welcome you, so dust off your family heirlooms and dig out those car boot bargains and bring them along for free advice and valuations to visitors.
Doors open at 9.30am and close at 5pm. Entry to the show is free, everyone is welcome, and no tickets or pre-registration is required. For parking arrangements please check our website.
Visitors are welcome to just turn up on the day but they can also share their stories about the special items they are bringing along using Share Your Story on the Antiques Roadshow website.
Important information for anyone coming along to Antiques Roadshow at ErddigNT
We believe that is going to be very hot on Thursday 26 July so please have a read of the following information and share to anyone who is coming along.
The queues can be VERY LONG - we have a team of event managers and volunteer stewards who work very hard to make sure you are seen as quickly as possible but do come prepared:
Have something to sit on
Bring a hat, sunscreen/umbrella
Bring some snacks and a drink
Ask a steward to help if you need help with a vulnerable person, need water or a loo break
Our experts can only value three of your items so be selective
Parking
Local area road signage will direct all vehicles via Plasgrono entrance with a one way system in operation exiting via Forest Drive. There will be public parking in the fields.
If you are Blue Badge holder there is parking reserved in the main car park nearest the house, please have them visible so our stewards can direct you.
There will be traffic marshals directing the traffic so they will tell you where to go.