Main content
Blue Plaques: celebrate your local music legends!
Blue Plaques are a tradition that dates back 150 years, but there aren't many for music. This Music Day, on 15 June 2017, we're going to change that.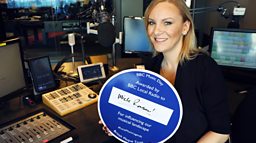 BBC presenter Stephanie Hirst will be on the judging committee for the Blue Plaques
For BBC Music Day on Thursday 15 June 2017, all 40 BBC Local Radio stations in England are teaming up with the British Plaque Trust to unveil 40 historic Blue Plaques celebrating iconic musicians and venues.
The Blue Plaque commemorates innovative, influential and successful people who are no longer with us.
Blue Plaques are footprints of our history, commemorating those who excelled in their particular field

Mike Read, Trustee of the British Plaque Trust
This could be a singer, musician, songwriter or producer from any music genre.
A Blue Plaque can also celebrate significant locations which are a big part of our musical heritage.
We've listened to your nominations across BBC Local Radio and social media (using #LocalMusicLegends) and whether you've championed a country guitarist, a classical composer or a famous jazz venue, we'd like to thank you for your suggestions.
What happens next?
A committee in each BBC Local Radio area will discuss your suggestions, and then create a shortlist of those they believe are most deserving.
They will then pass these on to the national committee who will make the final decision.
Join us on BBC Music Day, 15 June 2017, for the Blue Plaque unveilings!
#LocalMusicLegends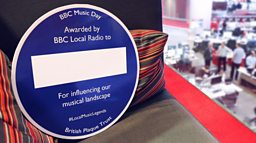 A sneak peek of how the Blue Plaques will look!