Main content
Faith in the World Week 2018
21st – 28th October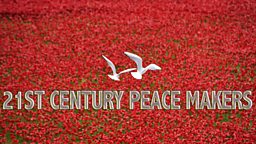 Who are the 21st century peace makers?
From Sunday 21st to Sunday 28th October, Faith in the World Week explores 21st century peace makers.
In a fractured world, I offer a message of hope and encourage us all to see the humanity in others

- Jo Berry
The First World War was supposed to be the war to end all wars, yet 100 years on the world has continued to witness the horrors and tragedies of armed conflict. As the country gears up to commemorate the end of the First World War, Faith in the World Week looks at how young people, communities and networks are working to build peace.

This year's Faith in the World Week contains a wealth of inspiring human interest stories as we look at what can be achieved when ordinary people, families and communities collaborate with each other to transform neighbourhoods into places of reconciliation and inclusion rather than places of conflict, tension and suspicion.
Aerosol Arabic Creates Street Art
Mohammed Ali paints a work based on the theme of Peacemakers during Good Morning Sunday.
Faith in the World on BBC Radio 2: Schedule