Main content
Alfie Templeman in session for BBC Music Introducing
School kid by day, lo-fi indie sensation by night.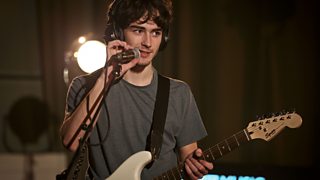 Every instrument you can hear on Alfie Templeman's Like An Animal EP is played by him. What makes this even more impressive is the fact that he's only 16 years old. Already causing a lot of buzz in the music world, Alfie's sound draws a direct line from bonafide bedroom indie heroes across the pond, like Homeshake, Steve Lacy and lo-fi godfather Mac DeMarco (and as a bonus you can hear a bit of DeMarco's Salad Days in the Yellow Flowers performance, above).
Born into a musically talented household, Alfie originally began recording snippets of tracks inspired by the "rolling countryside around Carlton, the skies that passed across his window at night, and the flowers that would bloom in spring on the village green". It wasn't long before he started producing fully-fledged tracks. Full of lithe guitar riffs and effortless soul, these performances are uniquely captivating.
The Sunday Times summed things up nicely: "If this is what he can come up with alone in his room at the age of 15, he has to be one to watch closely."
Alfie Templeman has been supported by BBC Music Introducing in Beds, Herts & Bucks, as well as Radio 1's Jack Saunders.