Main content
Why do you stop listening to new music as you get older?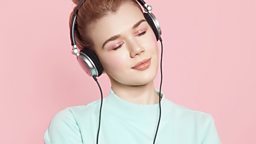 (Photo: Getty Images)
BBC Radio 5 Live was recently at BBC Music Introducing Live – a showcase of new music talent. Presenters Nihal Arthanayake and Laura Whitmore discussed why we seem to stop listening to new music as we get older...
Nihal is optimistic that new music will continue to get better: "My philosophy is I'm yet to hear the best music... But maybe, as we become more constricted by life, we just have less time for it, so the music that we love is the music we associate with that time when there was less pressure on us."
Laura said people get into a mentality of 'I like what I like': "I know my father is like this - 'I don't want to listen to anything new because this is what I like and I'm not changing my views'."
Click here to listen to the full discussion.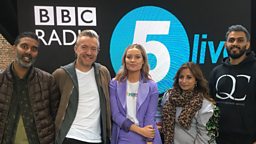 Nihal and Laura were joined by Stormzy's producer Fraser T Smith, journalist and Head of Youth Media at the Youth Music Trust, Jasmine Dotiwala, and Dyo manager and founding member of Young Guns Network, Danny Desai.
When we think about music it's usually related to our favourite memories... your first kiss, your first dance, the first time you travelled."

Jasmine Dotiwala
Jasmine Dotiwala said: "When we think about music, it's usually related to our favourite memories of our first times of doing things, whether it might be specific boyfriends and girlfriends that we dated, your first kiss, your first dance, the first time you travelled, maybe the first car you had and the music you played in that car.
"It's all related with those first memories and at that time in your life you're open to everything, and as you become an adult, more responsibilities, less time, different technology… it's much harder to engage with new music."
Fraser T Smith said: "It's very difficult to reinvent the wheel when you have such incredible artists like David Bowie and The Rolling Stones. There are only so many notes and so many chords, so you have to try and condense that into a three or four minute package, and it is quite a challenge."
Danny Desai said: "We're in an algorithmic-driven environment, it's not friend-driven. The way you can succeed in the industry now is to make music that is a bit safer and a bit more like everything else, so they show up on the [streaming] recommendations. There's a link to algorithms and people wanting the same of everything."
Other factors which might influence how much new music we discover after a certain age include feeling overwhelmed by the amount of choice available, having a demanding job and caring for young children (Deezer, June 2018).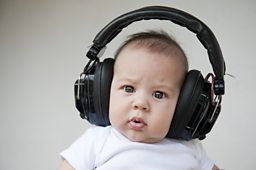 (Photo: Getty Images)
What should I be listening to?
Luckily this panel of guests are all working in the music industry and were able to make recommendations for new music, based on what listeners already liked. It's your very own personalised streaming page…
Ready?
If you like The Smiths and Joy Division, Nihal recommends Sam Fender, Wolf Alice and Tom Grennan.
According to BBC Music, Sam Fender writes lyrics about government surveillance, fake news and sexual harassment - imbuing his nascent indie anthems with an acerbic bite. It says "The music may have been recorded in his garden shed, but it's been mixed by Arctic Monkeys alumnus Barny Barnicott, lending his gritty vocals a radio-friendly sheen."
Click here to listen to Nihal's interview with Sam Fender.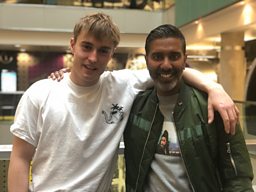 If you like The Stone Roses and Happy Mondays, Fraser T Smith recommends Easy Life:
"They've got classic things going on but are very fresh at the same time," he said.
If you're into country rock, Fraser T Smith recommends Chris Stapleton. He's part of the rise of the success of American country in the UK. Stapleton collaborated with Justin Timberlake on Say Something.
The rise in the success of the genre was the focus of Radio 1's iPlayer documentary Beyond Nashville.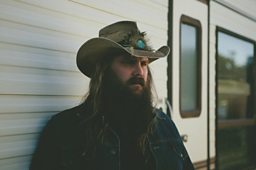 (Photo: Andy Barron)
If you're into the new, re-emerging jazz scene, Jasmine Dotiwala and Laura Whitmore recommend Rosalia: "She uses Spanish traditional music but brings it into a contemporary stage."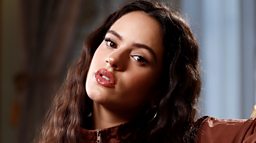 (Photo: European Photopress Agency)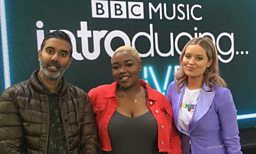 Listen to the full BBC Radio 5 Live discussion on BBC Sounds.
How Jeff Goldblum got his record deal and other surprising facts.

Model and Love Island contestant Jamie Jewitt investigates how we use social media.