Main content
Watch Chris Martin FaceTime Annie Mac about Coldplay's eighth album 'Everyday Life'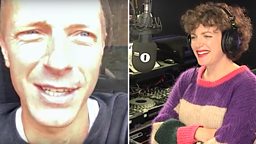 Coldplay's first album in four years is dropping next month and if you can't wait until then, Annie Mac has premiered two tracks on Radio 1's Future Sounds.
Annie played 'Orphans' and 'Arabesque' from Coldplay's eighth album 'Everyday Life' which you can listen to here and in a world exclusive interview, Chris Martin told her about the hotly anticipated record.
The album, which they announced by posting letters to their fans this week, is split into two halves – 'Sunrise' and 'Sunset' – and Chris called it their "reaction to the perceived negativity that's everywhere".
And if making the announcement via post wasn't old school enough, they also released the tracklist in the classifieds section of a local Welsh newspaper.
Chris told Annie how one song, 'Arabesque', features a sample of Afrobeat pioneer Fela Kuti, followed by a horn arrangement from Kuti's son, Femi, and Femi's son, Made - bringing together three generations.
A fresh-faced Coldplay were recording their debut album 'Parachutes' 20 years ago this month. Now the biggest selling band of the 21st Century, they are releasing a record where they feel at ease to speak "completely freely and let all the colours come through", says Chris.
The album has been rumoured to show off their 'experimental side' and Annie commented how: "One of the things that struck me is that I can hear you more in the album than I've ever heard before - your visceral feelings".
Chris revealed how their Head Full of Dreams tour was a turning point: "There was something about our last tour that just made me at peace with speaking openly and not minding if people disagree."
"This has been the first time where we have felt like 'oh we've got to this place as a band, there is really nothing to think about career wise as it were' so you can just speak completely freely and let all the colours of your own life come through."
"Some of it's very personal about real things in my life," he says. "Some of it's about things that we see. Some of it's about trying to empathise with what other people are going through, because it seems to me one of things that might help people have a better time is to put themselves in other people's shoes rather than judging from afar."
Watch Chris Martin FaceTime Annie Mac below.
'Everyday Life' is dropping November 22nd.