Main content
The Hidden God by Stephen Sutcliffe
Artists' Moving Image at the BBC
About the film
A reworking of the BBC television programme The Hidden God: Alain Robbe-Grillet using methods appropriated from Pasolini's trailer for his 1969 film Medea.
About the artist
Stephen Sutcliffe (born 1968, Harrogate) lives and works in Glasgow.
Recent solo exhibitions include Tramway, Glasgow (2013) Rob Tufnell, London (2012), Stills, Edinburgh (2011), Whitechapel Auditorium (2010), Cubitt, London (2009), Galerie Micky Schubert, Berlin (2008) and Art Now, Light Box, Tate Britain (2005).
Group exhibitions include: Frieze Projects, 'Project 35', Independent Curators International, touring to various venues in the United States (2010), 'The Associates', Dundee Contemporary Arts (2009) and 'Nought to Sixty' and 'Talk Show' at the ICA, London (2008 and 2009 respectively).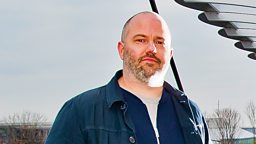 Artists' Moving Image at the BBC
What are the results when artists specialising in the moving image are given the freedom to explore, manipulate and create from the vast BBC film archive?