Main content
Sir Antony Gormley is best known in the UK as the creator of the Angel of the North, a metal figure with outstretched wings that towers over the landscape near the town of Gateshead.
His life-sized sculptures, based on casts of his own body, have also been seen by millions as they stand sentry on rooftops in cities across the world.
Seventeen such moulds stand buried in sand at Crosby Beach on Merseyside for Another Place, which examines the physical and pyschological relationship of people to nature.
Gormley won the Turner Prize in 1994 for Field - thousands of small clay creatures, crafted by people from around the world.
This film follows Gormley and his team in their purpose-built Kings Cross studio, preparing a new work called Tanker Field - a group of sixty enormous steel figures that will be shown together at the Paul Klee museum in Bern later in 2014.
Reflecting on the ideas behind his sculptures, the collaborative nature of his studio and the excitement he still feels as new projects come together, this film offers an intimate and fascinating insight into one of the great artists of our time.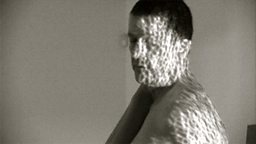 What Do Artists Do All Day?
Intimate, observational portraits of leading artists: BBC Arts has released selected films available on BBC iPlayer for an extended period
Art and Artists: Highlights
Edinburgh's Dovecot Gallery is hosting two major exhibitions as part of the 2015 Edinburgh Art Festival

An astounding photographic collection by 'Speedy George' Douglas

A sculptural mystery tour which takes in several of Britain's finest galleries

Just who was the man behind some of the most memorable artworks of the last century?

The extraordinary work of award-winning American photojournalist Steve McCurry

A major Tate retrospective of the British sculptor, and the dedicated museums in Yorkshire and Cornwall