Main content
Roisin Hogan
Roisin was fired in week 11 after the interviews because Lord Sugar was worried about her knowledge of the food market that she was pitching her business idea in.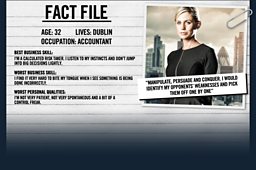 About Roisin
Roisin is a qualified Chartered Accountant who is now following her dream of starting her own business. She lists businesswoman Bethenny Frankel as one of her business inspirations, as she saw a gap in the market to start Skinny Girl Cocktails and sold it for a huge profit. She says she is confident, driven and creative, and being a calculated risk taker who 'listens to her instincts' has also made her a keen poker player in her spare time.
Roisin doesn't jump into big decisions lightly, although she finds it hard to resist not saying anything when she sees something isn't being done correctly - she claims to not be very patient or spontaneous. In fact, she even admits to being 'a bit of a control freak'!