Main content
EIF Conversations 2: Juliette Binoche
Event took place on 13 August 2015
Oscar-winning actress Juliette Binoche talks to Deborah Bull about her career and her role as Antigone at the Edinburgh International Festival.
About Juliette Binoche
Juliette Binoche has earned critical acclaim across the world for her performances in numerous film and stage productions.
We're all 'Adams', men and women, and we have to find our Eve

Juliette Binoche
The French actress made her breakthrough in 1985 in Hail Mary, Jean-Luc Godard's modern retelling of the Virgin birth. International attention came in 1988 in Philip Kaufman's adaptation of Milan Kundera's The Unbearable Lightness of Being.
Binoche's global success continued throughout the 90s and 00s, becoming best known for her performances in Krzysztof Kieslowski's Three Colours: Blue (1993), winning the Oscar for Best Supporting Actress in The English Patient (1996), and her role as Vianne Rocher in Joanne Harris's adaptation of Chocolat (2000).
Profound characters, faced with drama and despair, typify her acting roles. In Antigone, a Theban noblewoman and young bride-to-be mourns the loss of her brothers, Eteokles and Polyneikes, who die in a vicious civil war.
King Kreon, Antigone's father-in-law, buries Eteokles yet leaves Polyneikes's body to rot in the street, ordering that anyone who touches him is to be executed. The narrative manifests in violence, patriarchy and honour, as Antigone vows to give her brother admiral burial rites.
For Binoche, Antigone personifies the healing to rebuke such struggles. She defies the binary of masculinity and femininity, stating that both reside within us. Binoche says: "We're all 'Adams', men and women, and we have to find our Eve, and for me that is Antigone."
Dressed in all black contemporary clothes and set in an abstract stage design, this dramatised collision of conflicting sides is simultaneously a modern-adaptation whilst also true to the Classical tragedy form.
About Antigone
From 8-22 August, the King's Theatre will stage Sophokles's Greek tragedy with Obi Abili, Kirsty Bushell, Samuel Edward-Cook, Finbar Lynch, Patrick O'Kane and Kathryn Pogson appearing alongside Juliette Binoche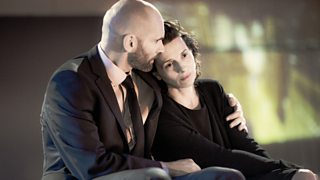 Director Ivo van Hove's work is known throughout Europe and the US for its avant-garde approach and raw theatricality. He describes Antigone as having "the explosiveness of a nuclear bomb," dealing with all possible relationships.
In this sense the play is accessible, relating to battles in our immediate society, be that political against ethical influence, or societal laws verses individual and family rights.
Combined with poet Anne Caron's direct translation the production stays true to the epic story, continuing its intense and poetic narrative.
Antigone, 8-22 August, King's Theatre. Produced by the Barbican and Les Théâtres de la Ville de Luxembourg, in association with Toneelgroep Amsterdam. Co-produced by Edinburgh International Festival and Théâtre de la Ville – Paris and Ruhrfestspiele Recklinghausen