Main content
Presenters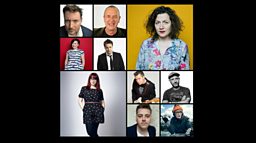 Angela Barnes
Angela Barnes is a stand-up comedian, cold war nuclear bunker enthusiast, swimmer, worrier and committed icthyophobe. In 2011 she won the BBC New Comedy Award and has since muscled in on the airwaves in various guises, including being a panellist on The News Quiz on Radio 4 and as the host of four series of Radio 4 Extra's Newsjack. She has done four moderately successful runs of solo shows at the Edinburgh Festival and has appeared on Live at the Apollo, Mock the Week, and as a performing bear in Barnum on Ice at the Gillingham Ice Bowl in 1986, aged 9.
Arthur Smith
Arthur Smith is an internationally famous, semi-professional comedian, unless there is anybody reading from the tax office – in which case, his name is Daphne Fairfax. Mr Smith was part of the alternative comedy scene in the 1980s and has taken comedy shows to the Edinburgh Fringe Festival regularly since 1977. He's written some wildly successful plays, which have been performed in London's glittering West End, including the Live Bed Show and An Evening with Gary Lineker. He has made innumerable appearances on Radio 4, notably in Arthur Smith's Balham Bash and on Loose Ends. He is also a "Grumpy Old Man" – not that he is particularly grumpy in real life, but he will moan for money.
Iain Lee
Iain Lee started out his "career" by appearing on Channel 4's very naughty The 11 O'Clock Show. He was the one that was wasn't Ali G, Ricky Gervais, Daisy Donovan, Mackenzie Crook, Robin Ince or the tea lady. After that he decided to take it easy for a decade before realising that he wanted to work in radio. This he did and has been ever since. Starting out on XFM, before getting sacked from every self-respecting station in the land – LBC, Absolute, Virgin and several others he can't mention for legal reasons. He currently hosts a psychedelic late night phone-in. Some of you may remember him as the guy who stole the strawberries on I'm A Celebrity, Get Me Out Of Here in 2017. Yes, it's that guy.
Jake Yapp
Jake Yapp has always loved radio comedy. He got his first sketch on to Radio 4's Week Ending at 16. It got on to Pick of the Week, and his career has gone steadily downhill ever since. He produced and directed Victor Lewis Smith's TV Offal for Channel 4 in the '90s, was a writer on Never Mind the Buzzcocks, and is the voice behind Dora Dale, whose Radio 4 Extra series with Martin Kelner, Pleased to Meet You, was nominated for Best Comedy. He's a sort-of regular on The Now Show, has written and voiced 80 episodes of The Hurting, a clip show on Dave, and is ridiculously proud to part of the Radio 4 Extra family. He is also, apparently, comfortable with talking about himself in the third person. He's weird no I'm not yes you are SHUT UP.
Jessica Fostekew
Jessica Fostekew is a comedian, actor, writer, and professional twerp. She has starred in Motherland, Cuckoo, and is a regular co-host of the podcasting behemoth The Guilty Feminist. She also hosts her own podcast, Hoovering, which is all about eating – in less than a year the series has racked up nearly half a million downloads and guests have included Josie Long, Jack Monroe, Jess Phillips MP, Ed Gamble and Simon Rimmer. Jess also hosted a three-hour special for Radio 4 Extra, all about the highs and the horrors of motherhood – in Bump, Birth and Beyond she interviewed 19 comedians about their experiences of childbirth and early motherhood, including Jenny Eclair, Richard and Catie Herring, Jen Brister, and Cariad Lloyd. Jess has written for BBC's Mock The Week and C4's 8 out of 10 Cats does Countdown, as well as for BBC Radio 4's News Quiz. She regularly writes for a bunch of other comedians both individually and in writing rooms for radio and TV.
Jon Holmes
Jon Holmes is a comedian, broadcaster and writer. He was the short one off Radio 4's The Now Show for, like, years; he co-created Dead Ringers, co-wrote TVs Horrible Histories and has worked with the likes of Harry Hill, Graham Norton and Armando Iannucci. He's behind Radio 2's hit comedy Jeremy Vine: Agony Uncle and Radio 4's Listen Against in which he took the back off the wireless, fiddled around with all the programmes inside and then put them back together the wrong way round. He's got BAFTAs and Radio Academy awards and that, and his weekend show for BBC Radio Kent is officially the third funniest radio show in Britain, winning bronze at the 2018 Arias. He's also an award-winning travel writer and hosts The The One Show Show podcast that analyses and dissects TVs The One Show as if it was a) worth the effort of doing so and, b) a dead frog.
Laura Lexx
Laura Lexx is "A bouncy, bubbly stand up star... whose warm approachability puts you in mind of Sarah Millican and whose smiliness recalls the ever-beaming Victoria Wood... " (The Telegraph) so that's really nice isn't it? Laura is a regular at the Edinburgh Fringe festival and performs every weekend at some club or other in the UK where she's continuously, relentlessly (almost exhaustingly) upbeat and delighted to be there. She is a critically acclaimed comedian and writer, winner of Comedians' Choice Award (Best Performer) 2018 and the Comics' Comic Best MC 2017; she made her Live at the Apollo debut in December 2018 on the Christmas special alongside Sarah Millican and Gary Delaney.
Paul Garner
Paul Garner is a comedy writer and performer who has created, written for and appeared in some of the most memorable TV comedies of recent years. Starting out in radio with Chris Morris, Paul made the transition into television with Brass Eye and later became a regular performer and writer on The 11 O'Clock Show. Paul created and wrote The Pilot Show for Channel 4 and subsequently exec-produced and starred in a 16-part series which was remade for American television. Paul also co-created and wrote Strutter with Paul Kaye for MTV. Paul has a large number of TV and radio credits both as a performer and writer including writing extensively for Jimmy Carr and starring with Sharon Horgan in the sitcom Angelos. Paul also appeared as Terry in BBC2's White Gold a sitcom written by The Inbetweeners creator Damon Beesley, which is now showing around the world on Netflix. And, having known Miranda Hart since before she became famous, Paul wrote and presented From Hampshire To Hollywood, a three-hour special for BBC Radio 4 Extra in which he interviewed Miranda about her rise to stardom.
Rob Deering
Rob Deering performs stand-up comedy with music. He also runs, writes and does the occasional quiz – he's won The Weakest Link Comedians' Special, Celebrity Mastermind and, perhaps inevitably, the celebrity version of Ken Bruce's Popmaster on Radio 2. He also co-hosts Running Commentary with fellow comedian Paul Tonkinson, where they discuss life and comedy and running – mainly running – while running. Rob travels the UK and the world, runner during the day, comedy-one-man-band by night, like a Superhero who's slightly misunderstood the rules.
Sarah Campbell
Sarah Campbell is a comedy writer and performer. She started submitting sketches to Newsjack, rose through the ranks and eventually script edited the episode that won the Rose D'Or award for Best Radio Comedy. It was episode #689, you remember it guys, it was a classic. She's written for The Mash Report, Dead Ringers, The News Quiz, Mock The Week, Bake Off: Extra Slice, Bake Off: The Professionals and Bake Off 3: Tokyo Drift. In her spare time she performs. She was a correspondent on Spotlight Tonight With Nish Kumar, a bad bridesmaid in ITV2's Bad Bridesmaid and a space gynaecologist in Jupiter Ascending. As fun as all this is it doesn't come close to her proudest achievement – an A* in her woodwork GCSE. She made a CD rack.