Main content
'I love my city but its walkways are far from wheelchair-friendly'
By Edward Maxfield // BBC The Social contributor // 08 December 2020
Life as a wheelchair user in a big city can be difficult. Within moments of navigating down Edinburgh's cobbled streets and windy walkways, I can find myself struggling to get anywhere near where I want to go.
This restriction not only stops me going from A to B, but it significantly alters my mood.
Edinburgh is such a lovely city but, because it's old, accessibility is an issue.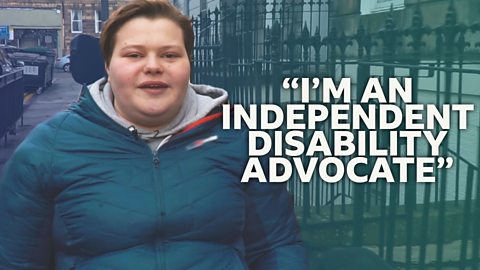 The everyday life of a young wheelchair user in Edinburgh.
Narrow pavements
A common barrier is the ancient, narrow pavements. I can manage to slowly work my way down some of these paths but as soon as someone leaves a bin, mounts their car or, in this case, fly tips a mattress, I need to find a new route.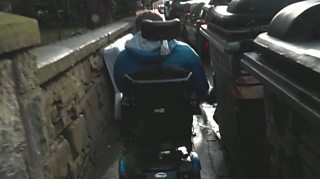 There's a few ways this problem could be solved. Firstly, I'd widen the pavements. If I am finding it hard to navigate these streets then many others will be too.
As for objects blocking these already narrow paths, a closer eye should be kept on this.
Finally, I know these paths are old as time but there needs to be more dropped kerbs so I can actually dismount the payment to cross the road.
These slight adjustments would make a huge difference to me and many others.
Uneven walkways
It isn't just the width of walkways and the lack of dropped kerbs that put me at risk, it's also raised and lowered paving slabs.
Recently, one of my caster wheels was caught on a raised pavement slab, breaking it and throwing me forward out of my chair. I hit my head, broke my chair and obviously had my confidence dented by the experience. It was a nightmare.
On top of that, these chairs can cost three to four grand and replacement parts are a fortune. That's a cost that many will never be able to afford.
Temporary ramps
Like any other city, roadworks are a common occurrence that we tend to get used to. But the yellow, temporary ramps can be barrier for my wheelchair.
When they are secure and in place, these ramps work fine. However, they have often fallen down or been shifted away from the kerb. When this happens, I have no other option but to find another route. It's a horrible feeling, especially when you have somewhere to be.
The toll
It may seem like nothing to be late every now and then, or need to change my route to an appointment but this stuff can grind you down.
I am not always able to go where I want to go. I may have to turn down plans to meet friends or even decide against leaving the house. It can be so tough. If I'm being honest, my disability can take a real toll on my mental health. I can feel like a burden.
Small changes to our streets could reduce these inconveniences, help improve mental health and hopefully help young wheelchair users love their city even more than they already do.
BBC The Social approached Edinburgh City Council for a statement and Transport and Environment Convener Councillor Lesley Macinnes said:
"We really do appreciate Edward's concerns – there is clearly work to be done to improve our historic streets so that everyone can easily get from A to B. We're already taking action – our citywide A-board ban has been welcomed by equalities groups for reducing street clutter and now we're working with Living Streets to identify non-essential street furniture for removal. Through investment in roads and pavements we want to improve conditions for everyone."