Main content
BBC Red Nose Day Comedy Classroom with Blue Peter
Blue Peter's Barney Harwood explores how to write the perfect joke.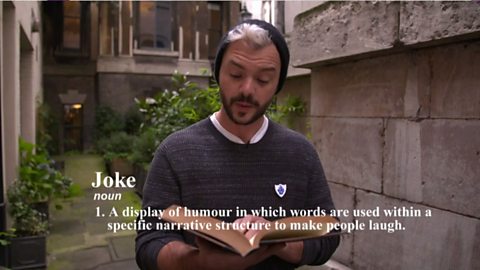 Barney explores some of the techniques used in comedy writing.
Getting started with Red Nose Day Comedy Classroom for primary pupils
Building on the success of Comedy Classroom last year, this year we have extended the campaign to primary pupils, giving them the opportunity to create and write their own comedy.
Getting your pupils writing comedy and jokes couldn't be easier – just follow these simple steps:
1) Access our resource booklet and films to inspire your pupils
2) Encourage your pupils to have a write laugh and create their own jokes, sketches and comedy captions

Use the comedy writing activities in the comedy toolbox, which is designed to give you a taster of how you might help children to get engaged with Comedy Classroom. All the activities and resources are designed to inspire you and your pupils to have fun with writing. The toolbox contains activities that will help to motivate children of all abilities. There are also some ideas on how to take your students' work further, by showcasing their work and/or doing cross-curricular work with Comedy Classroom. By using the resources in the pack pupils will be able to address key literacy outcomes from across the curriculum. These have been drawn from the curriculums for Key Stages 1 and 2 in England, Wales and Northern Ireland and P1 to P7 in Scotland.

See below for some top tips to get your pupils started.