Main content
Paul Wittgenstein: The one-armed piano maestro of WW1
By John O'Rourke | 5 November 2014
A 'second debut' is a contradiction in terms. But one soldier coming back from the front in 1915 was changed so profoundly that he had no choice but to start anew.
Pianist Paul Wittgenstein had won enthusiastic reviews at his first professional concert in Vienna's Grosser Musikvereinsaal in December 1913. Months after the death of his overbearing father, this budding musician finally felt able to pursue his dream career.
This budding musician finally felt able to pursue his dream career
But when Europe tumbled into all-out conflict the following August, the young man quickly enlisted in the Austrian army, alongside his celebrated philosopher brother Ludwig.
Assigned to the 6th regiment of the 5th Squadron of Dragoons, Wittgenstein found himself dispatched to the Eastern Front to defend his country against the might of Russia.
Within weeks of arriving, though, he sustained a crippling injury in his right arm in the heat of battle. Confused and disorientated, he passed out. When he came to a few days later at the Krasnotov hospital, there were two life-changing surprises in store.
One was that he had been captured by the enemy and was now an official prisoner of war. The other, which had far greater ramifications for this promising young pianist, was that his right arm had been amputated in surgery while he was unconscious. For Wittgenstein, it must have felt like his world had ended.
Young British pianist Nicholas McCarthy, who himself was born with only a left hand, reflects: "The most poignant thing must have been to have lost his hand after such a long struggle to become a pianist. Because he came from such a high society family, being an 'entertainer' was looked down upon."
Wittgenstein's three elder brothers had all committed suicide, a tragedy rumoured to have been caused by their steel magnate father's authoritarian nature.
McCarthy says: "The day Paul's father died, he set to work immediately to achieve his dream. When he awoke from his injury and realised what had happened, he must have thought, 'What have I done to deserve this?'"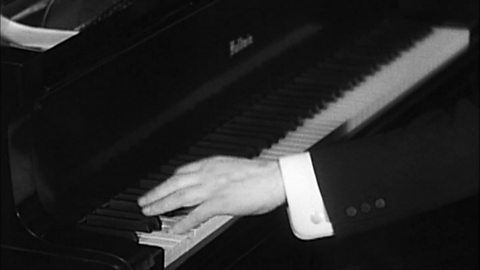 An extract from a recording of the one-handed pianist performing at Salle Pleyel, Paris.
As a PoW, as soon as he had sufficiently recovered, he was shipped out to a Siberian internment camp. Here he resolved to make a career for himself as a one-armed pianist upon his release.
Two years after his first debut, Wittgenstein found himself forced to launch his career a second time
After finding an upturned crate, he etched out the lines of a piano keyboard in charcoal on its rough surface and spent several hours a day hammering the phantom keys with his sole remaining hand.
A visiting dignitary was so overcome with emotion when he saw this sad sight that he immediately arranged for Wittgenstein to be transferred to a camp with a rickety upright piano. Here Wittgenstein set to work figuring out how to play the masterpieces of his beloved Chopin with the left hand alone.
In 1915 the Russians returned him to Austria as part of a PoW exchange programme, in recognition of the essential worthlessness to them of a one-armed man. And so in December 1915, two years after his first debut, Wittgenstein found himself forced to launch his career a second time, but in very different circumstances.
Vienna's leading music critic Julius Korngold celebrated this return to form by proclaiming: "The sounds produced by his left hand do not betray the artist's melancholy at no longer possessing a right hand - rather they express his triumph at being able to bear his loss so well."
Wittgenstein quickly got to work, touring the world with his virtuoso performances and impressing audiences with his pyrotechnic-laden revisions of iconic piano pieces. But today it's not his performing style that he's remembered for.
Armed with one of the largest family fortunes in Europe, Wittgenstein spent the next 30 years commissioning 17 piano concertos from composers regarded as the very best in the world.
Sergei Prokofiev, Richard Strauss and Benjamin Britten all created works for left hand alone following requests from an increasingly demanding Wittgenstein. But there were often clashes between patron and composer.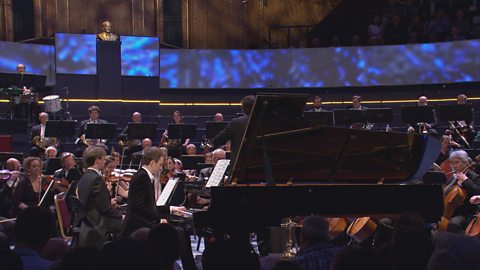 The French pianist performs at the BBC Proms with the BBC Philharmonic Orchestra.
The most notable quarrel took place between Wittgenstein and Maurice Ravel. After receiving the score for Piano Concerto for the Left Hand in 1930, Wittgenstein immediately began to introduce changes into the Frenchman's work, reversioning not just the piano parts, but also the orchestral arrangement.
I wouldn't have a career without him, but I could have throttled him because of the way he was

Nicholas McCarthy
In a world where the composer's vision was sacrosanct - especially one so revered as Ravel - this was heresy. But as the commissioner of the work, Wittgenstein had the right to change it.
"For me, Paul Wittgenstein is a double-edged sword - I wouldn't have a career without him, but I could have throttled him because of the way he was," says Nicholas McCarthy who, like several other one-armed pianists over the years, has benefitted from the legacy of Wittgenstein's commissions and transcriptions.
"I have the greatest respect for him, the greatest thanks, but at the same time I feel very disheartened by his personality."
But Wittgenstein did maintain his honour in his later years. As the Nazi party took charge in Austria, the family, who had converted from Judaism just three generations previously, began to feel pressurised.
Paul was outlawed from playing the piano in public because of his perceived background, and he soon escaped to America. But the Nazis were hungry for the vast Wittgenstein fortune, held in a secret Swiss bank account.
Despite Paul's grave pleas, his sisters in Vienna accepted the Nazis' offer of political immunity in exchange for their gold reserves. Enjoying 'mischling' (mixed-race) status, they survived the war years but never spoke to their brother again. There are even reports of nasty comments from them describing Paul's playing style.
Wittgenstein lived out the rest of his life in upstate New York with his wife Hilde, offering free piano tuition to those in need. He died in 1961, aged 73.
It has been suggested that, despite his great legacy of left-hand only piano music, Wittgenstein was perhaps not the greatest interpreter of the pieces written for him.
But Nicholas McCarthy has a subtler view: "I've seen videos and heard recordings of him playing solo that are fantastic, technically perfect performances. But the orchestral recordings were just appalling. It looks like his lack of patience for other musicians may have undone him again."
Paul Wittgenstein image licensed under the Creative Commons Attribution 3.0 Netherlands license.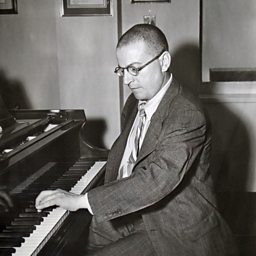 Paul Wittgenstein. Image credit: Bernard Fleischer Moving Images/CC by 3.0 NL
How to play left-hand-only music
Some of the greatest two-handed pianists in the world have tackled the repertoire left behind by Wittgenstein, all of them adopting different strategies for what to do with their unused right hand.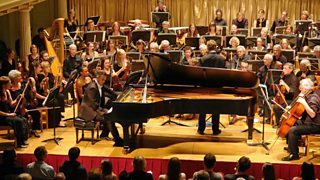 Nicholas McCarthy performing
"It's always a little amusing for me to see two-handed pianists gripping on for dear life with their right hands as their left hand flies up and down the piano, playing Ravel's concerto for Wittgenstein," chuckles Nicholas McCarthy.
For Jean-Efflam Bavouzet, who played the same piece at the Proms in 2010, his strategy was to position himself only on the left hand side of the piano stool, leaving a ghostly empty space to his right. In addition, he only used his left foot to pedal.
For those wishing to have a go, McCarthy's advice is to "shift their stool a little bit to the right, to make sure their left hand is dead centre, and around the middle C point. If you sit normally, your left hand is down a few octaves below middle C, which won't help at all."
About Nicholas McCarthy
Born without a right hand in 1989, Nicholas McCarthy made history when he became the only one-handed pianist ever to graduate from London's Royal College of Music, in July 2012.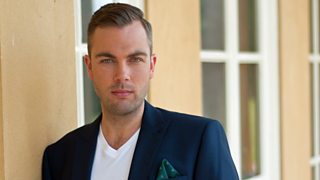 Since then he has performed extensively in the UK and internationally, as well as being the subject of television documentaries, speaking at TED and presenting two Proms for BBC Four. He also played at the 2012 Paralympics closing ceremony alongside Coldplay.
McCarthy is currently touring Music in Remembrance around the UK - see his website for details. Below, watch him perform Wittgenstein's transcription of Bach's Ave Maria.