Main content
Cara Delevingne: I want to be the next James Bond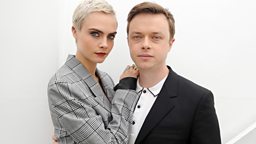 There are rumours that Cara Delevingne will appear in the next James Bond movie as a Bond girl, but she has her sights set on a much bigger role than that.
She wants to take over from Daniel Craig when he eventually hangs up his MI5 gadgets and tailored suits.
"I am trying to be James Bond, that's the point," Cara told Nick Grimshaw when she visited The Radio 1 Breakfast Show.
It's time for a female Doctor Who and it's time for a female James Bond

Cara Delevingne
"Everyone's saying I'm meant to be a Bond girl but I'm like, 'no - I'm working on the James Bond aspect first'.
"I wouldn't mind being a Bond girl but I'm going for James."
Should Cara get the part, she's fully prepared for backlash from the fans especially after the reaction to Jodie Whittaker being cast as the first female Doctor Who.
"That was to be expected. People were always going to be angry," she says.
"It's time for a female Doctor Who and it's time for a female James Bond."
Cara's Bond ambitions are fueled by the new Doctor Who
Cara is currently starring in Luc Besson's science fiction epic Valerian and the City of a Thousand Planets alongside Dane DeHaan and Rihanna, who she says had the cast and crew in tears during her emotional scenes for the movie.
"She really just let herself go and the tears started coming and everyone behind the monitor was just weeping," says Cara.
"When you see someone as strong and fierce open up and be vulnerable, there's a real strength in that."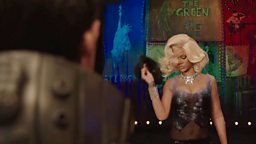 Credit: STX Entertainment
And Cara says that the movie, despite being full of aliens and distant planets, has a message which relates to the political climate in our world today.
"Even though it's very fun and it's for everyone, it has a very true and amazing message behind it of what the world should be like," she says.
"Learning from each other, accepting each other, love will prevail."
Valerian and the City of a Thousand Planets is out now. Watch the trailer below
(Warning: Third party video may contain adverts)