Main content
Voyeur from Vienna: The naked truth of Egon Schiele
23 October 2014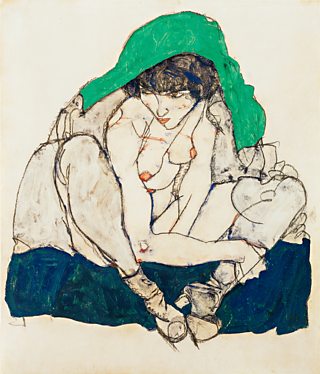 Crouching Woman with Green Kerchief, 1914. Courtesy, The Courtauld Institute of Art.
Obscene? Pornographic? Or artistic masterpieces? Egon Schiele's nudes have been called all these things – and a century since his premature death, they still retain the power to shock and startle. WILLIAM COOK writes on Egon Schiele - The Radical Nude.
A notice outside this exciting new exhibition, the first solo Schiele show ever mounted by a British museum, warns that the pictures inside are explicit.
They're not kidding.
Egon Schiele – The Radical Nude features portraits of women in poses more often associated with top shelf magazines. So why is this Austrian Enfant Terrible now seen as an important pioneer of modern art?
Seated Female Nude With Raised Right Arm, 1910. Courtesy, The Courtauld Institute of Art.
Early Life
Egon Schiele was born in 1890 in Tulln, a sleepy dormitory town near Vienna. His father, Adolf, was the stationmaster. Little Egon loved drawing trains.
Adolf hoped his only son would become an engineer, but when Egon was 14 his father died of syphilis. This catastrophe cast a long dark shadow across Egon's art and life.
He forged an intense, almost incestuous relationship with his younger sister Gertrude. He became obsessed with illness, sex and death. A poor scholar but a prolific, precocious artist, when he was 16 he went to study at Vienna's Academy of Fine Arts.
A brilliant draughtsman and a natural rebel, Egon railed against the strictures of this conservative institution. Inspired by Gustav Klimt, whose symbolist paintings thrilled and scandalised Viennese society, he left art school without graduating, determined to go his own way.
This intense and stimulating survey charts his explosive eight year career, through the drawings and watercolours which ran parallel to his larger oil paintings.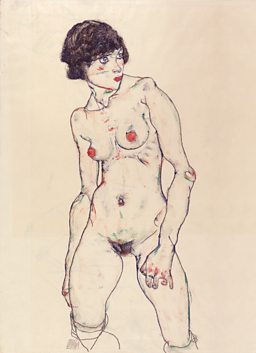 Standing Nude with Stockings, 1914. Courtesy, The Courtauld Institute of Art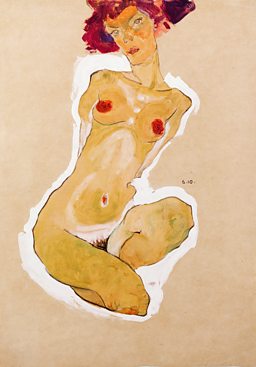 Squatting Female Nude, 1910. Courtesy, The Courtauld Institute of Art.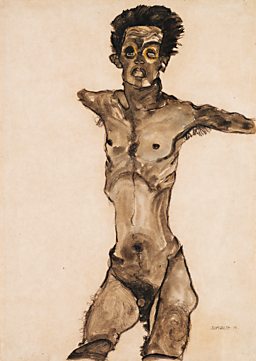 Nude Self-Portrait in Gray with Open Mouth, 1910. Courtesy, The Courtauld Institute of Art.
The Radical Nude
Egon Schiele – The Radical Nude consists of only 38 small pictures, but there's more to relish in these two rooms than in most full scale retrospectives.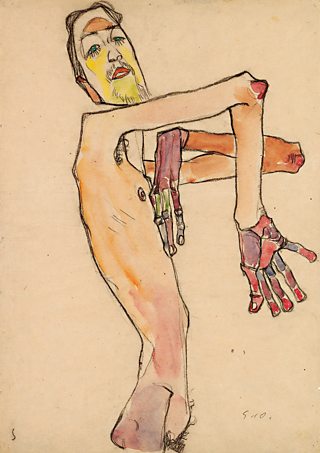 Erwin Dominik Osen, Nude with Crossed Arms, 1910. Courtesy, The Courtauld Institute of Art.
I find it extraordinary to think that these things are a hundred years old

Dr Barnaby Wright. curator, The Radical Nude
The amazing thing about these nudes is that they seem so modern. It's hard to believe they were mostly made before the First World War.
'I find it extraordinary to think that these things are a hundred years old,' says Dr Barnaby Wright, the curator of this provocative and illuminating show. 'They have such contemporary resonance.'
Wright sees similarities with Young British Artists like Tracey Emin and Jenny Saville (who's currently exhibiting alongside Schiele at Zurich's Kunsthaus) but Schiele's influence isn't confined to fine art.
Haunted and emaciated, his sickly, sexy models wouldn't look out of place on the dustjacket of Irvine Welsh's Trainspotting. His moody self-portraits remind you of suicidal rock stars like Ian Curtis and Kurt Cobain.
Vienna in 1910 was a city of dramatic contrasts: imperial pomp and abject poverty; bourgeois respectability and bohemian vice. Schiele delighted in exposing these hypocrisies, but he wasn't just a controversialist.
His stark portraits of young prostitutes are candid yet compassionate. This sensitivity is what elevates his art above pornography. Still only in his early twenties, he'd created his own style - consumptive chic. 'I paint the light that emanates from all bodies,' he said. 'Erotic works of art are also sacred.'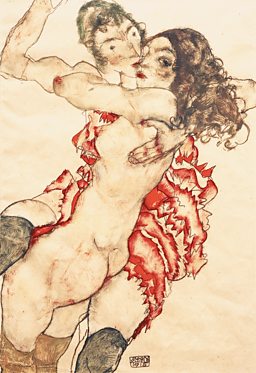 Two Girls Embracing (Friends), 1915. Courtesy, The Courtauld Institute of Art.
Scandal in the Austrian Countryside
Naturally, not everyone in Austria was quite so relaxed about erotica. In cosmopolitan Vienna, Schiele was surrounded by liberal artists and intellectuals, but when he moved to a provincial town called Neulengbach, all hell broke loose.
His studio became a rendezvous for local youngsters. Their parochial parents were horrified by Schiele's unconventional attitudes. When the daughter of a naval officer ran away from home to join his coterie, Schiele was arrested and charged with rape and kidnap.
These false charges were dropped, but he was tried and convicted of public immorality, on account of the minors who'd seen his graphic pictures. He was imprisoned for a month. Many of his artworks were confiscated.
On his release, he returned to Vienna.
A New Maturity
The last few years of Schiele's life showed every indication of a new maturity. Somewhat cynically, he abandoned his lover and model Wally Neuzil, and married a more respectable woman called Edith Harms (not too respectable, mind you – she still posed for an uncompromising gynaecological portrait, one of the most arresting and disturbing pictures in this display).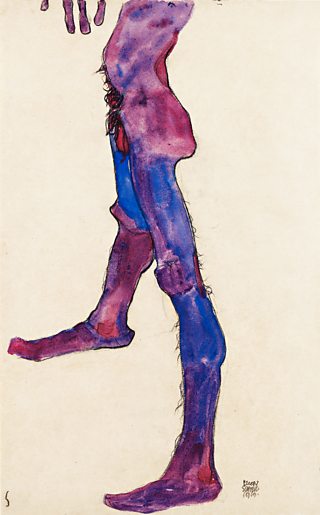 Male Lower Torso, 1910. Courtesy, The Courtauld Institute of Art.
During the First World War, Schiele was conscripted into the Austrian army but he never saw active service. In 1917, he was allowed to return to Vienna and resume his dynamic work.
In 1918, Klimt died. Now Schiele was Vienna's leading artist. His whole life lay ahead of him. There seemed to be no limit to what he could achieve.
But just as the Great War was ending, Spanish Flu swept across the Continent. On 28th October 1918, his pregnant wife perished from this pandemic. Three days later, Schiele died from the same disease. He was 28.
'He took the nude into a territory that others had not taken it at that time,' says Wright.
'It's not just that he broke social and artistic taboos by being explicit in his depiction of the nude. He also used the nude to address a number of very pressing concerns to do with human expression, desire, creativity and drive. He gave the nude a new relevance to the modern world.'
Egon Schiele: The Radical Nude is at The Courtauld Gallery, London, from 23 October 2014 - 18 January 2015.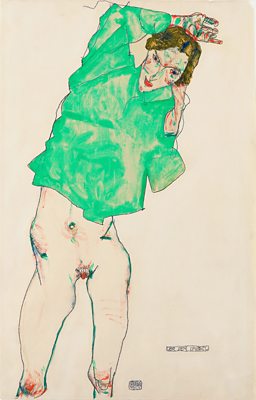 Before the Mirror, 1910. Courtesy, The Courtauld Institute of Art.
More Egon Schiele on the BBC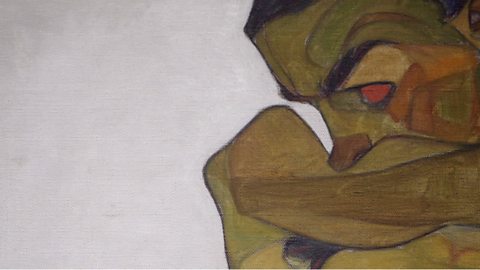 Dr James Fox analyses one of Vienna's most famous artists - Egon Schiele.
Art and Artists: Highlights
Edinburgh's Dovecot Gallery is hosting two major exhibitions as part of the 2015 Edinburgh Art Festival

An astounding photographic collection by 'Speedy George' Douglas

A sculptural mystery tour which takes in several of Britain's finest galleries

Just who was the man behind some of the most memorable artworks of the last century?

The extraordinary work of award-winning American photojournalist Steve McCurry

A major Tate retrospective of the British sculptor, and the dedicated museums in Yorkshire and Cornwall