Main content
What makes a good coach?
It has been a year to celebrate great sporting achievement, from the Rio Olympics to Euro 2016 and now the Paralympics, but behind every amazing athlete or team is their coach. They are often the unsung heroes at every major sporting event, but when the gold medals are decided and the trophies are won, their protégés are always quick to sing their praises.
So what makes the perfect coach?
Are they your friend, your boss, your psychologist? Does age play a factor in how you are treated? And is having experience at the top level a must for a coach?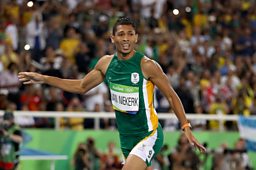 Wayde Van Niekerk, Olympic and World 400 metres champion and world record holder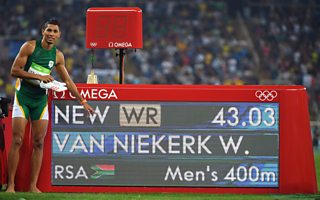 Van Niekerk broke Michael Johnson's 400m world record at the Rio Olympics 2016
"The fact she plays that motherly role, that's why people assume she's my grandmother. She's a very loving person, but at the same time very disciplined and it's very easy to trust in her work."
Ans Botha - athletics coach to Wayde Van Niekerk:
"When he approached me to coach him, I was very excited but also humbled, a little worried because I knew this was a world-class athlete and there will be a big responsibility on me."
O'Bakeng Molopyane, Wayde Van Niekerk's sports scientist:
"He came to her as a vulnerable athlete in terms of being in an injury phase and she took him out of that to another level and gained his trust.
"It's like a mother-son kind of relationship, it's something special to see the way they interact. They argue like mother and son, but she's incredible, she's so loving but she's strict as well.
"You can see that Wayde completely trusts her, he's very obedient towards her and she's very kind hearted as well."
Toni Minichello, coach to heptathlete, London 2012 Olympic gold medallist and 2015 World Champion Jessica Ennis: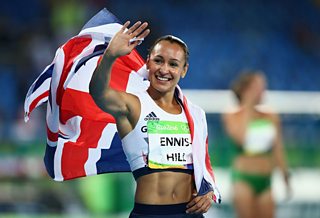 Rio Olympic silver medallist Jessica Ennis
"A good coach is somebody who can add value. There's a huge amount of respect. I'm still learning and never stop learning. I love to sit in a room and listen and chat to other coaches, you pick up things from everywhere. There needs to be a cross-sport coaching conference.
"It's very different when you've known your athlete so long, what worked when they were younger doesn't work when they're older. It changes as motivation changes."
Paul McGuinness, former Manchester United youth coach who worked with Paul Pogba and Marcus Rashford:
"With youngsters, a coach's job is to inspire them to have a love of the game for a long time, throughout the ups and downs. In the end the goal of a coach is to make yourself redundant, so that they can go out there and perform without the coach.
"When I left in February, I got text messages from the players and the first text was from (Manchester United striker) Marcus Rashford. He said thanks for improving him as a player, but just as important he said I improved him as a person and that's really important as a coach, you cannot forget that."
The athlete's view: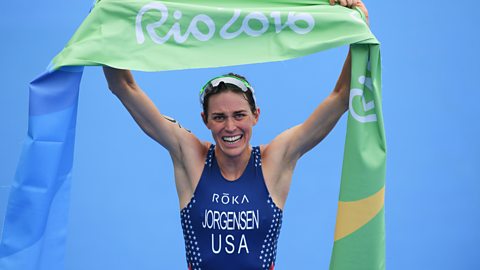 Rio Olympic gold medallist Gwen Jorgensen says her coach makes her take ownership.
Gwen Jorgensen, USA triathlete, Rio 2016 Olympic gold medallist and 2015 ITU World Triathlon Series champion
"It's pretty crazy - I was working as a tax accountant and USA triathlon recruited me in to the sport. They said I could go to the Olympics, I didn't believe them.
"I remember having a sit down with my coach, Jamie Turner, he taught me four years ago, replace the word sacrifice with investment, so every time I wanted to say I don't want to spend nine months abroad he'd say it's not a sacrifice, it's an investment in your future.
"I believe he's the best triathlon coach in the world, he makes each triathlete take ownership. He also has a group environment - we're not a team, we're direct competitors, but we each bring something to the table and learn from each other.
"He creates this atmosphere where everyone is so happy for each other."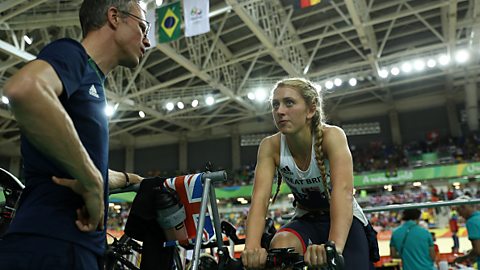 Olympic champion cyclist Katie Archibald says they're one big "team"
"It's not their job to come to you, it's your job to go to them"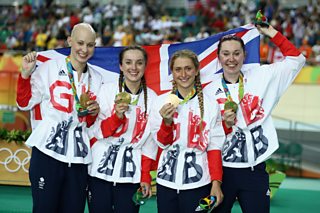 Gold medalists Joanna Rowsell-Shand, Elinor Barker, Laura Trott and Katie Archibald of Great Britain
Callum Skinner - GB cyclist Olympic gold, team sprint:
"The backroom team are an incredible bunch of people. A lot of people were asking 'how has Shane Sutton's departure affected us?' and the honest answer it hasn't at all because our day-to-day staff have done such a good job of sheltering us from that stuff. We really don't leave any stone unturned.
"They say you're the king of your programme, it's not their job to come to you, it's your job to go to them.
"One of the good things about my time with British Cycling is I tend to suffer from asthma to the point where I would lose three months of training a year before the Olympics. I went to see Professor Ashley Woodock and we did our best to sort it out and in the last year I've lost only two weeks because of it."
"There are no egos"
Katie Archibald - GB Cyclist, Olympic gold, team pursuit:
"The trust is important, we've got to buy in to it. It's no good saying 'this is what you're going to do, my bike monkeys, just go do it'. There are no egos, that's a big thing. It's a team."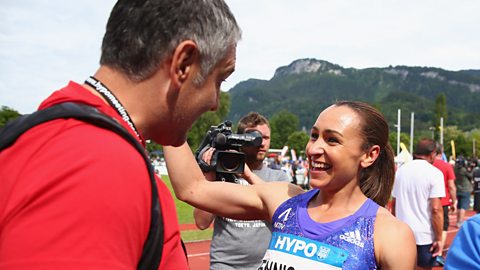 Jessica Ennis' coach Toni Minichello says coaches too often the "plucky volunteer".
Respected?
Paul McGuinness, former Manchester United youth coach who worked with Paul Pogba and Marcus Rashford:
"In Premier League football you get huge respect, but at youth level there isn't enough."
Toni Minichello, coach to heptathlete, London 2012 Olympic gold medallist and 2015 world champion Jessica Ennis:
"Whether it's respect or organisation in Britain, coaches are under-supported. Too often we're expecting the plucky volunteer to run a team and assume that'll be good enough.
"There needs to be a coaches' association, a professionalisation of coaching and unfortunately Sport England, UK Sport, Sport UK are not recognising that and falling short and it shows in the pay.
"In athletics, the vast majority, even the coaches in the Olympic teams are volunteers."
Bruce Gemmill, coach to USA swimmer and five-time Olympic gold medallist Katie Ledecky:
"In the US, at top professional level it is a respected profession, slowly adapted by USA swimming, but obviously there could be more support, pay and resources. Youth coaches don't get the compensation, support, respect they deserve and they're laying the groundwork. The vast majority are volunteers."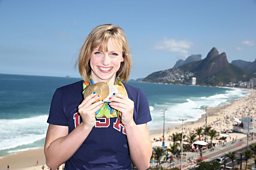 USA Olympic swimmer Katie Ledecky won four gold medals in Rio breaking two world records
Pressure and a plan
Bruce Gemmill, coach to USA swimmer and five-time Olympic gold medallist Katie Ledecky: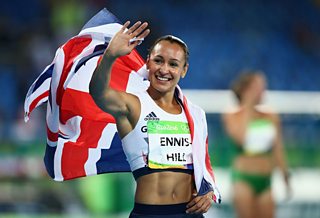 London 2012 Olympic hepthathlon champion Jessica Ennis
"We made a master plan and set some outrageous goals, like in the 800m freestyle, to swim 10 seconds faster than the world record at the time and we kept it to ourselves.
"I was classically engineered and got patents from toilet paper to medical products and really the most important thing I carried over (from that career) was a plan, having a plan.
"I love looking at other sports, but even the music or arts world to see what they do to pursue the highest levels."
Toni Minichello, coach to heptathlete, London 2012 Olympic gold medallist and 2015 world champion Jessica Ennis:
"I get a nervousness watching Jess perform as you want her to succeed. You do feel a lot of pressure. I don't want to make mistakes. To be dubbed the face of the London Olympic Games was tough. We met a psychologist and set out our plan. It wasn't until after London I felt the pressure and was like 'whoa'.
"Rio was different. We had a two-year plan for Jess to come back after her pregnancy, just to go to Rio, get any medal. In London, anything less than gold was a loss, but Rio it was about 'can we get a second Olympic medal?'. She achieved what we set out to do, though (finishing second) 36 points short of the gold medal, you do say 'damn'."
Paul McGuinness, former Manchester United youth coach who worked with Paul Pogba and Marcus Rashford:
"The pressure is the pressure you put on yourself. I always felt privileged to work at Manchester United as dad (former Manchester United manager Wilf McGuinness) was a Busby Babe. I had a lot of phrases (for the players) like 'you're following in the footsteps, you're a guardian of the Manchester United spirit', getting them to take responsibility.
"I was never afraid of (former Manchester United manager) Sir Alex (Ferguson), just afraid of letting him down."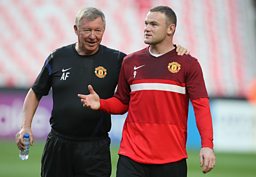 Ex-Manchester United manager Sir Alex Ferguson and striker Wayne Rooney chat in training
Sean Foley, golf coach to Justin Rose and Hunter Mahan, previously Tiger Woods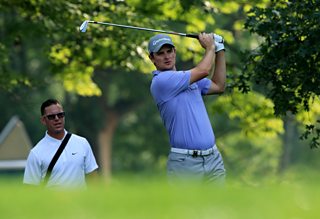 Foley says selflessness is "super important" to being a coach
"Selflessness is super important - the right time to say things and also to fall on the sword and take responsibility for things that happen to a player. The first one I was probably happy for myself, but from then on I was happy for them because I know how much they put in to it. It's about having the knowledge, continuously learning, but recognising there is no method to this.
"The key to a good coach is to know who you can and cannot help as well. I've probably said no 80 times more to players than I've said yes, there's chemistry in coaching.
"Sir Alex Ferguson had to deal with (more than) 13 egos and personalities. It's more about human interaction. I've read everything possible on him."
The golf coach: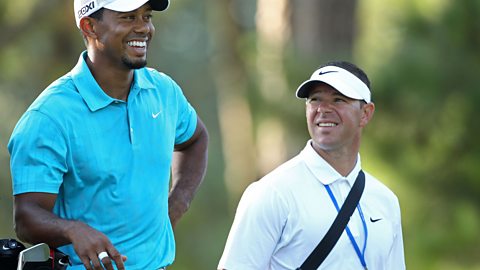 Golf coach Sean Foley says chemistry with a player is key
"What makes a good coach?" was a Sportsworld special on BBC World Service radio on Saturday September 3rd. All interviews were conducted by John Bennett.