Main content
Symphony No. 9 in E minor, 'From the New World' – Largo by Antonín Dvořák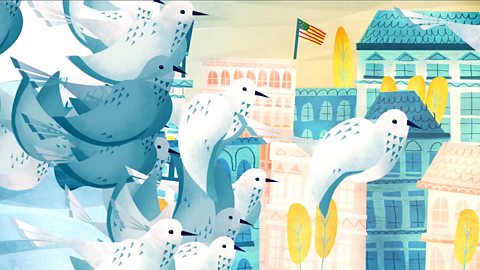 Naomi Wilkinson explores Dvořák's piece with facts, insight and beautiful animation.
Dvořák, who was so inspired by the folk music of his native Czech culture, wrote this symphony during his time in America, the 'new world', in the 1890s. While there – in this dynamic new land – Dvořák was in fact very homesick for his own country.
This piece is all about place, discovering something new and experiencing new things; Dvořák was greatly influenced by the sights and sounds he experienced in America. The symphony is made up of 4 movements and the particular movement that you are using is the second movement called Largo. Largo refers to the slow and dignified speed/tempo of the piece.
Listen out for: Themes that resemble African-American traditional melodies. Dvořák wrote that he really admired African-American spirituals and in this symphony you can hear some of that inspiration. He also revealed that parts of the symphony were inspired by a poem about a Native American chief called The Song of Hiawatha by Henry Wadsworth Longfellow.

Watch the introduction film at the top of the page then starting exploring the music:
Watch the full performance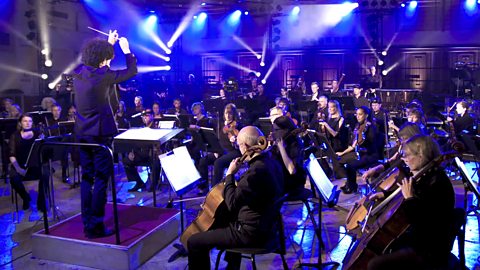 Watch the full performance of Dvořák's piece by the BBC Symphony Orchestra.
About the composer
ANTONÍN DVOŘÁK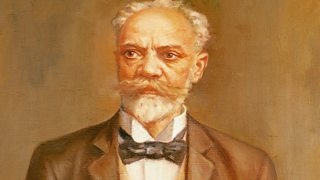 BORN: 1841 / DIED: 1904 / NATIONALITY: Czech
Antonín Dvořák (pronounced AN-tuh-neen DVOR-zhaak) spent most of his life near Prague. He had a good musical education from the age of 6 and grew up to be a fine viola player and teacher. He had a unique style that often combined traditional folk tunes with a large, orchestral sound. Dvořák found it hard to make a living from his music so he tried entering composition competitions. His luck wasn't good and he was getting frustrated at not winning when one of his pieces was spotted by an extremely famous composer called Brahms. Brahms took a real interest in Dvořák, he gave him lots of advice and even introduced him to a publisher. Within a couple of years Dvořák was almost as famous as Brahms himself! At the peak of this fame in 1892 he accepted the post of Director at the National Conservatory of Music in New York City. The position was extremely well paid and Dvořák was initially excited about the move but something was wrong – he didn't really like America! He was miserably homesick and after just 3 years he quit the post and returned home for good. Despite this unhappiness, some of his most memorable pieces were written during his short time in the United States.