Main content
Happy Birthday, BBC micro:bit!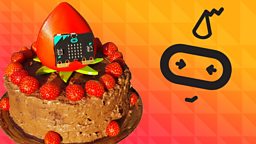 And many happy returns!
Can you believe it's been a year since the BBC micro:bit first started appearing in schools? It's been a year of coding, crafting and creating with the micro:bit both in schools and at home.
If you want to party with us, why not try a few of these more celebratory micro:bit makes? For those with access to a 3D printer, have a go at building our gigantic strawberry micro:bit cake topper. If you're a fan of cooking as much as you are coding, we've been sent an awesome micro:bit cake recipe. It tastes great, too!
3D Print a BBC micro:bit strawberry cake topper
One of the coolest parts of TV cooking shows is watching the bakers decorate cakes. Flowers, mirror glaze, macarons... they all look delicious, but we've designed something a little more high-tech... a micro:bit cake topper!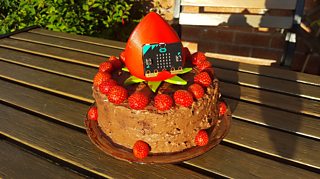 The case we've designed to hold the micro:bit looks like a massive strawberry - it looks great with other fruit cake toppings.
There's space inside the strawberry for a battery pack, and even a small speaker, so you can get your cake topper to scroll "Congratulations!" or sing Happy Birthday.
Download the 3D printing files for the cake topper here by right clicking and choosing 'Save As'.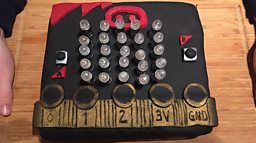 Bake your own BBC micro:bit cake!
Decorating your cake with a micro:bit is one thing, but how about turning a cake... into a micro:bit!
That's exactly what Emma's done - she always decorated cakes for her daughter's birthdays and after making a fire engine, the Cheshire Cat and the entire Periodic Table out of individual cupcakes, she's made an edible micro:bit.
Even though the cake decoration is so elaborate, Emma is a fan of keeping the cake itself easy to make.
Emma said: "I love a really simple cake that tastes good but can be made without too much effort. I have a lemon drizzle recipe which is dead easy to make but tastes much more impressive."
The micro:bit cake is a chocolate sponge with black fondant icing. Emma's given the full recipe down below, so get baking!
Making the Cake
Ingredients
20cm Square Cake Tin
225g Caster Sugar
225g Butter or Baking Spread
4 eggs
200g Self Raising Flour
25g Cocoa Powder
1 teaspoon baking powder
Method
Preheat the oven to 180 degrees C / gas mark 4.
Grease the square tin with baking spread or butter and dust with flour to make sure the tin is fully greased.
Cream together the caster sugar and butter or baking spread in a large bowl using a mixer or wooden spoon.
Add the eggs one by one and continue to mix.
Gradually add the flour and cocoa powder ensuring all the ingredients are fully mixed.
Pour the mix into the baking tin and cook for 40-45 minutes. Test cake with skewer. If it does not come out clean then put the sponge in for a few more minutes and test again.
Once cake is cooked, remove from tin and leave to cool completely on a wire rack.
Making the Icing
Ingredients
1 Table Spoon of Apricot Jam
Small amount of icing sugar
500 g Ready to Roll black icing
Small amount of Ready to Roll icing in another colour for the micro:bit logo (light or dark blue, green, red, yellow or dark pink)
Gold shimmer spray
Silver shimmer spray or silver edible glitter
Sugar Art Pen or Icing pen.
Large Silver balls or individual LED lights
Method
Gently heat a large spoonful of apricot jam in a pan on the hob.
Roll out a large piece of black ready to roll/fondant icing big enough to entirely cover the cake, using a small amount of icing sugar to dust the surface and rolling pin if the icing sticks.
Turn the cake upside down so the flattest surface is on the top and put it on a cake board or breadboard.
With a pastry brush cover the cake with the hot apricot jam so the icing will bond to the cake.
Gently lift the black icing sheet and cover the cake making sure that the icing is smooth. Fold the icing into the corners and trim the excess icing away with a knife.
Cut another strip of black icing, using a ruler, to go along the bottom of the cake. Spray the strip of icing with the gold shimmer spray and once dry enough to handle add the strip to the bottom of the cake.
Roll out some more black icing and cut five circles. The metal lid of a screw top wine bottle can be used as a cutter.
Spray some gold shimmer spray onto a plate and use a clean paintbrush to paint a gold rim around each black circle. Add these to the gold strip on the cake, slightly overlapping the circles over the strip.
With a ruler make indentations along the bottom of the gold strip to mark the 20 pin edge connectors. Using a micro:bit or a picture of one for reference is helpful at this point. Once indentations are visible go over them with an edible licorice pen or icing pen. Also mark the gold strip with the numbers and letters which appear underneath each ring.
With the remaining black icing cut two small squares for programmable buttons. Spray these squares with silver shimmer spray or dust with silver edible glitter. Add one to each side of the microbit.
Next roll two very small balls of black icing and press them flat. Add one on top of each silver square, using a little bit of water if necessary to make them stick into place.
Next roll some coloured icing to make the decoration for the micro:bit. Cut three triangles and fix them to the top left hand corner of the cake using a little water as an adhesive if necessary.
Then cut two much smaller triangles and place one below the left button and one above the right button. With the edible pen write the letter A on the left one and the letter B on the right one.
With the same coloured icing make the micro:bit logo. Roll some icing out and using a craft knife cut an oval shape. Then cut a smaller oval inside and remove the middle section. Lift the outer oval ring up carefully and place on cake. Then roll two small balls, flatten them out and place inside the oval on the cake.
Finally add the 25 LEDs to the cake using edible silver balls. These need to be arranged in five rows of five.
As an alternative, individual battery powered red LEDs can be used instead of silver balls. These are available to buy online but if battery operated devices are used then children should be supervised at all times when near the cake.