Main content
"FOUL MOUTHED PARROT ON LOOSE" – Celebrating Local News Stories
Ross Noble is back on BBC Radio 4 with Britain In Bits, a surreal magazine show featuring stories around Britain, which may or may not be factual (spoiler alert: they aren't). Comedy writer Dale Shaw takes a look at some of the most bizarre – but entirely factual – local news headlines to celebrate the joy and bewilderment regional newspapers can bring.
The world is a confusing place. Confusing and scary. Confusing and scary and filled to the brim with weather and foodstuffs and highly eccentric individuals – all aiming to damage us in various surprising ways in all of our immediate futures all of the time.
And this information is fired at our heads and eyeballs fairly habitually from every electronic device in our vicinity – a constant bombardment of flux, pain and incomprehension.
So it's not really any surprise that when we stumble across a headline such as "Man Fined For Pretending To Be Ghost in Portsmouth Cemetery", we cling to it like a passing life preserver in an ocean of unending, baffling misery.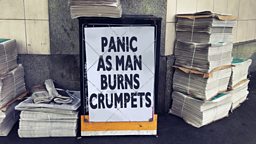 You might think that in a world where the internet provides instant access to global events and opinion, the lure of local news and its seemingly parochial obsessions would be waning. But no, we need that occasional blast of mildly mundane, highly niche, verge-obsessed, non-threatening regional reporting and the remarkable headlines they generate to ground us, while everything else grows endlessly baffling and scary. Yes, it might seem as if we are continually on the brink of global annihilation but reading "Early Customers Find Boots Closed" (from the Mid-Sussex Times) or "Fury After Bus Fails To Appear" (Fraserburgh Herald) can only ease worried minds.
It's not just a prurient interest in the mundane or the misfortune of others (though that's a bit of it - how can you not snigger at "Dog Gets Stuck in TV Cabinet" – thank you Brentwood Gazette), it's the desperate need for something utterly relatable that attracts. I mean, I think we all know how we would react to a story such as "Cheltenham Family's Lunch Ruined By 'Man With His Vile Feet Out' At Popular Restaurant" (via Gloucestershire Live) because we can completely understand how it would feel to be trying to have a lovely meal at a popular restaurant with our families when a nearby diner suddenly decided to get his "vile feet" out.
It's all to do with headlines that read like perfect little short stories in the Hemingway/baby shoes vein. There is a certain poetry attached to a headline like "Granddad Returns From Cornwall By Bus" that would be hard to better in fiction. It provokes so many questions. Why did the granddad go to Cornwall? How did he get there (presumably not by bus)? How long was he away and what made him come back? Was he always a granddad? From birth? We may never find out.
Then there is the joy connected to a story which is right on the fringes of newsworthiness. Such as the classic "Whitstable Mum in Custard Shortage" (from the Whitstable Times, with added points for, later in the story, referring to custard as "dessert sauce". You try coming up with another word for custard). And the exceptional "Grass Growing Fast After Rain", which is hard to beat.
Plus there's the pure, undiluted mystery that accompanies a story titled "Fugitive Sausage Dog Causes Mayhem" from the Jersey Evening Post. I have so many follow-up questions. It's the same for "Mayor is Ousted By Mice", "Is Bridge Too Nice for Stoke on Trent", "Cow Attacks School Cook" and "Position For Panto Pony Poo Person". Any one of these could be a writing prompt that leads to the next Booker Prize winner.
Let's celebrate the wild, eccentric, characterful world of local news and recognise it as a reflection of the Great British personality.
Still, while it's easy to laugh at or mock this distinct regionality, the local press and the stories they tell, however frivolous they initially appear, are a vital part of any community. It may sound obvious, but local news has to be local, whether it's uncovering a scandal, reporting on crime or relaying a story such as "Bed Delivered – Up Ladder". Because there's always a story and life behind that story. There might be some light sniggering aimed at a story like "Dead Man Found in Graveyard", but if you saw police cars and ambulances lined up in front of your local church, you probably would like to know what happened.
The local press provides the lifeblood to any small town. Yes, there may be a few nibs* concerning chip pan fires and various pets stuck in various locations and the dwindling popularity of the local owl sanctuary, but they also cover council meetings and planning decisions and library closures and news that could directly affect your day-to-day life, but isn't going to be plastered all over the websites of the national press, or make the Today programme. (Plus, I suspect a few wily editors know headlines such as "Man Threw Snail at Car in Street Row" is going to get a few shares and many more eyeballs on their site).
*Technical term: "News in Brief"
So while we can delight and be tickled by such tantalising headlines as "Pea-Sized Pear At Brogdale" or "George Bernard Shaw's Shed Explodes", let's also celebrate the wild, eccentric, characterful world of local news and recognise it as a reflection of the Great British personality. Who but a Brit would consider it a matter of urgency to keep reading after absorbing the headline "Panic As Man Burns Crumpets"?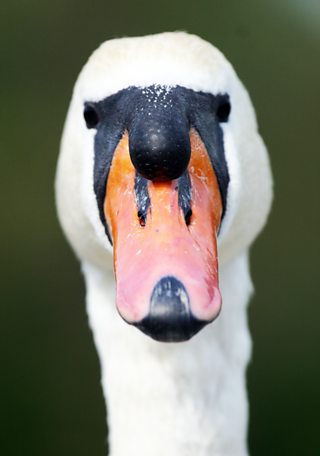 An unmistakably smug swan
OUR FAVOURITE LOCAL NEWS HEADLINES
1. "Man Who Banged His Head is on a Mission to Measure all The Road Signs in Wandsworth" – Wandsworth Guardian
The man was very tall, the sign was very low. So I think that's fair enough.
2. "What Are The Odds? Exeter Man Receives Five Identical Birthday Cards" – Exeter Express and Echo
You really need to see the picture for this one.
3. "Toilet Curse Strikes Again" – Croydon Advertiser
So many questions.
4. "Johnny Depp Buys a Bath in Norwich" – Norwich Evening News
Norwich embracing their inner Alan Partridge here.
5. "Woman in Sumo Wrestler Suit Assaulted Her Ex-Girlfriend in Gay Pub After She Waved at Man Dressed as a Snickers Bar" – Evening Herald
There was very little room for the story with a headline of this girth.
6. "Moth Dies in Shed Inferno" – Brighton and Hove Argus
Hot news from the south coast.
7. "'Smug' Swans Attack Dalmatian" – Ham and High
Only in Hampstead and Highgate would you find "smug" swans.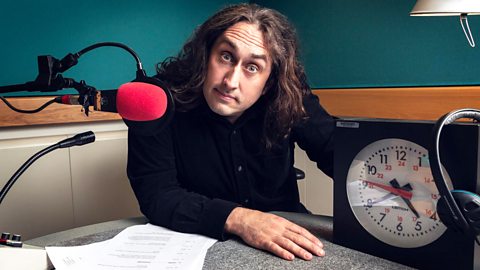 A clip from spoof magazine show Britain in Bits with Ross Noble.

More funny from Radio 4
Brighten your week with the latest BBC Radio 4 comedy, introduced by Darren Harriott.

The best new comedy from Radio 4, every Friday. Features The News Quiz, The Now Show and Dead Ringers.