Main content
Memory Tapes - October 2016
A Mix For Our Match
Wednesday 26th October, by Matthew Mills Team Laverne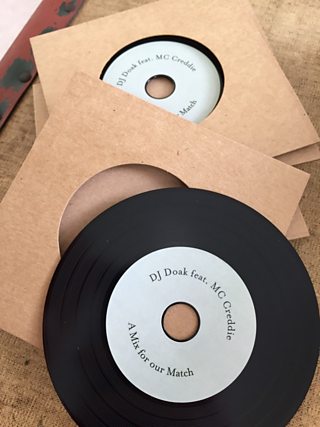 Laura McCreddie-Doak's Memory Tape is a story of completion - a pair of mixes to celebrate a union, and most importantly, a levelling of the ground as both she and her partner will have been on the show.
About three years ago, my then-boyfriend Alex Doak was on your Memory Tapes feature; you might remember him, he was the nervous watch journalist talking about a mix I snuck into his luggage the first time we'd spent a reasonable time apart.
Fast forward a few years and back in August that nervous watch journalist and I got married in London. The wedding favours were not sugared almonds but CD compilations of music. It's not technically autobiographical, more a representation of how our respective love of music found common ground, despite the fact I was stuck in the 90s wearing a Nirvana t-shirt and Alex thought nothing with a bpm lower than 150 was worth listening to.
As you can see from the pic, we had a bit of fun with it. We even did two different discs so couples wouldn't come away with two of the same CDs. One a bit banging, the other more relaxed.
A MIX FOR OUR MATCH (CD#1)
Big Love (Live) – Lindsey Buckingham
Loud Places – Jamie xx feat. Romy
Inspector Norse – Todd Terje
Eyesdown – Bonobo (Sasha remix)
Rinse & Repeat – Riton feat. Kah-Lo
Stimulation – Disclosure
Super Sharp Shooter – The Ganja Kru
Action – Cassius feat. Cat Power & Mike D
The Healing – James Zabiela (Sasha remix)
Gabriel – Joe Goddard feat. Valentina
Rez/Cowgirl (Live) – Underworld
A MIX FOR OUR MATCH (CD#2)
Silence – Portishead
Under the Pressure – The War on Drugs
Waitress Song – First Aid Kit
Islands – The xx
Staircase – Radiohead
Open Eye Signal – Jon Hopkins
Archangel – Burial
Yes I'm Changing – Tame Impala
Mykonos – Fleet Foxes
Ritual Union – Little Dragon
Thursdays with Mosa
Wednesday 19th October, by Matthew Mills Team Laverne
Alice Kirby sent us this excellent Memory Tape, a collection of music that celebrates Liverpool, friendship and Daft Punk (at the expense of Philip Larkin...)
In 2006 I was 16/17. I was at school in Liverpool and I had an amazing group of friends. I was also going through something which I didn't understand, an incredible darkness and overwhelming sadness. I struggled to get up, I struggled to go into school and I struggled to make the grades that I was once capable of. This went on long enough to have a significant impact on my life.
During this time, there were intermittent periods of true, young, naïve happiness. We were living in an awesome city and we did not once take its dark and dirty club scene for granted. My friends and I, discovering heels, techno and boys made going out in this city a regular event. Every Thursday, without fail, we brought our £3.50 bottle of white wine and £2.50 pack of cigarettes and got on the top deck of the bus. This became my reason for being, my escape from all that was happening. It was a pure outlet of fun.
In French class my mate Mosa and I spent these lessons sharing music. We were starting to discover the type of music that changes you - Aphex Twin, Bjork, Daft Punk, Radiohead and Beck.
Then one day Daft Punk announced that they were touring. We were so young and we had an A-level exam the morning after. But we went and we saw them. And we cried. And we danced. And that will forever be the greatest night of my life. I fell asleep in the Philip Larkin exam the next day.
Eventually Mosa left Liverpool and went to University in Leeds. I was so scared and I knew that I would have to start looking for other ways to deal with 'it' - whatever 'it' was. When she turned 18 I gave Mosa a CD - a soundtrack to our Thursdays. Despite racking out brains we can only remember a handful of the songs on the CD but they are our favourite ones. Ten years later, I am about to start training as a mental health nurse. The music Mosa and I shared and lived made me who I am, made us both who we are.
This CD reminds me of a time where I felt that my friends were my family. Where friendship was the only important consistent part of my life. Where I had no possible future if they were not part of it. I can look back on these songs as such influencing and stabilising parts of those years, where we were guaranteed a good time if all we needed to do was play them. I am grateful for the music we shared and I am grateful for the love they gave me when I needed it most. And they still do. We are still all the best of friends. I still love them as much as I always have, only now I love them and I love myself too.
Thursdays
Seventeen - Ratatat
Girl Boy Song - Aphex Twin
We Are Your Friends - Justice vs Simian
Maps - Yeah Yeah Yeah's
Krak - Soulwax
Idioteque - Radiohead
Over and Over - Hot Chip
Look after me - Hot Chip
Human After All - Daft Punk
Walkman - Sebastian
British Sea Power - Remember Me
Bjork - Joga
For Joyce Peel
Wednesday 12th October, by Matthew Mills Team Laverne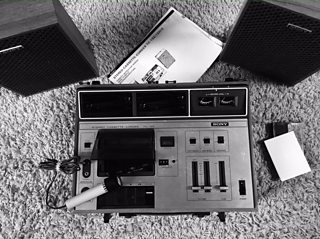 Our Memory Taper today is none other than Hannah Peel, whose latest album Awake But Always Dreaming we're currently pretty obsessed with. She got in contact with this beautiful and poignant playlist, and we had to get her on to talk us through it.
Positive, negative and even ephemeral memories are vital. They shape who we are and help us make decisions. We build upon them and fold them deep inside. As we continue to grow older, they become the very fabric of who we are and inform, educate and remind us to live better. They are the simple things we talk about over cups of tea, as we think about one and other, family, friends, love, loss, journeys, mistakes, achievements and milestones.
Imagine that safe, linear world starting to gradually lose structure because its foundations are simply jumbled up. Your entire perspective, a sense of time, is lost along with your memories, precious or not. The confusion, like a child on a road, deep in fog must be blinding and utterly frightening, until it overwhelms you completely and you can no longer perceive whether you are awake or dreaming. Every day the act of waking to the light would be blurred with the surrender to the dark.
Getting old isn't just becoming 'endearingly forgetful' or 'sweetly doddery'. The statistics for those of us who will develop dementia are staggering and the impact for loved ones is beyond painful. 1 in 3 of us will fall into the disease and 2 of 3 will be women. Scientists still have no full picture as to why and are still trying to work on a cure. Over several years I made a record of two halves to try and understand where my grandmother had gone as she fell deeper into dementia. She would slip away from us to another world, sometimes painfully confusing and sometimes childlike and gentle, where the stroke of a hand would help, but it was always extremely difficult to cope with, let alone understand. Strife is dark and often much needed subject matter for inspiration but it was hope and innocence that really inspired me to complete my album because when I watched the effect of music sung or played in my Granny's company, it changed my perspective and helped me find a peace and a simple truthful comfort.
I was completely overwhelmed to discover that when she heard music she knew as a child, she would wake up. When it drifted to her ears, she would start to sing, remembering lyrics and she would come back into 'our' daytime world. She even recited the full WB Yeat's poem Inishfree, as well as the lyrics to several other songs. It reminded me that art, particularly poetry and music, has the utter power to last so much longer than anything else. I'll forever shine a spotlight on those incredible people at Alzheimer's research but my mix tape is quite simply, a tape to my older self.
It's a tape for my hopeful children or grandchildren or even their children, from me to them. This letter will accompany it and if I ever fall deep into a world I cannot seemingly come back from, I hope that the atmospheres, textures, songs and lyrics created in this simple collection of music, lift me back, even briefly, into their real world or at the very least provides an interesting backdrop and atmosphere to live out my remaining days with joy. I hope it brings a flutter of hope to any loved ones that surround me and helps say simply, everything is going to be ok, be as happy as you can be, share as much as you can and enjoy your time together. Without saying so, my granny did this for me. Thank you Joyce Peel.
So, I'm dusting off my Sony TC133, hitting record and even doing an introduction to my future self…
"Hello Hannah Peel, how are you, thought you might like to listen to some music, together"
Cocteau Twins and Harold Budd - Sea Swallow Me
Blue Nile – From Rags to Riches
Cluster – Hollywood
This Mortal Coil – Song to the Siren
Jon Hopkins – We Disappear
Aphex Twin – Jynweythek
Radiohead – Pyramid Song
Steve Reich - Different trains
Brian Eno – The Big Ship
John Foxx – Burning Car
Beck – Paper Tiger
Nick Drake – Five Leaves Left
Scott Walker – The Seventh Seal
Kate Bush – Running Up that Hill
Joni Mitchell – Car on a Hill
Debussy – Claire De Lune
Sandy Denny – It'll Take a Long Time
Suzanne Vega – Toms Diner
Van Morrison – Brown Eyed Girl
Carpenters – We've Only Just Begun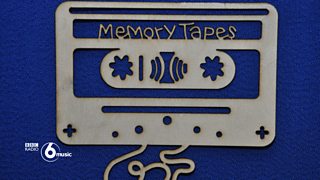 Did you ever make a mix tape for somebody? Did they ever make one for you? We've had mixtapes for friends and from loved ones, the soundtrack to breakups, starting bands, songs played in shops to self-help playlists. We want to hear your Memory Tape, simply email us with the track-listing and story behind it: lauren.6music@bbc.co.uk
First plays, latest new music online, emerging talent & new tunes from returning favourites.
The Desert Island Disco is your opportunity to create the perfect dance floor soundtrack. Send us 10-15 of your best party tracks, and check out what previous listeners have selected.