Main content
Community Heroes Awards
The winners of the BBC Sussex & BBC Surrey Community Heroes Awards for 2013 were announced on Wednesday, 11 December 2013.
Now in its third year, the awards have been firmly established as an annual celebration of some truly remarkable people, recognising their achievements and contribution to local life.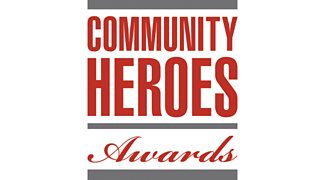 Here is a list of the winners and nominations for this year's awards.
Young Person of Achievement
Winner: Thomas Inglis-Starck
Thomas has Asperger Syndrome and struggled with behavioural issues until his diagnosis. He was banned from his local Youth Club, but they supported him and helped him work towards a better future. He is now the Manager of AllSaints Coffee at the BFree Youth Café managing a team of 12.
Also nominated:
Chelsea Hilton-Coombs
Chole Brede
Zoe Giles
Courage
Winner: Daniel Ditton
Earlier this year Daniel, 18, saved another man's life when he saw him face down in a canal, after dragging him to the bank, he performed CPR for 10 minutes until the emergency services arrived, 20 minutes later a pulse was detected and the man went on to make a full recovery.
Bravery
Winner: Clive Schaaf
Clive demonstrated real bravery when he went into rescue his neighbour from a house fire, the elderly lady was stuck in her stair lift and unable to free herself. Despite the thick smoke and flames, Clive went in four times until he had carried her safety, his actions saved her life.
999 award
Winner: PC Gaynor Grout from Surrey Police
PC Gaynor Grout is an officer with the safer Neighbourhood team and has a police career stretching over 25 years. Over the past 5 years she has made 390 arrests. Her peers say she is an outstanding officer who always goes the extra mile.
Also nominated:
PC Paul Tobutt, Sussex Police
Martin Funnell, West Sussex Fire and Rescue
Suchitra Chatterjee, Sussex Police
Sport
Winner: Jane Spong & Ryan Dent from Woking Football club.
Jane and Ryan from Woking Football Club set up the Surrey Community Football League for those with mental health issues. This ground-breaking league offers sporting skills alongside practical life skills and makes a real difference in the community.
Also nominated:
Creon Raftopoulos, Surrey Heat
Laurie Claydon, Northbrook Football Club
Brian Dossett
Good Neighbour
Winner: Alan Brown
Alan was nominated by many people in the village who said he provides help and support to others every day, often cooking and gardening for elderly neighbours. They said he is a respected and admired individual.
Also nominated:
Jan Culley
Bob Bettesworth
Fundraiser of the Year
Winner: Susie Hewer
Susie has raised over £25,000 for Alzheimer's Research and has run 31 marathons, including the London Marathon whilst knitting a scarf! She is also an ambassador for Alzheimer's Research. Her support for the charity follows a number of years as a carer for her mum Peggy who had Vascular Dementia.
Also nominated:
Danny Dwyer
Geoff Stonebanks
Belinda Graham-Rack
Volunteer of the Year
Winner: Derek Harber
Derek is the Volunteer Airshow Organiser for the Shoreham Airshow and works tirelessly to ensure the event is a success. To date, the Airshow has donated 1.8 million pounds to the Wings Appeal, the charity for past and present RAF personnel.
Also nominated:
Clare Elkington
Priscilla Chandro
Ann Wilson
Social Enterprise
Winner: Hastings Furniture Service
For 25 years, the Service has helped people surviving on low incomes to furnish, decorate and equip their homes affordably. It is an independent social enterprise and registered charity based in Hastings and Bexhill, serving local people - inspiring their trust and confidence.
Also nominated:
Carolyne & Michael Walter, Surrey Markets Limited
Animal Welfare
Winner: Mane Chance Sanctuary for Horses
Founded in 2011 by actress Jenny Seagrove, the Mane Chance mission is to rescue and rehabilitate old, abused and abandoned horses and integrate them with the local community, welcoming sick, special needs and underprivileged youngsters to the Sanctuary.
Also nominated:
Kyra Patchin
Jenny Clark
Betty Cabrol
Outstanding Contribution to the Arts
Winner: Sarah Gordy
Sarah has made a significant contribution to the arts over the years by being an ambassador for people with disabilities; her contribution is impressive primarily because Sarah has Down's syndrome.
She is the Disability Liaison Officer for her local Branch of Equity and is passionate about disabled people becoming more visible in all the arts.
Also nominated:
Volunteers of Eastbourne Theatre
Outstanding Contribution to Education
Winner: Johanna Staunton
Johanna is the Headteacher of Laleham Lea Catholic Independent Primary School and has been a teacher for 40 years and been credited as "saving" the school when it looked like it would be closed.
Governor's teamed together to nominate Johanna and joined her in last night's celebrations.
Also nominated:
Graham Cridland
Bob Wall
Highly Commended
Winner: Elisabeth Shutt
Elisabeth from Send was nominated for her work with your Sanctuary which provides services for the victims of domestic abuse in Surrey.
Winner: Peter Mortland
Peter is a volunteer driver with SERV a charity that delivers blood and blood products to hospitals for the NHS.
Both Elisabeth and Peter volunteer their time to make a difference to the lives of others.
Outstanding Contribution
Winner: Pauline Hedges
Pauline is a Rotarian of Shepperton Aurora where she has stood as President and is currently the chair of one of the committees. Here, she helps with the running of the club and many of the events throughout the year.
An enthusiastic and energetic early riser; every Saturday morning around 04:00am, Pauline heads off to several alternate towns to manage the farmers markets.
She has previously worked for the British Lung Foundation and Surrey Chamber of Commerce, and her proudest role was as a Founder and Deputy Director of Childline with Esther Rantzen.
Some other organisations Pauline is involved in include:-WI, Surrey SATRO, Young Enterprise, FSB, Elmbridge Business Network, Enterprise M3, West Byfleet LI:VE, West Byfleet Business Association, Byfleet, West Byfleet & Pyrford Resident's Association, Runnymede & Weybridge Enterprise Forum.
Pauline was nominated by several individuals all who said that she gives up her time freely to make a difference.
Winner: Susan
Susan has been a Samaritan since 1974, for 38 years she has willingly given up her time to help others.
Susan is currently a listening volunteer with the East Surrey Branch at Reigate.
In addition to fulfilling her duties as a listener and replying to emails and texts she is also on a number of teams operating outside the branch.
These include assisting Network Rail in trying to reduce suicides on the railways and supporting passengers and railway staff affected when incidents occur, working with High Down prison by helping to train prisoners to be Listeners and supporting prisoners and their families and visiting immigrants held in detention at the Gatwick Immigration Removal Centres.
Alongside this outreach work she is a shift leader within the branch and secretary to the branch Trustee/ Management Committee.
She also helps with selection and mentoring of new volunteers and edits the branch newsletter.
Susan carries out all these roles quietly and with dedication, often taking on other ad hoc tasks as and when they need doing.
Everything that Susan takes on she does willingly, conscientiously and with great efficiency.
Susan is a very well respected and immensely valuable member of Reigate Samaritans who even in snowy weather will get into Reigate by train and sleep in the branch to ensure it remains open.
The judges praised Susan's dedication and consistent and unwavering passion to make a difference and help others.
More information
See photographs from the Community Heroes Awards, saluting unsung heroes in Surrey and Sussex.

Catch up with clips and images from Community Heroes Awards on BBC Sussex Breakfast.