Main content
Welcome to the BBC Food And Farming Awards
The BBC Food & Farming Awards were launched in 2000, to mark the 20th anniversary of Radio 4's The Food Programme.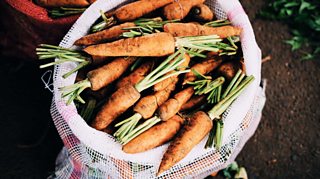 The mission statement then (which remains true to this day) was "to honour those who have done most to promote the cause of good food".
The first judging team included Derek Cooper, the founding presenter of the Food Programme. Subsequent judges have come from a cross-section of the food world - chefs, academics, retail analysts, writers and campaigners.
The Awards Categories
Originally comprising seven categories, the number has increased to eleven to reflect changes in British food culture, new ideas, businesses and trends (for example Best Drinks Producer was added in 2010 to reflect the renaissance in British brewing, cider making and distilling.) In 2019 we are adding a new catagory, The Pat Llewellyn New Talent Award, looking for those under 30 who are passionate, have innovative new ideas and are working hard to improve food or farming in the UK. Pat Llewellyn spotted the talents of Jamie Oliver, Gordon Ramsay and The Two Fat Ladies and changed the face of cookery on TV. In 2017, aged 55, Pat died from breast cancer. To honour her legacy her husband Ben Adler is teaming up with the BBC Food & Farming Awards to launch a category that honours new talent in the food and drinks industry.
The 2019 Food and Farming Awards Categories
The Judging Process
Once the judges receive the nominations (thousands come in from every region in the UK) they select a short list of three finalists in each category which has to be signed off by the entire judging panel.
Then the fun begins! Working in pairs the judges travel to meet their chosen finalists (over the years this has involved visits ranging from the Isles of Scilly to the Isle of Islay).
A few weeks later, after all the visits have been completed, the team gathers at the final judges' meeting; stories are exchanged in detail, businesses explained and flavours described. The panel, working as a team, decide on the eventual winners.
Previous Winners
Previous winners include cheesemongers, cheesemakers, food writers, dinner ladies, chip shops, broadcasters and campaigners, fish smokers, farmers markets, dairy farmers, butchers, bakers, community food shops and hospital caterers.
Full details of the winners are available in each year's awards ceremony programme and in each year's picture galleries
The winners are revealed at the Food & Farming Awards ceremony. The inaugural event was held in St James's Palace (with the support of HRH, The Prince of Wales) with Stephen Fry acting as host. In subsequent years the Awards have been held in Birmingham's Museum and Art Gallery and in the NEC, Birmingham, (in partnership with the BBC Good Food Show). In 2016 the City of Bristol played host to the BBC Food & Farming Awards.
More from the Food and Farming Awards