Main content
10 things we learnt from Caitlin Moran's Desert Island Discs
Columnist, writer and screenwriter Caitlin Moran's story is extraordinary. Home-schooled, a novelist at 13, a journalist at 16, and now a self-confessed member of the "metropolitan elite", Caitlin's puncturing of the pomposity of celebrity and politicians in ivory towers has earned her fans from teenage girls to first wave feminists. Here's what we learnt from her Desert Island Discs.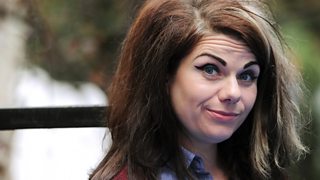 "Life divides into two categories, amazing experiences, and then things that are awful but make incredible anecdotes."
Saying the unsayable
There's nothing Caitlin likes better than a taboo. She wants to show life as it really is for teenage girls; menstrual blood and all. "I've seen a thousand of gallons of bloodshed in war, and yet we can't show periods on film and television," she says.
Reining it in
Unlike many of her columnist contemporaries, Caitlin doesn't really do rage, preferring what she describes as "a lovely boggle".
Secret track
She bonded with her now husband, music journalist Peter Paphides when they both worked on Melody Maker (she describes herself as "a mad child in a hat" at that stage) and they confessed their secret shared fondness of Crowded House, which neither of them could admit to as the band was insufficiently cool.
This time next year, Rodney…
Her father was a would-be rock star and had actually been in a band signed to a record label and produced by Bowie's producer. The band broke up, he returned to Wolverhampton from London, had eight children and pursued various jobs including a fireman until he became ill and went on benefits. She says he always felt that rock star was his natural vocation and was "furious" that he wasn't on Live Aid. Caitlin's job was to write the addresses on jiffy bags that her father would use to send demo tapes to London record labels.
Yesterday…
Caitlin has had a lifelong love affair with The Beatles, who she finds comforting. She says she "can't trust anyone who wouldn't have at least one Beatles track on their Desert Island Discs."
The story of poverty
What sets Caitlin apart is the way she shines a light on poverty; the grind, the lack of options, the awareness that you are "apart". She describes poverty through smell, as "boiling potatoes, the combination of hot dust and chip fat on a curtain." When you're poor, she says, "all the towels are wet all the time." She sees it as her mission to tell these people's stories. "Culture, art and the media are supposed to be a mirror to show us what we are", she says, and professes to wanting to be a bit of that mirror.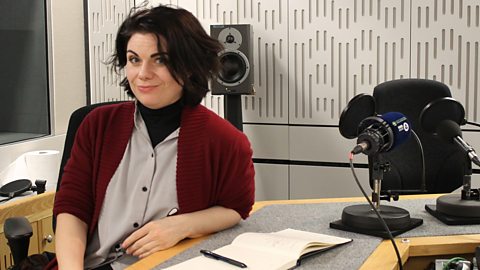 Caitlin Moran on why she writes.
First contract
When her first novel was published at 16 she was convinced that she would get "six or seven million pounds" as an advance and could support her entire family. "Times" writer Valerie Grove told her that if she wanted to make money she should become a journalist.
Rumpeteering
At 17 she enjoyed two years of "rumpeteering", describing herself as a sort of sexual David Attenborough, adventuring and researching. She learned, she says, that "life divides into two categories, amazing experiences, and then things that are awful but make incredible anecdotes."
Green fingers
She is an obsessive gardener, who loves the smell of earth, and describes gardening as "playing with time. You make it in the present and imagine it in the future."
Ever the optimist
Caitlin describes the human race as "all fragile things", which makes it essential, she believes, that we look for the joy in life at every opportunity. "That is the thing that elevates us above everything else on this planet," she says. "Giddy deluded optimism… that is the fuel that will keep you going."