Main content
Japan and beyond: 10 manga titles to start your collection
Although manga originated in Japan, it is a cultural force throughout Asia. In his new book, Mangasia, PAUL GRAVETT examines the creative explosion across the region. Here he picks 10 graphic novels that are ideal for newcomers, and explains more about the origins of the genre.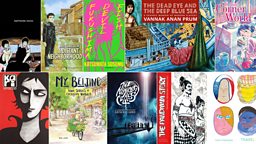 Japan: In This Corner of the World by Fumiyo Kouno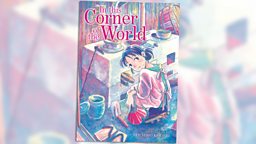 Everyday survival near the end of World War Two through a young girl's eyes.
Cambodia: The Dead Eye and the Deep Blue Sea by Vannak Anan Prum
Memoir of modern slavery trapped on board a Thai fishing boat.
China: My Beijing: Four Stories of Everyday Wonder by Nie Jun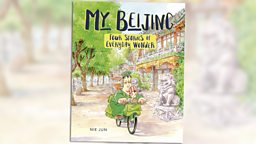 A girl and her grandfather share their modest Beijing neighbourhood.
Japan: A Distant Neighbourhood by Jiro Taniguchi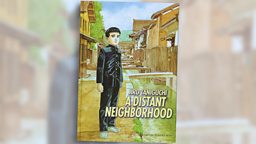 When a salaryman relives his childhood, he tries to change his family's fate.
South Korea: Bad Friends by Ancco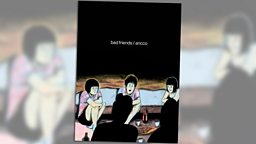 A problem teen's power struggles and lasting female friendship in the 1990s.
Japan: Fukushima Devil Fish by Susumi Katsumata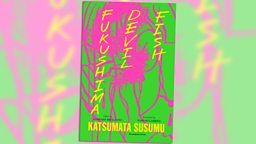 Prescient warnings of the perils of nuclear power.
India: Kari by Amruta Patil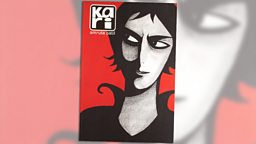 Lesbian friendship, love and death in a magic-realist Mumbai.
Philippines: Mythology Class by Arnold Arre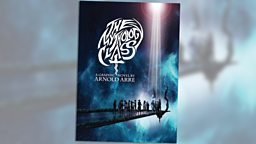 Bizarre monsters from rich Filipino folklore still haunt present-day Manila.
Japan: Travel by Yuichi Yokoyama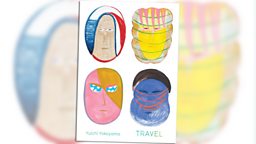 Step on board the bullet-train for a dazzling, surreal ride.
Indonesia: The Pandawa Story by Teguh Santosa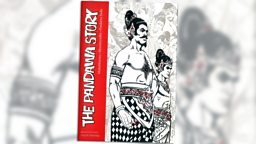 India's Mahabharata and other epics re-mixed with Indonesian folktales.
What is manga?
The key features of manga include: dialogue-driven plots; typeset speech balloons, complemented by abundant hand-lettered sound effects; the use of symbols such as sweat-drops and swollen veins to portray emotions; popular characters typified by large eyes and flowing hair; and 'decompressed' stories told moment by moment.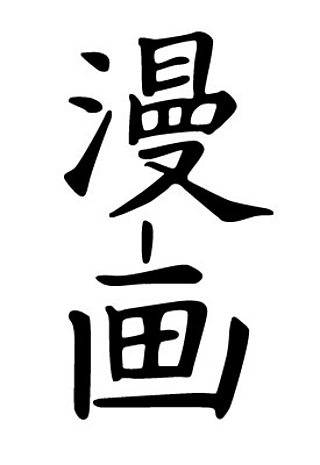 The term 'manga' was first used in 1798 by Santō Kyōden. (Image: Wikimedia Commons)
Such core elements have had a profound effect on the development of Asian comic art, from the conscious tributes of Chinese manhua and Korean manhwa to comic art as far afield as India and Indonesia.
One word, many variations
Over time, manga has proved an almost infinitely variable art form, embracing subjects that range from children's stories to gritty autobiographies and no-holds-barred adult content.
There is no single type of manga – just as there is no single Asia
There is no single type of manga – just as there is no single Asia, but rather a diverse range of countries, territories and city-states over which there extends a network of historical, political and spiritual cultures. These are interconnected yet also disparate and sometimes divisive.
'Mangasia' is the collective term for all the comic art produced in Asia. It is a way of describing the web of artistic traditions, current trends, social and political structures, histories, beliefs and folklore that provide fuel for the brightly burning flame of Asian comics.
Tricky translations
In recent decades, manga has been exported and imitated around the world. But although comics may have become an international language, Japanese has not.
Although comics may have become an international language, Japanese has not.
Many of the nations that have embraced manga in translation have had to overcome the problems posed by rendering a format that traditionally flows right-to-left and top-to-bottom into the form most comfortable for their particular readership.
Techniques such as flipping (printing mirror images of manga panels so that they can be 'read' left-to-right) often lead to inconsistencies between the text and the pictures, while following a story from right to left feels distinctly alien to many readers outside Japan.
Often, hand-drawn side effects in manga are not translated from the original Japanese, as this would mean redrawing the text, so that much translated manga retains the distinct flavour of its country of origin. Some translators opt to rearrange panels, but often the results of this practice are far removed from the mangaka's original vision.
Crossing borders
It could be argued that Japan's thwarted 20th Century ambition to liberate and unite Asia has come to pass after all, through the 'soft power' of a cultural invasion – in particular by the export of manga to most of Japan's Asian neighbours, in print or online, either officially or as unlicensed versions.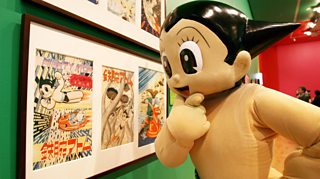 In Japan, Tezuka Osamu is acknowledged as an artistic master, heralded as an icon in the field of manga. In the West he is best known for Astro Boy, which was serialised internationally for television in the 1960s. (Photo by William West / AFP / Getty)
Comics are a bridge between all cultures.

Tezuka Osamu
The impact of manga across Asia makes it a fitting springboard for the exploration and celebration of pan-Asian comic art.
As Japan's most prolific comics creator (and 'God of Manga') Tezuka Osamu (1928–89) observed, 'Comics are an international language, they can cross boundaries and generations. Comics are a bridge between all cultures.' The pictorial origins and natures of several Asian scripts underscore the universality of combining words and pictures.
The Chinese have one word – 书, or shū – which can mean 'to write', 'to paint' or 'to draw' (although the language uses other words to further differentiate meaning). It is the ideal verb to describe the hybrid process practised by a mangaka/comic creator (漫 畫家). Appropriately, the same word as a noun means 'book'.
More Manga from the BBC
Dougal Shaw went along to a shop in Glasgow to find out more.
More from the Edinburgh Festivals 2018
More from BBC Arts on iPlayer
Elite dancers from across the globe create a modern-day Swan Lake from their own bathtubs

The Oscar-nominated actress gives a singing masterclass